While I've loved every children's production I've reviewed at the Circa '21 Dinner Playhouse, How I Became a Pirate marks the first in which I wish I had the soundtrack to enjoy with my partner's nine-year old daughter Madison on our way to and from school each day. With music and lyrics by Janet Yates Vogt and Mark Friedman (both of whom also wrote the musical's book), the songs are worth revisiting for their singable melodies and enjoyable styles, particularly the calypso numbers and a speedy, staccato, complexly rhymed nod to Gilbert & Sullivan's "I Am the Very Model of a Modern Major-General." After Saturday's performance of the show, in fact, Madison and I were singing lyrics from several of the songs on our car ride home, which I hope suggests how fun and memorable they are.
Based on the book by Melinda Long, How I Became a Pirate is a simple tale in which a young boy named Jeremy Jacob - played with bright, innocent wonder by Antoinette Holman - plays on the beach and imagines being joined by pirates, who teach him the ways of (family-friendly) piracy, including everything from finding buried treasure to learning pirate-speak. As the show is based on a children's book, there is, of course, the requisite "poop deck" joke. But there are also lots of clever pop-culture references and hilarious lines, such as when "Mommy's in a bad mood" is translated to pirate speak, and winds up as "Thar she blows!"
Circa '21's production has the added benefit of having Marc Ciemiewicz as its director, and anyone who has interacted with him as a Bootlegger or has seen him on stage - particularly is his past family-musical roles and his turn as Father Virgil in 2011's Nuncrackers - knows that Ciemiewicz has an adorable, childlike innocence in his demeanor and sense of humor. (Admittedly, he did also direct the District Theatre's R-rated Avenue Q.) His naturally silly bent is perfect for a children's show, and certainly shows in How I Became a Pirate.
One of my favorite touches in Circa '21's production is the moment in which Janos Horvath's wickedly funny, slightly bumbling Captain Braid Beard shows Jeremy his treasure chest. When the chest is opened, lighting designer Heather Reid has a spotlight shine down on the gold, illuminating it in the middle of the darkened stage. Sound designer Ray Malone throws in an angelic, choral "ah-h-h-h" to add to the ethereal nature of the presentation. And then, as Horvath slams the chest shut, the spotlight abruptly vanishes, the stage lights come back up, and the sung chord stops, an effect that caused Madison to immediately turn to me and say, "I loved that!"
This consistently entertaining story also features a crew of amusing pirates. Brad Hauskins delights as the goofy Swill, a man who never seems to hear his name until it's spoken a second time and who is also a human encyclopedia. (He spouts a lengthy definition of "soccer" in one breath.) Chris Causer delivers an almost scarily stern Sharktooth in a performance tinged with youthful enthusiasm and, eventually, over-sensitivity, shown in his hilarious and unexpected explanation for why he has to wear an eye patch. Sarah Hayes amuses with her French accent and oh-so-proper air as Pirate Pierre, while Nikki Savitt's much lower-class Max is a kick for her crass demeanor and full-voiced solos.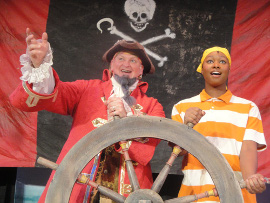 Costume designer Gregory Hiatt has the pirates impeccably decked out in perfectly fitting combinations of vests, scarves, jackets, ruffles, dreadlocks, and feathered hats, while choreographer Andrea Moore adds her own amusing, pirate-themed contributions to the show's dance steps, particularly in the fast-moving Irish step-dancing sequence. All told, Madison and I couldn't have been more delighted by Circa '21's How I Became a Pirate, with its songs still stuck in our heads as we recounted the fun we had watching this musical together.
How I Became a Pirate runs at the Circa '21 Dinner Playhouse (1828 Third Avenue, Rock Island) through May 11, and more information and tickets are available by calling (309)786-7733 extension 2 or visiting Circa21.com.