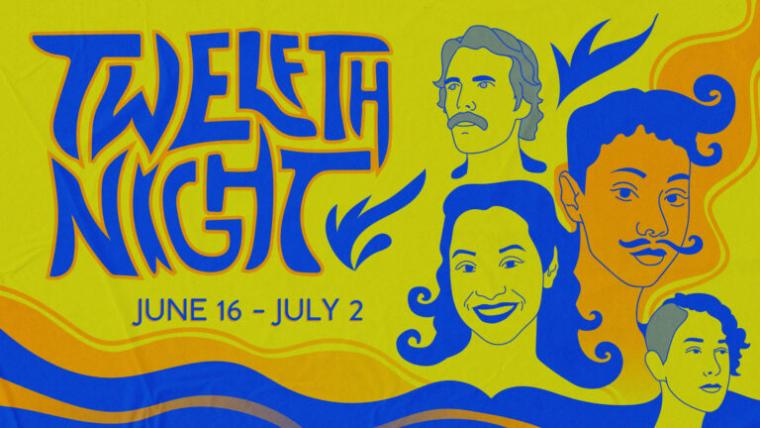 Friday, June 16, through Sunday, July 2
Lower City Park, 200 Park Road, Iowa City IA
One of William Shakespeare's most delightful and adored comedy classics will enjoy a professional Riverside Theatre staging this summer when the Iowa City company, from June 16 through July 2, presents the romantic and hilarious Twelfth Night in a bucolic outdoor staging at Iowa City's Lower City Park.
After losing her twin brother in a shipwreck, Twelfth Night's Viola washes onto the shores of Illyria, an idyllic dukedom full of revelry and music. Viola hatches a plan to survive on her own, disguising herself as a young gentleman in the court of Duke Orsino. Soon, however, she is caught up in a storm of romance, antics, revenge, and mistaken identity, with Shakespeare's classic play, populated by a raucous band of Illyrians in a resort paradise, destined to make this a summer audiences will never forget.
The Festival Stage in Lower City Park opened in 2000 with Riverside's first full Shakespeare production: Twelfth Night. Since then, Riverside has staged more than 40 classical productions in the park. This program was made free for all in 2018 and regularly serves upwards of 2,500 attendees each summer. Riverside believes Shakespeare is for everyone; that his work endures because of its humor, its rich language, its exploration of the human experience, and its remarkable adaptability to the present.
This year also marks the 400th Anniversary of the printing of the First Folio, which published for the first time seminal works such as Macbeth, The Tempest, and Twelfth Night. Riverside's latest production of Twelfth Night features cast members Olivia K. Foster, Sarah Gazdowicz, Saffron Henke, Monté J. Howell, HwaYoun Kang, Robert Kemp, Jacob Kostiv, Orlando Lopez, K. Michael Moore, Bob Mussett, Anna Novak, and Aaron Stoneroo, and the show is directed by Adam Knight, Riverside Theatre's producing artistic director. Knight also recently directed The Weir, as well as outdoor productions of The Winter's Tale and Henry V.
Twelfth Night's creative team includes Shawn Ketchum Johnson (sets), Abigail Mansfield-Coleman (costumes), Lauren Duffie (lighting), Melissa L.F. Turner (stage manager), Anna Novak (music coordinator), Carrie Pozdol (intimacy direction), Saffron Henke (verse and speech coach), K. Michael Moore (fight choreography), Kathleen Johnson (assistant director), and Meenakshi K.N. and Sophie Young (assistant stage managers). Thirty minutes prior to each evening's performance, there will be a 10-minute "Green Show" in which patrons can enjoy a hilarious rundown of Twelfth Night's Illyria featuring cast members from the show. Lawn games and other family-friendly activities will also be provided.
Riverside Theatre's Twelfth Night will be performed at the Festival Stage in Lower City Park from June 16 through July 2, with performances held GThursdays through Sundays at 7:30 p.m. Admission is free with no reservations required, and more information on the run is available by calling (319)887-1360 and visiting RiversideTheatre.org.