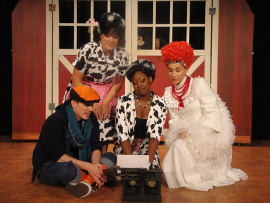 Costume designer Gregory Hiatt's creations for the Circa '21 Dinner Playhouse's family musical Click, Clack, Moo: Cows That Type were, for me, the highlights of Saturday morning's performance.
Instead of dressing the actors in animal costumes, Hiatt has come up with human-clothing combinations that instead, and clearly, symbolize the animals. The Cows are in 1950s-style fit-and-flare dresses worn over petticoat or capri pants suits, each in cow-print material, with a pink apron or pink purse worn at the hip in place of udders, and black wigs spotted with white. Duck is in jeans rolled up to reveal orange leggings, orange Converse All-Stars, a hoodie, a neck scarf, and a t-shirt - the colors all matching that of a mallard - accessorized by a flat cap, with the topmost panel in orange, to resemble a duck's bill.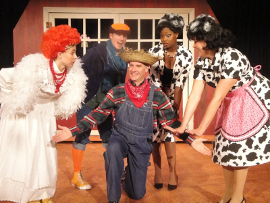 And Hen's outfit is the most interesting of all, with her Western-style white dress with sparkling red necklace and red wig (styled in a sort of flat-topped beehive) representing a chicken's wattles and comb. She also wears a white feather boa with metallic highlights attached so that the boa runs along the underside of her arms to create wings, and when you add the diamond tiara, Hen's costume is so clever, it's mesmerizing. Hiatt's ensembles well serve playwright James E. Grote's adaptation of author Doreen Cronin's popular children's book, with the amusing, variously styled songs by composer George Howe and lyricists Grote and Howe adding to the fun of it all.
Director Marc Ciemiewicz's playful production takes us to the residence of Farmer Brown (Brad Hauskins), where Antoinette Holman's defiant, strong-willed, Animal Farm-reading Cow 1 and Megan Opalinski's kind, level-headed, matronly Cow 2 are cold in their barn. With the help of Andea Moore's slightly uppity, stately Hen and Chris Causer's coolly casual, narrating Duck, the cows type letters complaining about the cold to Farmer Brown on a found typewriter, and eventually "go on strike" until the man provides them with electric blankets.
As is typical of Circa '21's family productions, the piece is peppered with humor that only the parents in the audience would likely get. For example, while narrating the story, Duck makes use of a magical remote control that allows the audience to understand what the "moos," "quacks," and "clucks" really mean. At one point, however, he hits the wrong button, and director Ciemiewicz is heard over the speakers saying, "What we were trying to do with this scene, and I think you'll agree with me, Heather, was ... ." (Duck quickly hits the remote again, and apologizes for mistakenly turning on the director's commentary.)
Another clever joke for the adults happens in the picket line, with the striking animals offering up the chant, "Schlemiel! Schlimazel! Hasenpfeffer Incorporated!" from the opening of the TV sitcom Laverne & Shirley. Such touches, along with the show's amusing storyline, sprightly choreography by Heather Reid, and amicable and good-humored performances by the cast, make Circa '21's production of Click, Clack, Moo: Cows That Type yet another presentation in the theatre's long line of entertaining children's musicals that parents will greatly enjoy, too.
Click, Clack, Moo: Cows That Type runs at the Circa '21 Dinner Playhouse (1828 Third Avenue, Rock Island) through July 27, and tickets and more information are available by calling (309)786-7733 extension 2 or visiting Circa21.com.