The more performances I see as a reviewer, the more I ponder and study stagecraft. With many productions, I take away a concept or idea as to what makes a performance good, whether at the individual level or for an entire production. With the Curtainbox Theatre Company's Fool for Love, it's a word: abandon.
Directed here by David Bonde, Fool for Love takes place in a desert motel. A cowboy named Eddie (Eddie Staver III) arrives at the locale to resume his romance with May (Kimberly Furness), a cook. The play takes us through the course of one night - a night filled with talking, arguing, and the revelation of a tragedy at the heart of Eddie's and May's relationship.
Sam Shepard's script is the weakest I've yet seen produced at The Curtainbox. That's not to say that it's bad, but it's not as strong or as compelling as Danny and the Deep Blue Sea or Glengarry Glen Ross. It kind of plods along for a while, and didn't really advance the story to a strong-enough degree to grasp my full interest. Shepard takes 20 minutes or so to let us know little more than that Eddie wants to rekindle things with May, who is adverse to the idea. When it does pick up, when Eddie's latest sex partner shows up with a vengeance, it really picks up, and I understand why the play was chosen by the theatre company. There are surprising themes and situations that are memorable, even jarring.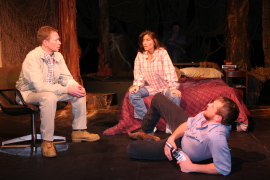 Fortunately, the journey to the meat of the play is lead by competent, seasoned actors, and it is they who embody this evening's definitive concept of abandon - mainly physical abandon. Staver and Furness exert extreme energy on stage, holding nothing back as if their physical interactions were organic rather than planned. That, too, describes Staver's performance. His lines flow as if he's thinking and then speaking them for the first time, rather than reciting lines from a script. Furness' lines and the emotion behind them at times seems forced, but never when it really counted. When she delivers the second half of Eddie's story about their relationship, it is riveting, emotional, and sincere.
It is Michael Kennedy as the Old Man, however, who I found to be the most - as my companion for the opening-night performance put it - "unrehearsed" of the cast. His physical choices, his laughter, and his verbal delivery never seemed artificial or pre-meditated. This is an actor who knows how to create a character, abandoning his own personality and becoming another person.
The Curtainbox's production marks a return to the stage for Mike Schulz after almost five years away from acting, much of it spent reviewing others' performances as the Reader's Arts Editor. His re-entry onto the local stage with some of the area's strongest actors is a risky choice for Schulz, as he's diving into the deep end, rather than wading back into the theatre waters. Schulz portrays Martin, a simpleton with an interest in May, and physically, he has "simple man" down. The pacing of some of his lines, however, raises his character a bit above that of a man of lesser intelligence. That makes him no less interesting to watch, though, and I found it best to watch him closely, observing his physical choices, which were sometimes stunning.
Also stunning is the set, designed by Joe Goodall. He's created a realistic scenic design mixed with elements of fantasy to match those written into the script. The motel room is meshed with desert stone columns (or tall trees... I'm actually uncertain...) which partially fall at specific points during the play. And the rear of the stage is an almost surreal desert setting, with burlap and white, twisted limbs creating the illusion of a dry, desolate landscape.
While Fool for Love may not be The Curtainbox's strongest show, that's a relative statement, based on the company's other productions and stronger scripts. Once you get past the rather weak exposition to the point where the script finally gets going, you're already enamored with the actors' portrayals, despite the slow pace.

For more information and tickets, call (563)322-8504 or visit TheCurtainbox.com.

Thom White is the entertainment news reporter on WQAD Quad Cities News 8.