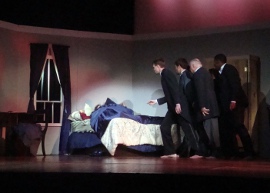 There's a charming naïveté at the core of the Internet Players' debut production of The Tragedy of Sarah Klein, as the playwright's perspective seems to be one often observed in college students and recent graduates - a belief that "I am one of the very few who sees certain injustices in the world, and I, alone, can wake the world up to them." Wake-up calls of this sort are often attempted with protests, targeted vandalism, or, in the case of Sarah Klein, the stroke of a pen, yet while the Internet Players' Thursday-night performance was poetic in word and impressive in scope - particularly in playwright/director Nathan Porteshawver's staging - it was also pretentious and, at times, dull.

Porteshawver's Sarah Klein - which concerns the attempts of a business tycoon (Brad Ingersoll) to take corporate control of the military, and the realization of his friend (Don Faust) that dystopian existence may not be all it's cracked up to be - possesses a worldview in which good and evil are clearly defined, delivered with an underlying sense that the audience probably doesn't know that corporations and the military are bad, generally speaking, while family is inherently good. The script labors to drive these messages home through lengthy passages in verse, which are sometimes hard to follow due to their style, wording, and rhythm, and because some of the actors struggle to deliver the lines without being inhibited by their non-prosaic nature. That being said, this is an effort from a fairly new playwright (who lists having authored one other play in his program biography), and Porteshawver is to be commended for conceiving, creating, and executing such a challenging undertaking.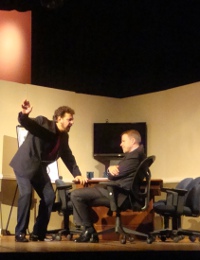 What Porteshawver may currently be lacking in writing skills, however, he more than makes up for in directing abilities. About 10 minutes into the show, I wanted to lean over to my theatre-going companion and whisper, "I kind of love this," which had much to do with Porteshawver's incorporation of a live, nine-piece orchestra performing original compositions by musical director Tony Hartman. Sometimes as simple as multiple wind chimes clanging in muddled dissonance, and at others repeating a short, emotional melody, Hartman's music is ethereal and engagingly weird, adding a richness to Porteshawver's presentation. The music and its usage is so unique and captivating that it elevates the overall feel of the piece.

So, too, does Daniel Sheridan's lighting design. Rich with color, it's gorgeous almost to distraction. I'll admit I allowed it to distract me at times, with the lit backdrop of changing hues occasionally incorporating the askew silhouette of a skyline, or otherwise creating visual eloquence and enhancing the stage action. Combined with the modern music, Sheridan's work heightens Sarah Klein's avant-garde aspects, creating something that is much grander than the script which its designs are serving.


Porteshawver's use of his chorus (in the Greek-tragedy sense) is also intriguing, as the characters don't simply stand around while speaking in unison, but often move eerily as a shuffling group, adding to their unearthly nature. At other times, though, Porteshawver places them in well-formed and aesthetically interesting tableaux, keeping in step with the production's overall artistic effect.

But even with these sometimes stunning theatrical accoutrements, at two hours and 45 minutes (including intermission), The Tragedy of Sarah Klein's current form is at least 45 minutes too long (not including intermission). And beyond a trimming of its length, the show would also benefit from a rewrite to add subtlety and deepen its themes. For now, Porteshawver's directing is much stronger than his writing. Given the evidence here, however, I have no doubt that with time and practice, those writing skills will improve.
 

For tickets and information, call (563) 383-6089 or visit TheInternetPlayers.com.

Thom White covers entertainment news for WQAD Quad Cities News 8.