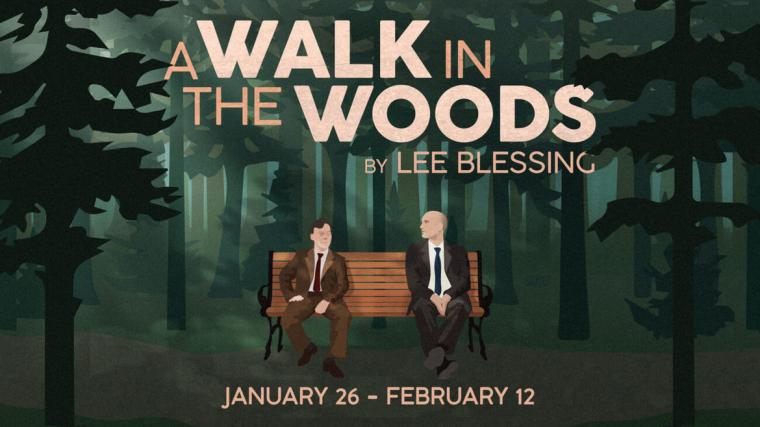 Thursday, January 26, through Sunday, February 12
Riverside Theatre, 119 East College Street, Iowa City IA
A Tony Award nominee for Best Play and finalist for the Pulitzer Prize for Drama, Lee Blessing's two-man classic A Walk in the Woods opens the 2023 lineup at Iowa City's Riverside Theatre, this witty and fascinating dramatic comedy lauded by LA Smash as "a memorable and thought-provoking evening in the theatre."
Blessing's stage hit takes place in a "pleasant woods on the outskirts of Geneva," where two superpower arms negotiators, a Russian and an American, meet informally after long, frustrating hours at the bargaining table. The Russian Andrey Botvinnik, a seasoned veteran who has mastered the Soviet "hard line," is urbane and humorous but, at the same time, profoundly cynical about what the current sessions can accomplish. His young American counterpart John Honeyman, a newcomer to the arms-control talks, is a bit stuffy and pedantic, but also fervently idealistic about what can—and must—be achieved through perseverance and honest bargaining. As A Walk in the Woods progresses, the two negotiators continue their informal meetings as the talks drag on and the seasons change. And through their absorbing and revealing conversations, audiences are invited to become aware both of the deepening understanding between these two wise and decent men, and also of the profound frustration that they increasingly feel.
Directing A Walk in the Woods is Riverside Theatre co-founder Ron Clark, who also helmed the venue's recent presentations of The Grand Inquisitor and A Christmas Carol, with Honeyman portrayed by Martin Andrews (A Midsummer Night's Dream, A Steady Rain) and Botvinnik by Tim Budd (The Weir, Henry V). Maggie McClellan serves as the production's stage manager, and additional members of Clark's creative team include scenic designer Shawn Johnson, costume designer Jenny Nutting Kelchen, lighting designer E. Haywood, sound designer Bri Atwood, dramaturg Kathleen Johnson, and board operator Hannah Green.
A Walk in the Woods will be performed in Iowa City from January 26 through February 12, with performances Thursdays through Saturdays at 7:30 p.m. and Sundays at 2 p.m. Admission is $15-35, a talk-back with the actors and director will take place after the February 5 matinée, and more information and tickets are available by calling (319)259-7099 and visiting RiversideTheatre.org.