At the opening night for the Circa '21 Dinner Playhouse's Ring of Fire, the show began with its eight-person cast, one by one, declaring, "I am Johnny Cash." Throughout the performance, they all at some point embodied the spirit of "The Man in Black." And while the production boasts a 34-song set list covering much of Cash's long songwriting career, I use the phrase "set list" intentionally, because the production does feel more like a concert than a traditional musical.
Having never previously seen Ring of Fire, I went in expecting a plot with characters and Cash's music enhancing the story. However, aside from our being given a few historical tidbits about the artist's life, the show instead seamlessly transitions from song to song, following the timeline of Johnny's life while rotating through performances by a musically talented cast. Between them, I witnessed the playing of a ukulele, mandolin, acoustic guitar, electric guitar, upright bass, banjo, fiddle, and washboard – and that was only the first song.
No one person only played one instrument, and throughout the whole of Ring of Fire, people traded off on trumpets, drums, piano, spoons, and cups. Yes, cups! "Folsom Prison Blues" featured a cup solo by Chet Wollan that brought a lot of energy toward the top of the second act, and his voice was quite reminiscent of Cash's, as well. In truth, all the men brought a wonderful Cash tone to their deliveries. Steven E. Sitzman had an especially excellent quality to his voice, and delivered some spot-on guitar solos, that fit the show's style perfectly. (Unfortunately, due to a microphone malfunction on September 22, we lost the full efect of Sitzman's singing through most of the second act.)
Director Curt Wollan has assembled a superb ensemble that includes his son Chet and daughter-in-law Candice Lively Wollan, who shines when singing as June Carter. Every member of the cast, though, has at least one moment in which he or she really wows the audience. Amy LeGrand is a phenomenal fiddle player, and performs maybe the fastest fiddle solo I've ever seen, when kicking off the second act. Deborah Kennedy delivers the very funny "Flushed from the Bathroom of Your Heart" – a song whose performance is set at the Grand Ole Opry – and is also a virtuoso on the spoons. Travis Smith seems to do it all as well, with his piano-playing skills really standing out. Bob Payne is the master of the bass throughout the show. And Tim Drake delivers a most patriotic, flag-themed speech set in a town that Johnny once visited.
Designed by Susan Holgersson, Ring of Fire's set consists of a gigantic railroad track that rests above the actors, stretching across the stage as castmates play under its bridge. It's quite a sight, setting the mood of country folks just getting together on a hot day to play music, and the lighting design by Mike Turczynski definitely helped to highlight the transitions between songs and the changing of locations.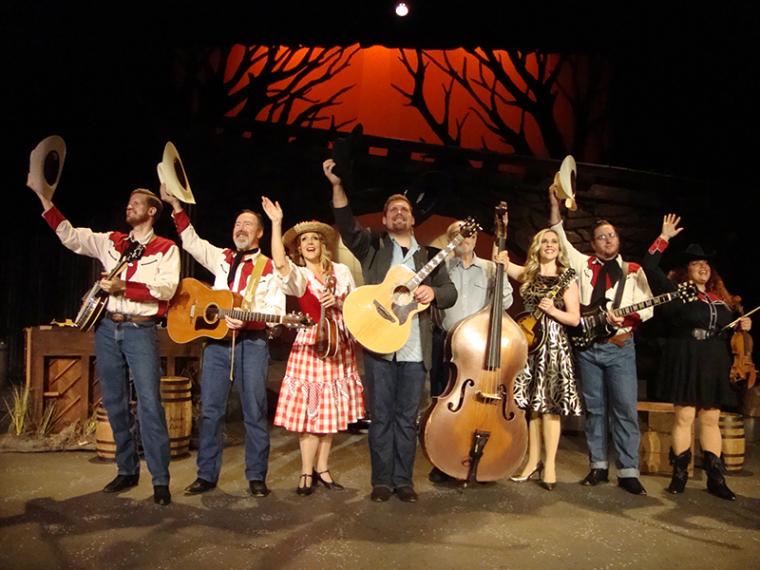 One criticism I do have with the show overall is that the top of Act II starts with enormous energy and fun, but over the course of its second act, the songs get much slower, and there is a general decline in excitement. Obviously, this is a complaint geared toward the writers. But I do feel that if the song order were flip-flopped for the second act, if would leave people feeling a lot more peppy by the finale.
Still, while you don't have to be a Johnny Cash fan in order to enjoy Circa '21's Ring of Fire, there's just too much great musicianship throughout to not enjoy the talents of this cast. And if you are a fan, you'll probably enjoy it that much more. I went into the night thinking I only knew two or three Johnny Cash songs at best, but left realizing I knew a lot more than I thought. You may, too.
Ring of Fire runs at the Circa '21 Dinner Playhouse (1828 Third Avenue, Rock Island) through November 4, and more information and tickets are available by calling (309)786-7733 extension 2 or visiting Circa21.com.