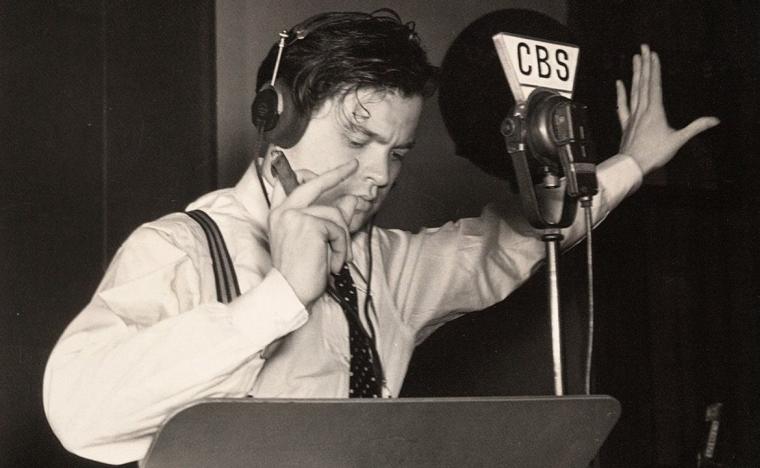 Thursday, October 11, through Sunday, October 21
The Black Box Theatre, 1623 Fifth Avenue, Moline IL
From October 11 through 21, the worlds of literature, radio, and theatre will blend when Moline's Black Box Theatre presents director Lora Adams' War of the Worlds: A Radio Play – a reenactment of Orson Welles' legendary 1938 radio program whose five-man cast both reproduces the tale's radio-show context and enacts the story's throngs of interviewers, experts, eyewitnesses, government officials, and military leaders.
Based on H.G. Wells' novel and originally presented as a Halloween-themed episode of Welles' anthology series The Mercury Theatre on the Air, the War of the Worlds broadcast began with a prologue read by Welles and a half-hour presented as typical evening radio programming – albeit one interrupted by a series of news bulletins. The first few updates interrupt a program of dance music and describe a series of odd explosions observed on Mars, are followed by a seemingly unrelated report of an unusual object falling on a farm in Grover's Mill, New Jersey. Another brief musical interlude is then interrupted by a live report from Grover's Mill, where police officials and a crowd of curious onlookers have surround the strange cylindrical object. The situation escalates, though, when Martians merge from the cylinder and attack using a heat ray, abruptly cutting off the panicked reporter at the scene. This is followed by a rapid series of increasingly alarming news bulletins detailing a devastating alien invasion taking place across the United States and the world, climaxing with another live report describing giant Martian war machines releasing clouds of poisonous smoke across New York City.
Though written by Casablanca co-writer Howard E. Koch and directed and narrated by Welles, War of the Worlds convinced many that what they were hearing was happening in real life, leading to terror on the part of radio listeners and outrage in the media. War of the Worlds: A Radio Play consequently re-creates the presentation's original 1938 broadcast with actors assuming numerous roles and performing the program's sound effects live, providing a comedic twist to this science-fiction tale that led to a night of genuine panic.
Director Adams, the Black Box Theatre's co-founder and artistic director, also helmed a radio-play version of It's a Wonderful Life at her venue last fall, and her additional credits for the theatre include Murderers, Love Letters, and this past spring's Crowns: A Gospel Musical. War of the Worlds' cast, meanwhile, is composed of a quintet of frequent area-theatre participants: Michael Alexander, James Driscoll, Scott Tunnicliff, Matt Walsh, and Reader theatre reviewer Mark Ruebling.
War of the Worlds: A Radio Play runs October 11 through 21, with performances Thursdays through Saturdays at 7:30 p.m. and Sundays at 2:30 p.m. Admission is $16, and more information and tickets are available by calling (563)284-2350 or visiting TheBlackBoxTheatre.com.