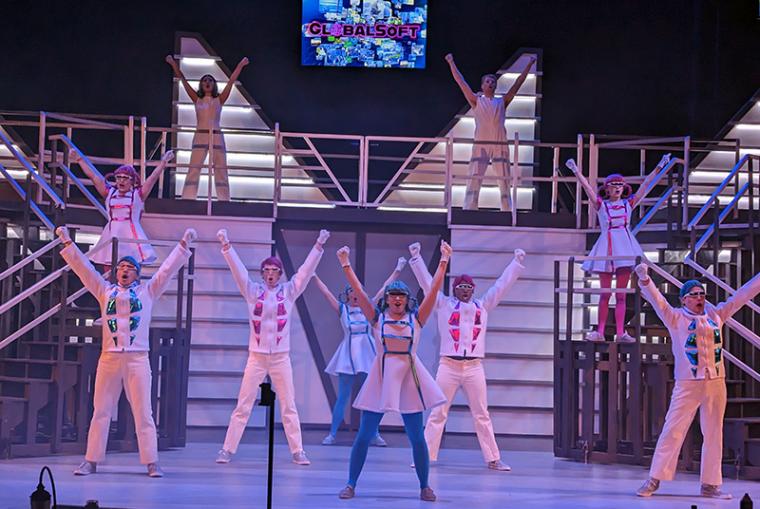 Wednesday, January 18, through Saturday, March 11
Circa '21 Dinner Playhouse, 1828 Third Avenue, Rock Island IL
Delivering what the British Theatre Guide deemed "lashings of energy" and "spectacle worthy of a rock video," the Circa '21 Dinner Playhouse will treat patrons to an audience with the Queen – or rather, simply Queen – in the imaginative musical revue We Will Rock You, a January 18 through March 11 celebration of the legendary rock and pop band boasting two dozen timeless hits including "Another One Bites the Dust," "Bohemian Rhapsody," "We Are the Champions," "Somebody to Love," and the iconic title tune.
Conceived and created by Ben Elton, We Will Rock You is set 300 years in the future in a globally corporate world. Planet Earth has been renamed the Planet Mall, and its leader – the sinister Killer Queen – has banned all non-computer generated music. She has heard of a prophecy involving hidden instruments on the planet and a "Dreamer" who will show her people the way to freedom, and consequently orders her chief of police to crush any potential rebellion. Meanwhile, the young student Galileo is desperate to break free from this capitalist world. He hears lyrics in his dreams and is heralded as the star of the prophecy by the Bohemians who have been searching for the lost instruments. To fulfill the prophecy, Galileo must evade the clutches of the Killer Queen and finally bring back rock's Holy Grail: the Brian May guitar buried in the remains of Wembley Stadium.
With additionally beloved Queen tunes in We Will Rock You including "Under Pressure," "Play the Game," "I Want It All," "Don't Stop Me Now," "Fat Bottomed Girls," and "Crazy Little Thing Called Love," the musical's first incarnation was directed by Christopher Renshaw and choreographed by Arlene Phillips, and its original West End production opened in 2002. The show quickly became an audience favorite, eventually becoming the longest-running musical at the Dominion Theatre, where it celebrated its tenth anniversary in May of 2012. That production finally closed on May 31, 2014, and at that time it stood as the 11th-longest-running musical in West End history. Numerous international and touring productions have followed, and to date, We Will Rock You has been seen in six of the world's continents.
Serving as We Will Rock You's director/choreographer and music director are the respective team of Amy McCleary and Ron May, who previously collaborated at Circa '21 on the musical hits Saturday Night Fever in 2021 and Disaster! in 2022. With Kendall McKasson as the show's stage manager, the creative team includes scenic designer Shannon Suit-Moore, scneic artist Becky Meissen, lighting designer Haley Brown, costume designer Bradley Jensen, production manager Jeremy Littlejohn, technical director Nick Divarco, deck manager Emmett Boedecker, and follow-spot operator and video-projection designer Khalil Hacker.
And with the heroic Galileo portrayed by Cameron Nies, We Will Rock You's ensemble is completed by Bobby Becher, Derrick Bertram, Natalie Carrera, Marc Christopher, Abigail Graham, Sarah Hayes, Mekhi Holloway, Kevin Korczynski, Taylor Lynn, Anthony Milfelt, Michaela Moore, Caitie Moss, and Tristan Tapscott.
We Will Rock You will be performed January 18 through March 11, with performances on Fridays, Saturdays, and Wednesdays at 7:30 p.m.; Sundays at 5:30 p.m.; and Wednesday afternoons at 1:15 p.m. All shows will be preceded by plated meals and pre-show entertainment by the theatre's performing wait staff of Circa '21 Bootleggers, and more information and tickets are available by calling (309)786-7733 extension 2 and visiting Circa21.com.