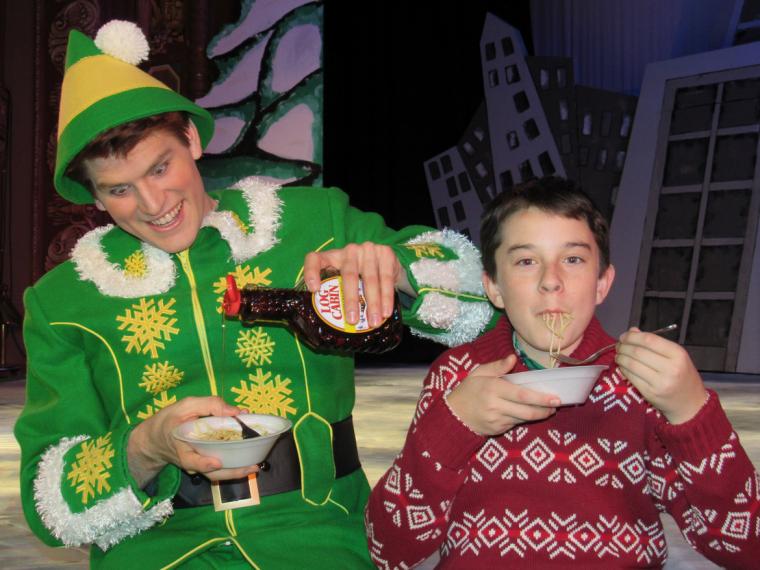 My husband and I spent all day on November 10 shopping, unsuccessfully, for a car, and by evening, we were exhausted and our heads were spinning. We needed a diversion. The Circa '21 Dinner Playhouse's holiday production Elf: The Musical was just the respite we needed. Written by Thomas Meehan and based on the 2003 film comedy, Elf: The Musical is filled with lively music by Matthew Sklar and lyrics by Chad Beguelin, and director/choreographer Ann Nieman made great use of an exceptionally talented cast that didn't have a weak link in the bunch.
Elf's plot is predictable and you know there will be a happy ending, but the exuberance of its main character sustains its entertaining, accessible story. Buddy is an elf who doesn't fit in with the other elves at the North Pole. (Among other things, he's six-foot-three and has lousy toy-making skills.) But Buddy loves being an elf and embraces the Christmas spirit to the hilt. When Santa reveals, however, that his employee is not really an elf, but rather a human, Buddy embarks on a journey to find his real father in New York City. There he discovers his over-worked father, along with other jaded New Yorkers, and an equally jaded potential girlfriend. Buddy, however, never falters as he tries to spread cheer wherever he goes, and the story emphasizes the importance of spending quality time with loved ones and just having fun.
Buddy is played by Luke Rose, whose charming goofiness made him endearing, but not annoying. Rose is what is known in show-biz as a triple-threat given his impressive acting, dancing, and singing skills, and his opening solo "World's Greatest Dad" elicited cheers from the opening-night audience. To his list of talents, Rose could also add "adept skater," as his skating finesse (which is actually roller-blading finesse) is displayed during a beautifully crafted scene in which scenic designer Erica Zafffarano and lighting designer Maranda Debusk recreate the Rockefeller Center ice-skating rink. Rose navigates his way on skates while singing "A Christmas Song" in an attempt to cheer up his love interest Jovie (Paige Denton), and as this disillusioned Macy's employee and center of Buddy's attention, Denton demonstrates just the right amount of weariness as her efforts to deflate Buddy's cheerfulness fail and she succumbs to his childlike charm. [Denton's voice is also showcased in her lovely solo "Never Fall in Love (with an Elf)."]
Meanwhile, the future of local theatre is bright if Croix Baker is any indicator. As Buddy's half-brother Michael, this young performer was confident in his acting and singing on Friday, mostly appearing alongside Erin Churchill, who portrayed his mother Emily. This mother/son combo appeared natural and believable, and their duets in "I'll Believe in You" and "There Is a Santa Claus" surprised me, as their voices melded in such perfect harmony that, for me, hearing them were true "Wow!" moments.
Local actor Tom Walljasper also turned in an enjoyable performance as the Scrooge-like dad Walter. Even though his character is numb to his family's feelings and initially unaccepting of Buddy, the nuance with which Walljasper plays his character makes him not totally unlikable. As Walljasper plays the role, Walter is a workaholic dad who thinks putting in long hours is the best way to provide for his family, not realizing that all they want is to spend more time with him.
As mentioned, though, this entire Elf ensemble is crazy-talented. In a snappy number that takes place as the Macy's employees are decorating the North Pole area of the store, their singing and dancing talents shine like the tinsel garlands in their hands. Those garlands, along with the scene's giant candy canes, make this choreographed number a standout. And speaking of standouts, Michael Fisher, as the store manager, hits all the right comedic notes when he encounters Buddy. When a misleading conversation has him believing that the elf is from Head Office, Fisher's timing is particularly spot-on and augments the humorous exchange.
My favorite scene, however, came at the opening of Act II, in which all the department store Santas have gathered at a Chinese restaurant on Christmas, and are now angrily unemployed. Buddy, however, engages them in the jazzy, raucous song-and-dance number "Nobody Cares About Santa." and the audience response indicated that it was a real crowd-pleaser for others, as well.
Credit for Elf: The Musical's success must also go to Circa 21's creative design team, whose employment of scenery, props, sound effects, and lighting transformed the stage into Santa's North Pole, Macy's, Manhattan, an office interior, a Chinese restaurant, an apartment, the Rockefeller Center skating rink, and Central Park. Given everything on view, the colors and lights were matched only by designer Greg Hiatt's superb costumes.
As sometimes happens with Christmas presents, I'm having a hard time wrapping this up. But Elf: The Musical is a modern-day Christmas story, and as delivered by Circa 21's outstanding cast and crew, it may be just the break you need from the frenzy of the season. How can one not smile while watching a 6'3" elf, dressed in green, tap-dancing and, as Buddy frequently insists, "singing loud for all to hear"?
Elf: The Musical runs at the Circa '21 Dinner Playhouse (1828 Third Avenue, Rock Island) through December 30, and more information and tickets are available by calling (309)786-7733 extension 2 or visiting Circa21.com.