I'm not personally familiar with author Judy Blume's children's book Tales of a Fourth Grade Nothing, but judging by the almost-packed house for Saturday's opening-day performance, I'm pretty sure many elementary-school students are. And based on the kids' relative silence and lack of fidgeting while observing the production, I'm guessing the Circa '21 Dinner Playhouse's stage production is, for them, just as much of a hit as the book.
Unfortunately, as an adult, I didn't find the play quite as appealing as I do most of Circa '21's family shows. Though the tale of Blume's fourth-grade nothing is interesting enough, it didn't appeal to me as much as past Circa '21's productions such as 2013's How I Became a Pirate and 2012's Diary of a Worm, a Spider, & a Fly; instead of finding its central situation funny, I felt as unhappily annoyed with our title character's younger brother as the title character did. Then again, the story is told through the older brother's perspective, so it could easily be argued that my reaction was, in truth, the appropriate one.
Directed here by Marc Ciemiewicz, playwright Bruce Mason's adaptation is a series of vignettes tied together with narration by Peter, portrayed as fittingly bland, and fittingly male, by female actor Morgan Griffin. (That's not to say that Griffin is bad in the role, but that her energy is true to that of a fourth-grade boy who feels like he's invisible.) Peter's main problem is his attention-stealing brat of a three-year-old brother, Fudge (Stacy Phipps), and the scenes shared from their lives include, among others, Fudge's birthday party, a visit to the dentist, a shoe-shopping trip, and the search for Peter's missing turtle.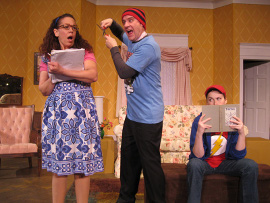 Fudge is such a nuisance that Phipps, dressed in costume designer Gregory Hiatt's toddler-appropriate choice of yellow bib overalls, had me really rooting for Peter. Phipps manages to maintain a sincere joy and smile while misbehaving over and over again, from Fudge repeatedly getting out of bed to play with - i.e., harass - the wife of his father's potential client (Tamarin Lawler's mustached Mr. Yarby) to refusing to do anything he's told until Peter does it first. Andrea Moore's take on the boys' mom includes a sense of defeat under the surface, which fits given how difficult this child is, and while I don't believe in spanking, Phipps' Fudge had me reconsidering the option.
So, too, did Cara Chumbley's scaredy-cat crybaby Sarah, a friend and guest at Fudge's birthday party whose piercing shrieks are appropriately excruciating. It was her shoe salesperson Vicki, though, whom I liked best of the five characters Chumbley portrays. This gum-chomping, New York-accented woman wears a friendly, patient façade while dealing directly with the boys and their mother, but offers wickedly funny eye-rolls and visibly impatient sighs - delivered through her nose - as she watches Moore's mom deal with Fudge's refusal to try on red shoes.
If anyone in the cast, however, truly connects with the adult audience members in terms of comedy, it's Brad Hauskins, who also takes on numerous roles. Playing Peter's dad, Hauskins delivers facial expressions that are likely to register with adults, such as his annoyance with the banality of the television shows he's choosing to watch. His Ralph, Fudge's pudgy friend, had me in stitches with his repeated cries for "More cake!", even after puking at Fudge's birthday party. Hauskins' dentist Dr. Brown unleashes a laugh that has a tinge of the maniacal to it, but never crosses over from funny to evil. And even though his character Jimmy - a classmate of Peter working with him on a school project - reads a little too "stoner" for a fourth grade, Hauskins is no less enjoyable to watch for it.
To be clear, I didn't dislike Circa '21's production of Tales of a Fourth Grade Nothing; I just found the material less adult-friendly than previous plays of its type. Its storyline is still amusing and will likely please the children who see it - especially those with younger siblings they find unbearably annoying.
Tales of a Fourth Grade Nothing runs at the Circa '21 Dinner Playhouse (1828 Third Avenue, Rock Island) through May 10, and more information and tickets are available by calling (309)786-7733 extension 2 or visiting Circa21.com.