I love Yasmina Reza's 'Art.' My infatuation with the playwright's script started four years ago when the piece was produced by the Curtainbox Theatre Company, and it brought me great delight to hear that the QC Theatre Workshop and director Tyson Danner planned to stage the play with the same cast that performed the material for the Curtainbox.
Friday night, as I settled into my seat, I took time to marvel at scenic designer Tyler Reinert's set, which is itself a work of art. He's painted the walls as stained, aged cement sectioned to look like giant blocks, and these walls are separated by tall, white-washed brick pillars marking the edges of a wooden-floored, minimally decorated room containing two metal benches and a sofa table. While artistic in and of itself, the space also looks as if it's a room in an art museum, one ready to display masterpieces.
In 'Art,' the space - considering it functions as three separate apartments during the play - is primarily the home to a newly acquired Antrios artwork purchased for $200,000 by Serge (Reader employee Mike Schulz), a work that looks like a canvas painted entirely white. The painting, which Serge insists is not white, becomes the catalyst for the long-gestating demise of the friendship between Serge and Marc (Adam Michael Lewis), with Marc seeing the canvas as a representation of what Serge has become, which is someone Marc no longer likes.
Schulz, who seems comfortable in Serge's pretentious skin, really shines when his character gets excited about sharing "the Antrios." His childlike giddiness is clear not only in his voice, but in the twinkle in his eyes and the flush in his face. His most enjoyable moments, however, come when Serge and Marc square off, as Schulz's smug, barely contained disdain meets Lewis' uncontained dismissal of Serge and his independent tastes that are out of line with Marc's. The contrast of Schulz's attempts at self-control and Lewis' willingness to let his displeasure be clearly known is a highlight of the performance, with Serge and Marc exchanging increasingly personal barbs - over the painting, the minutiae of its intention, and the intonation behind one another's specific words. Despite each character's self-importance and self-absorption, their arguments are utterly, hilariously ridiculous.
Serge's and Marc's tense relationship is made more palpable by the inclusion of Yvan (Aaron Randolph III) in the friendship mix. Randolph's awkward, much less refined figure seems a plaything for Serge and Marc, a jester for their entertainment, as the ways in which they toy with his attentions and demand his loyalty suggest that he's obviously beneath them. Dressed in business-casual attire by costume designer Kristin Meyer - as opposed to the button-up shirts and suit jackets of Serge and Marc - Yvan is the audience's connection to the proceedings, the sympathetic doorway into the uppity world of the two other characters. It's easy to feel for him as Serge and Marc play tennis with his friendship, both attempting to keep him in their own court.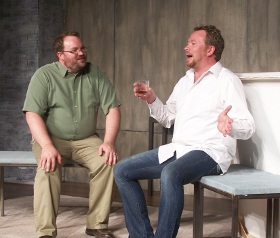 This sympathy comes even easier because of the way Randolph portrays Yvan; he's charmingly unassuming and good-natured. Even his moments of outrage are adorable, particularly when he gets so shaken up that he literally - and probably unintentionally - shakes the eyeglasses off his face, which happened at least three times during Friday's performance. His rants and fits, including a lengthy explanation about the frustrations of including his step-mothers and his mother on his wedding invitations, have the cadences and inflections of a nice-guy version of Lewis Black. My partner and I were in almost-constant fits of giggling whenever Randolph spoke.
As funny as the show is, it's also poignant, particularly in its examination of friendship. The QC Theatre Workshop's most affecting moment is one I cannot divulge here but wish that I could, because it's one of those rare times in which a show's lighting delivers a message. Though Marc speaks the final monologue, which explains both the central white painting and the play's point, it's Danner's lighting design for the production's final image that makes that point clear. 'Art' is not a riotously funny yet basically insignificant conversation about a white painting for 85 minutes. Instead, it's a meaningful and utterly entertaining lesson in human relationships, which the QC Theatre Workshop shines a light on wonderfully well.
'Art' runs at the QC Theatre Workshop (730 Wilkes Avenue, Davenport) through August 30, and more information and tickets are available by calling (563)650-2396 or visiting QCTheatreWorkshop.org.