Quad City Music Guild's production of 9 to 5: The Musical is flat-out fun, with loads of laughs and major amusement delivered throughout the two-and-a-half-hour presentation. Friday's performance, for me, was one of the most enjoyable stagings of the summer, with exceptional performances from the musical's three main actors as well as several supporting cast members. The pit band, under the music direction of music Gregg Neuleib, didn't seem to miss a note during their dynamic accompaniment. And Erin Churchill's peppy choreography seems of a higher level of difficulty than is customary at Music Guild, but in a welcome way, as the show's ensemble proved up to the task. With its perfect pacing and high energy, and under the capable direction of John VanDeWoestyne, I'd say Music Guild has a definite hit on its (stage)hands.
Based on the 1980 comedy starring Jane Fonda, Lily Tomlin, and Dolly Parton - and, judging by costume designer Cindy Monroe's fabulous period dresses, likely set in 1980 as well - the stage adaptation, with its book by Patricia Resnick and its music and lyrics by Dolly Parton, follows the film's storyline. Three office workers at Consolidated Industries hate working for a "sexist, egotistical, lying, hypocritical bigot," dream of offing him, but instead end up kidnapping the man and changing the rules at the office to better suit them and their fellow employees. And the musical itself isn't perfect, with some mundane lyrics here and there (despite the songs' inspired melodies), and a flow that's probably slightly hard to understand without previous knowledge of the story, particularly in the fantasy sequence which only clearly sets up one of the women's fantasies. There's also too much set-up prior to the kidnapping, leaving little time to focus on the positive work the women do in their office, and rendering the story focused more on revenge than positive achievement and female power. Still, these issues do little to inhibit the show's entertainment value.
Valeree Pieper steps into the role of Violet Newstead, the character played by Tomlin, and her self-certainty and independent nature in the role well suit this widowed senior office supervisor gunning for a promotion to a management position. As Doralee Rhodes, Elisabeth Gonzanlez has Parton's accent, vocal inflections, and just enough of her mannerisms down to emulate the role's originator without mimicking her, instead making her presumed adulteress Doralee her own, and impressing with her powerhouse vocals. Jenny Winn, meanwhile, can add Judy Bernly - the most recent member of the Consolidated office pool - to her long list of exceptionally performed roles, as she shades Fonda's recently-divorced and newly-destitute character with sincerity, earnestness, and an endearing naïveté. (Winn earned Friday's loudest applause after her stunning, heartfelt rendition of the independent-woman anthem, "Get Out and Stay Out.") Together, the three actors are a force to be reckoned with, and their performances not to be missed.
Not to be left out of the spotlight, Kevin Pieper offers the perfect mix of slimy, womanizing creepiness and charming humor to make the women's boss, Franklin Hart, tolerable and fun to dislike. (As 9 to 5's scenic designer, Pieper's sets are also remarkably versatile - grand-looking, but offering seemingly easy and thorough shifts from the main office area to Hart's personal office space.) Playing Hart's brown-nosed, tattletale assistant Roz Keith, Dolores Sierra more than holds her own against the show's three leads, especially when her dowdy character proclaims herself a red hot mama in her confessional song "Heart to Hart." (If there were a place for a fourth star in this musical, I'd nominate Sierra.) Though cast in smaller roles, Tom Vaccaro leaves quite an amusing, comical impression as Judy's philandering, no-good ex, while Cole Mitchell couldn't be more likable as Doralee's doting hick of a husband, and Shana Kulhavy manages to steal scenes with her spot-on drunken act as office lush Margaret Pomerance.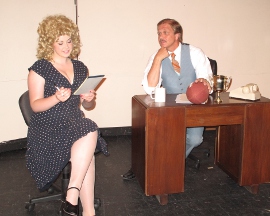 As for VanDeWoestyne, he deserves a special nod for not only instilling and maintaining a pace that prevents the fun from ever falling flat, but also for including humorous vignettes, of sorts, to keep the entertainment flowing during set changes. These scenes, played out in front of the curtain, make great use of the chorus members, who get to show off comedic skills beyond what their acting in the background allows. And Churchill also gets to sneak in some out-of-the-spotlight moments in her choreography, especially with the synchronized movements of chorus members still sitting at their desks during the number "Around Here." There's so much to take in and enjoy in Quad City Music Guild's 9 to 5:The Musical that the presentation feels bigger than the show itself, and packs quite an entertaining punch.
9 to 5: The Musical runs at the Prospect Park Auditorium (1584 34th Street, Moline) through August 18, and more information and tickets are available by calling (309)762-6610 or visiting QCMusicGuild.com.