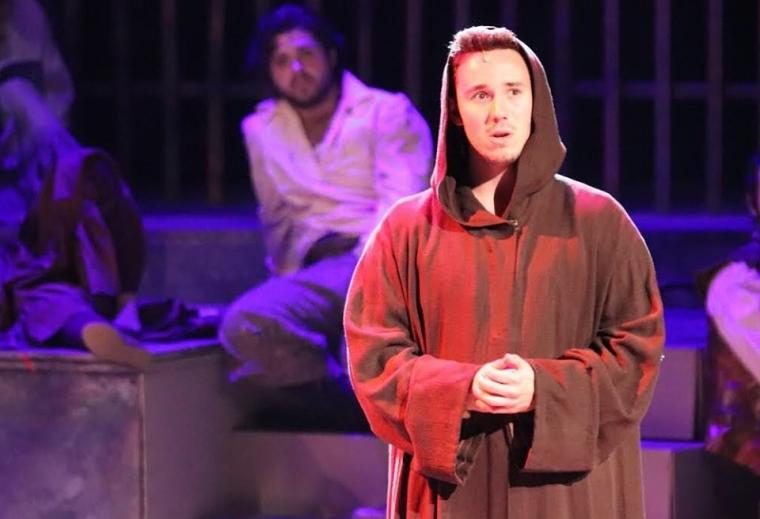 Chivalry is not dead. In fact, in the form of Miguel de Cervantes' Don Quixote, it's very much alive at the Timber Lake Playhouse in the theatre's latest production: the 1965 Broadway-musical hit Man of La Mancha. With the mood brilliantly captured from the moment patrons enter the theatre, we're greeted with an extravagant set and cast members already ambling about the stage. Artistic Director Paul Stancato then becomes a part of the action as he concludes his announcements and begins to introduce the show, the performers consequently snatching him up and dragging him away. And from there we go on a genuine journey and as director Dan Barron so eloquently states in his program notes: "Through the telling of Don Quixote, Cervantes shares one of the major themes of this piece, which is this idea of seeing the world as not what it is, but what it can be."
With the show written by Dale Wasserman, Saturday's matinée, its music direction courtesy of Michael McBride, was a well-oiled machine and evoked a multitude of emotions, given that this show explores love, hate, joy, abuse, delusion, and hope, just to mention a few of its subjects. It tells the story of the "mad" knight Don Quixote (William Michals) as a play-within-a-play, performed by Cervantes – also portrayed by Michals – and his fellow prisoners as he awaits a hearing with the Spanish Inquisition. Don Quixote de La Mancha and his manservant squire Sancho Panza (Aaron Choi) subsequently go off to find misadventure after misadventure.
The scenic design by Kristen Martino was exquisite, with a large, ripped canvas cloth strung over the top of a wooden balcony leading down the stairs to a cobblestone entrance. There was a lot to look at and it was visually appealing, with beautiful purple and orange lighting by Tanner Simpson and an airy mist exuding from a fog machine. Timber Lake's entire set had a lot of depth, with prison bars and windows as well as wooden beams for the actors to lean up against as they lounged about the area.
Michals and Choi had great onstage chemistry, and I particularly loved Choi's charming personality that shined right through as he sang heartfelt songs such as "I Really Like Him" with a grin on his face that could brighten any room. Likewise, Michals definitely commanded the platform, as he was agile on his feet and demonstrative with his movements while belting out a multitude of tunes including the centerpiece song "The Impossible Dream" – a song composed by Mitch Leigh and Joe Darion with just the right amount of melodramatic fortitude. Christina Pecce's rendition of the tavern wench/part-time prostitute Aldonza was additionally riveting as she masterfully executed several stunts that included a scene in which she was being beat up by local muleteers, one that found her slapped around, punched, and even taking a dive off of a table.
Conor Jordan tapped into a dark side for his role as Pedro, the vicious leader of the muleteers; after this season's performances in The Little Mermaid, Noises Off, and Into the Woods, and with his gruff voice and evil swagger, I was impressed with his versatility as a performer. And what made his character even more diabolical was the huge scar he had plastered across his face that really made him look like the ruffian he portrayed. Wig and makeup designer Jasmine Elam did a fantastic job with all the performers, strategically placing scars and wounds, ratting up their hair, and adorning them in appropriate wigs while making their faces look both scruffy and dirty. In addition, Zandra Siple's costume design was fabulous, with the men wearing pantaloons, ruffled shirts, and multi-layered outfits with ornate trim, and the women in tattered skirts and well-fitting peasant tops.
Meanwhile, I could listen to Ben Dow's melodic voice all day long as he portrayed The Padre with such finesse and style, acting with his entire face and roaming eyes. And James Tweedale, as The Barber, was quite playful and entertaining as he skipped about the stage in his golden cap that doubled as a shaving bowl. The entire ensemble, even those with few or no lines, stayed in character throughout and added authenticity to every scene.
Once the complete Man of La Mancha company was assembled at the end of the production, they delivered an earth-shattering final performance of "The Impossible Dream" that gave me chills. It was a touching reminder of how there are indeed so many obstacles to overcome in this world – but with crazy perseverance, we can indeed follow our dreams, conquering fears as we embark on this challenging quest called life.
Man of La Mancha runs at the Timber Lake Playhouse (8215 Black Oak Road, Mt. Carroll) through August 18, and more information and tickets are available by calling (815)244-2035 or visiting TimberLakePlayhouse.org.