I won't lie: I left the Playcrafters Barn Theatre's January 5 preview performance of Arsenic & Old Lace a little creeped out. This show could be titled The Original American Horror Story, although a version with a light seasoning of laughter, and director Donna Weeks did an especially nice job of casting the show's eccentric characters that brought us into its world of homicide and pleasantries.
At the start of Joseph Kesselring's play, we meet our central characters Abby and Martha, two sisters who open their home to men looking for rooms to rent – particularly older men who happen to be lonely and have no families. However, those rooms never stay occupied for long, as we learn that the sisters have an obsession with offing these men with wine laced with arsenic, strychnine, and a pinch of cyanide. The sisters in Weeks' production are played by Playcrafters vets Patti Flaherty (as Abby) and Susan Perrin-Sallak (as Martha), and they displayed a great chemistry, at times even sounding alike in their gasps of shock. Their nephew Mortimer (Eric Landuyt) discovers his aunts' quirky habit of poisoning men and burying them in the basement, and Landuyt did an admirable job of realizing the sisters' insanity, with his panicked energy a fine contrast to Abby's and Martha's peppy attitudes. (Speaking of pep, I particularly enjoyed Flaherty's sprightly pounce as she walked.)
Arsenic & Old Lace's comedy, though, becomes even darker with the entrance of the sisters' estranged nephew Johnathan, and Gregory Braid takes this role, and the play itself, to a new level of creepiness. That would have likely happened with his appearance alone – given Jonathan's shaved head, sunken cheeks, and tall slender frame – but Braid's slow, direct way of talking also leaves you a little shaken. Johnathan, it turns out, has been traveling around the world on his own killing sprees, but with far more sinister intentions than his aunts', and he's accompanied by his plastic surgeon Dr. Einstein (Jason Dlouhy) who reconstructs Johnathan's face every time he executes a killing. Dloughy played the part of this nervous sidekick well, although throughout much of the show, I was unsure about where he was supposed to be from. (Einstein's accent sounded American during the majority of the play, but at the end, we discover that he's German.)
Bill Bates is also notable as Lieutenant Rooney, the hardball detective who eventually clears up the whole Arsenic mess. Bates' characterization, seeming to be annoyed that he even had to be there, played really well on Tuesday, and allowed the actor some very funny facial expressions.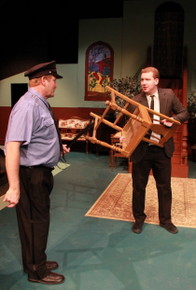 There was also a lovely moment (or rather, moments) that occurred during this particular preview performance, in which a phone cord fell from the phone that characters were using – accidentally, and twice. The actors, however, handled the situation nicely with the same improvised line of "Sorry – we got disconnected," which proved to be welcome bits of fresh air in a rather lengthy production.
But while Playcrafters' latest show did drag at times, that might simply have been the result of January 5's presentation being the first one with an audience, and based on the preview I saw, the performers will no doubt find their pacing. This Arsenic & Old Lace offers lots of eerie moments, as when Johnathan gets ready to have some "fun" with Mortimer, but also offers plenty of laughs, especially in regard to the sisters' obliviousness that anything they are doing is wrong. If you see this show, be ready to laugh. But also be ready to be a little weirded out.
Arsenic & Old Lace runs at the Playcrafters Barn Theatre (4950 35th Avenue, Moline) through January 17, and more information and tickets are available by calling (309)762-0330 or visiting Playcrafters.com.