As of this writing, area venues have announced the titles to a collective 70 plays and musicals opening between August 31 and November 30. You wanna know my favorite title? Theatre Cedar Rapids' The Time When Presley and Mrs. Luther Took a Stand in the Alley, Kinda Sorta. It's the Kinda Sorta that makes it priceless.
Then again, the Quad Cities and its surrounding burgs will be boasting plenty of priceless, if decidedly less outré, stage titles this fall. One of the most universally adored will grace Davenport's Adler Theatre on November 18, when the 2012-13 Broadway at the Adler series opens with the musical classic Fiddler on the Roof, while Galesburg's Orpheum Theatre tackles a more modern classic with Stephen Sondheim's Tony Award-winning fairytale musical Into the Woods (November 2 through 4). Tune-filled offerings, meanwhile, don't get more recognizable, or more consistently popular, than The Sound of Music, running at Anamosa's Starlighters Theatre November 30 through December 9, and it's preceded by a Pulitzer Prize-winning dramatic classic - Sam Shepard's wa-a-ay-dysfunctional-family saga Buried Child (October 26 through November 4).
The author's fans can get an additional fix of dysfunction in Iowa City's Riverside Theatre staging of Shepard's dark sibling-rivalry comedy True West (September 7 through 30), the season-opener that leads to the awkward hilarity of Manning Up (October 12 through 28). Iowa City Community Theatre will be woman-ing it up - sorry, but that was too tempting to resist - when the venue houses the beloved Southern belles of Steel Magnolias (October 19 through 28), with musical romance in the air during the theatre's production of The Fantasticks (September 14 through 23). For even more musical romance, and even more "fantastic," there's the fall offering at Cedar Rapids' Kirkwood College - the hilarious, inventive The Drowsy Chaperone (November 1 through 4). And with added hilarity coming from its forthcoming production of Almost, Maine (November 23 through December 1), Princeton's Festival 56 will attempt to explain the origin of ... well, everything ... in its lightly satirical Mark Twain's The Diary of Adam & Eve (November 9 through 17).
Theatre Cedar Rapids will not only debut the previously mentioned play that they Kinda Sorta hope is a hit, but seven other inclusions in the venue's Underground New Play Festival (November 1 through 11), among them short works with the equally intriguing titles Baby Jesus & the Queen of Hearts and Leggo My Eggo-Mat. Two-act endeavors, meanwhile, will be housed in the venue when it presents the movie-turned-stage-musical Meet Me in St. Louis (November 23 through December 15), the historical rock 'n' roll of Bloody Bloody Andrew Jackson (September 28 through October 20), and David Mamet's political satire November (September 21 through October 13). But audiences closer to home can also get a healthy dose of politically themed laughs with the District Theatre's production of the great, recently deceased Gore Vidal's The Best Man (November 6 through 18), with other fall offerings including the sweetly dirty-minded puppet musical Avenue Q (October 5 through 21), the annual stagings of The Rocky Horror Show (October 26 through 31), and Melissa McBain's crisis-of-faith drama Altar Call (November 30 through December 9).
Mere blocks away from the District, Rock Island's The Center for Living Arts presents a work by another local-author-made-good with Adam Kuta's fairytale comedy RED: The Tale of Mary Kon (October 19 through 21). That venue's neighboring Circa '21 Dinner Playhouse brings audiences the eagerly awaited return of the Lieber & Stoller revue Smokey Joe's Cafe (September 19 through November 3), plus the debuting family entertainment Freckleface Strawberry: The Musical (November 23 through December 29), the latter adapted from the children's book authored by actress Julianne Moore. And while its production is being staged at Moline's Scottish Rite Cathedral, Rock Island's Ballet Quad Cities and lead dancer Domingo Rubio get into the fall spirit - specifically the Halloween spirit - with the company's new staging of Dracula (September 28 and 29).
Even more chills, plus a lot of hilarity, will be on hand when Moline's Playcrafters Barn Theatre presents The 39 Steps (September 7 through 16), a satiric-thriller take on the Alfred Hitchcock classic that, from October 11 through November 11, will also be presented at the Old Creamery Theatre. That Amana-based venue will also offer additional autumn titles with the Ken Ludwig farce The Fox on the Fairway (September 6 through October 7), Yasmina Reza's riotously caustic God of Carnage (September 20 through October 7), the vampire-rabbit yarn Bunnicula (October 20 through November 3), and the one-man/35-character comedy Fully Committed (November 29 through December 16), while the nearby Iowa Theatre Artists Company offers touching sentiment in The Drawer Biy (August 31 through September 16), Tony-winning drama in The Belle of Amherst (October 12 through 21), and music and laughs served by the Pump Boys & Dinettes (October 26 through November 18).
Iowa City's University of Iowa has a plethora of offerings - a whopping 13 of them - scheduled for the fall, delivering the Macbeth-inspired Lady M (October 11 through 21), the tortured-youth rock musical Spring Awakening (November 9 through 17), and 11 new works in the theatre's department's gallery series (September 7 through December 6). Students at Davenport's St. Ambrose University will tackle seduction among the French aristocracy in Les Liaisons Dangereuses (October 5 through 7) and chilly romantic comedy in Almost, Maine (November 1 through 3), with students and former students teaming up for an SAU-alumni presentation of Kaufman & Hart's timeless You Can't Take It with You (September 7 through 9), presented in collaboration with Davenport's Curtainbox Theatre Company.
Younger students will get in the autumn swing of things when Davenport Junior Theatre stages the fairytale romance Beauty & the Beast (October 20 through 28), while audiences of all ages are treated to an ample supply of laughs and heart in Geneseo's Richmond Hill Barn Theatre production of A Nice Family Gathering (November 8 through 18), a show preceded by the Tony-winning theatrical farce of Noises Off (October 4 through 14). Those, like me, who can't get enough of that Michael Frayn title also have the chance to see the City Circle Acting Company of Coralville's Noises Off (September 7 through 16), which will be followed by the ambitious J.R.R. Tolkien adaptation The Hobbit (November 2 through 11).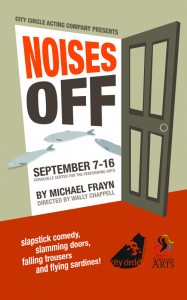 Smaller-scale, though equally ambitious, offerings are on the docket at Iowa City's Dreamwell Theatre, as the organization is gearing up for the dramatic The Women of Lockerbie (September 14 through 22) and the dark comedy of The House of Yes (November 9 through 17). Super-dark comedy will be delivered when Davenport's New Ground Theatre presents Martin McDonagh's haunting The Beauty Queen of Leenane (September 28 through October 7), with gentler, more political-minded laughs coming courtesy of Lee Blessing's A Walk in the Woods (November 2 through 11). The Quad Cities' classical-theatre troupe the Prenzie Players, meanwhile, have a fall outing on the horizon: From October 19 through 28, they'll be staging the carnival-themed Aphra Behn classic The Rover at Davenport's QC Theatre Workshop. (And by "they'll," I actually mean "we'll.")
So there's your fall-theatre season, folks! I must say, that's quite an impressive lineup of ... . Oh, wait ... . Looks like I neglected to mention a few productions. Circa '21 is also staging the holiday-film musical adaptation Miracle on 34th Street (November 7 through December 30), and Playcrafters is presenting the new family production The Christmas Express (November 9 through 18). The Old Creamery has a 1940s tribute titled G.I. Holiday Jukebox (November 15 through December 16), plus the children's show A Winnie-the-Pooh Christmas Tail (November 24 through december 15). Iowa City's Englert Theatre is housing a touring production of the musical-comedy sequel Away in the Basement: A Church Basement Ladies Christmas (November 14). And Moline's Quad City Music Guild will bring a beloved film to life in its holiday-musical re-telling of It's a Wonderful Life (November 29 through December 2). In case you're wondering: Yes, you're still reading an article in the Reader's annual Fall Guide. But your confusion is understandable.
For more information on the area's fall theatre productions, visit RCReader.com/y/theatre.