On Thursday night, the cast of the Richmond Hill Barn Theatre's Escanaba in da Moonlight brought me to a place I'd yet to arrive at in all of the theatre I've seen in the area: I experienced a fit of tear-filled giggles so strong, so overwhelming, that I missed several lines of dialogue.
In his role as Jimmer Negamanee, a simpleton from the Upper Peninsula of Michigan, Jonathan Grafft adopts a speech impediment that adds a "sh" sound to almost every word. When he enters the play, Jimmer utters the line "My Chevy shook a shih!", setting off an attempt by the other characters to figure out just what he's saying. And when this happened on Thursday, I found myself giggling so hard that I couldn't breathe... just like the woman sitting behind me. It is, truly, one of the funniest scenes I've ever seen on a stage.

Written by Jeff Daniels - yes, that Jeff Daniels - Escanaba is the story of a deer-hunting family that believes they're cursed, and it isn't laugh-out-loud funny throughout. In fact, following a hilarious attempt to wake Don Faust's character from a paranormal stupor, the second act is fairly serious, as Reuben works to shake the curse and bag his first buck. Still, there are many good laughs in the play - so many, in truth, that it marks the second show in a row that my play-hating partner, Matt, said he liked.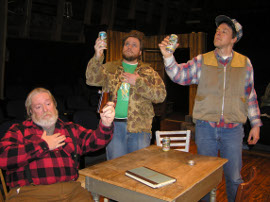 I attribute much of the production's success to director Gregg Neuleib's relaxed pacing and the impressive combination of lighting designer Jennifer Kingry's and sound designer Larry Lord's effects. (The strobe and flashing lights are often matched to an otherworldly voice that's penetrating, but not overpowering, in volume.) Plus, there's John VanDeWoestyne's strong comedic delivery in Escanaba's leading role of Albert Soady, the family patriarch and teller of this tale.

In the Playcrafters Barn Theatre's January production of Lend Me a Tenor, VanDeWoestyne captured my attention with the ease with which he portrayed the titular tenor. He eases into Escanaba's Albert just as smoothly, if not more so, since his Yooper is so laid back. VanDeWoestyne transitions flawlessly between speaking to the audience in the present and acting out scenes from the past, and seems so natural in the role, with such a believable Yooper accent, that his carefree telling of the tale is readily accepted by the audience, who laughs with him often and hangs on his every word.


Grafft, however, brings down the house, not only with his "My Chevy shook a shih!" scene (the translation for which I won't spoil), but also with Jimmer's morning flatulence and the way it's employed. Faust and Justin Raver are well-paired as brothers Reuben and Remnar Soady; each has apparent trouble suppressing his real-life intelligence to embody the dimwitted Yoopers called for, but their brotherly rivalry is believable. And Greg Cripple, perhaps oddly, seems most in his acting element when his Ranger Tom T. Treado is stripping down to his skivvies while in a God-struck stupor.

(It's to the cast's credit that a sound-effects snafu, on Thursday, didn't come across, completely, as a mistake. At the point in which Grafft's character was supposed to let out his biggest fart yet, the sounds of a ghostly Native American came out instead, followed by what seemed like every sound effect already heard up to that point in the show - an obvious attempt, by the tech operator, to find the right cue. Yet happily, instead of standing there bewildered, the actors - at least the ones whose characters were conscious - reacted to the incorrect sounds as if they were supposed to be heard in that part of the play.)

I had quite a few concerns about seeing an all-male play about deer hunting, which didn't exactly sound like my cup of tea. Neuleib's work surprised me, though, thanks to his and Daniels' sincerity mixed with humor. Here's hoping that Escanaba in da Moonlight isn't the last of the author's plays that the Richmond Hill Players choose to stage.
 

For tickets and information, call (309) 944-2244 or visit RHPlayers.com.