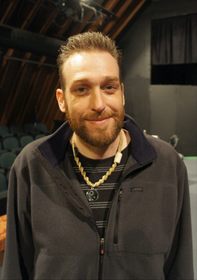 In recent years, 36-year-old actor Dana Moss-Peterson has been asked to play several characters far younger than himself.
During flashback scenes in the Richmond Hill Barn Theatre's 2013 Death of a Salesman, Moss-Peterson played Biff Loman when he was a high-school senior and local football hero. For more than half of 2011's Leaving Iowa at the Playcrafters Barn Theatre, his Don Browning was a younger teen enduring an excruciating family vacation. In New Ground Theatre's 2012 Mr. Marmalade, the actor - not in flashback - portrayed Larry, a comically morose, suicidal five-year-old. (It's that kind of play.)
Consequently, it makes a sort of sense when Moss-Peterson says his interest in theatre began when he was even younger than Larry.
"I've just always been drawn to it," says the Davenport resident, "and I really think it's because of my mom - the way she read stories to me. She just did it with so much enthusiasm and inflection. I remember by the time I got to kindergarten, when we'd have to read in front of the class, I'd hear other kids and think, 'They're not reading it right!' I just knew, 'You gotta put something into it!'
"And then I remember watching Growing Pains as a kid," Moss-Peterson continues, "and when Mike Seaver wanted to be an actor, I was like, 'Wait ... people can be actors?' And ever since then, when I was like 11 years old, I always wanted to do it."
Some of us, now, will have to officially stop making fun of Growing Pains, because if that's what it took to get that 11-year-old involved in area theatre, Kirk Cameron deserves a thank-you card. In addition to his work in the aforementioned titles, the gifted and prolific Moss-Peterson, since 2011, has also portrayed the titular sleuth in Richmond Hill's Sherlock Holmes & the Case of the Jersey Lily; acted in the District Theatre's Altar Call; and not only performed in New Ground's Crimes of the Heart and Bad Habits but authored two short plays - Leap Day and Saying Goodbye - in the company's 2013 Playwrights Festival.
Meanwhile, since his 1998 community-theatre debut in the venue's The Lion in Winter, Moss-Peterson has been involved with more than a dozen shows at Playcrafters, enacting the iconic role of Mozart in 2003's Amadeus, and appearing in recent presentations including 2014's Second Samuel and Yes, Virginia, There Is a Santa Claus. Even more recently, Moss-Peterson agreed to take on the challenge of directing his first full-length production with Playcrafters' romantic comedy 13th of Paris, running March 13 through 22.
"I've always wanted to direct," he says, uttering an age-old sentiment among actors. "Just to see if I had it in me, and if I would like it. And I really do. Having this script, and this cast, and this venue ... . I'm a very lucky person. But it's a challenge. As an actor, you can be like, 'Okay, rehearsal's over, I can look at my lines a little while I wind down in front of the TV.' But now, I can't not think about the show. I'll have the TV on and realize I've spent an hour thinking about every paint detail, set detail, costume ... . I mean, I love a challenge, but it's exhausting."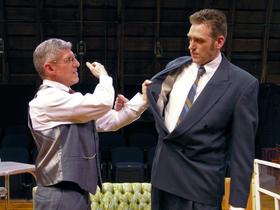 "I Want to Be the Hairy Man"
Following his light-bulb moment involving Mike Seaver, the young Moss-Peterson, at 12, asked his mother if he could start attending classes at Davenport Junior Theatre. "And my mom wasn't sure," he says. "I'd wanted to be involved with dance and singing and Boy Scouts and all this stuff, and I never followed through with anything.
"But with this," he continues, "I was like, 'Look, I will clean the house, I'll do chores for a month, whatever. And it'll keep me out of trouble.' And I think that perked her ears up, because I was always kind of getting in trouble in school. So she was like, 'Okay, maybe we'll try this.'"
It quickly became apparent, though, at both Junior Theatre and Sudlow Intermediate School, that Moss-Peterson had higher goals - or at least wordier ones - than merely being involved in stage plays.
"The very first show I ever did," he says, "was [Junior Theatre's] Wiley & the Hairy Man. They asked what parts we wanted to play, and I was never shy about being ambitious, so I was like, 'I want to be the Hairy Man. I want to be the title role.' And my second show was [Sudlow's] The Devious Doings of Oozley Mudslime, and they asked what parts we wanted to be. 'I'll be Oozley Mudslime.' I mean, of course! Why not? I always wanted to test myself, and challenge myself."
Moss-Peterson found added opportunities to do so in Davenport Central High School productions that included Carlo Goldoni's commedia dell'arte classic The Servant of Two Masters, "where my drama teacher Mr. Tandy, who was great, instilled in me the simplicity of a show. That it's always about the story, and about the characters, and how you portray them." The high-schooler also began challenging himself in his choice of reading material.
"I would go to my acting class with Mrs. Miller and say, 'I want to learn all I can - what should I read?' She was really encouraging, but she wouldn't give me plays. She'd just give me writers. Like Arthur Miller. 'Go try out this writer and see what you think.' And that was invaluable to me. So I'd read The Crucible, Death of a Salesman ... . When I first read that, I was like, 'Oh my God.' That's still the most fascinating piece of dramatic literature I've ever read - my all-time-favorite play to read."
Following high school, Moss-Peterson stayed in the area, but found himself "not sure where to go with my passion, or where I'd have an outlet for this. But one of my mom's friends who'd seen me in a couple high-school plays was like, 'I know somebody who has this little theatre group.' It was called the Unsafe Ensemble."
While performing works mostly written by its company members, generally in a local library, the Unsafe Ensemble introduced the recent high-school graduate to the likes of Shea Doyle, John R. Turner, and Don Faust, all of whom are still active in local theatre. "I just got so lucky that there was life after high school in this area," says Moss-Peterson. "And that's where Don Faust told me about an audition for Lion in Winter at Playcrafters."
Before hitting 20, Moss-Peterson was cast as France's King Philip in the Playcrafters production, a role he discovered had been originated on Broadway by Christopher Walken. "I remember reading an interview with Walken years later," he says, "and he talked about how the director wanted to fire him because he couldn't pour brandy. And I knew what he was talking about. That was my first really serious role, in my first real theatre outside of high school, and I was shaking, and pouring that brandy was just nerve-racking. You wouldn't think it'd be that hard, but it was."
That production led to Moss-Peterson, for nearly seven years, being involved in Playcrafters presentations "backstage, on-stage - whatever. I love that theatre, and the intimacy of it, and I just wanted to learn as much as I could. And it's funny, because when you're doing a show, you want to learn, but you almost can't learn on the fly, you know? You're just into that show. But years later, you realize you've learned by going through those experiences. Every script and every cast has a unique imprint on who you are and how you view things, and teaches you something different."
By 2005, Moss-Peterson "wanted to try my hand at professional theatre," and opted to do so in Philadelphia. (When asked why not Chicago or Minneapolis or New York instead, he answers, "I have aunts and uncles and grandparents and cousins out there.") But despite what turned into a five-year residency in Pennsylvania, he says, "I was just miserable.
"I wouldn't trade that experience with my family for the world," he adds. "But I was hardly able to do any theatre at all." Given Moss-Peterson's employment in specialized residential services for the elderly, "I was working three to 11 just about every day, so I did three shows out there in five years. I just couldn't get away from the job. And it's not that I took theatre for granted before, but I definitely have a deeper appreciation for it now for not being able to do it for so long. Even if I do theatre every day for the next 40 years of my life, when all is said and done, I'll still say, 'I wish I could've done more.'"
In 2010, however, "my mom got Parkinson's. She's fine, but they had to do deep brain-stimulation surgery, so I was gonna have to come back for a couple months. The one cool thing about my job was I had a lot of vacation time. So I came back. And I just didn't want to leave."
Arriving in and Leaving   Iowa
Moss-Peterson says that after returning to the Quad Cities from Philadelphia, "I was just astounded at how much theatre had grown here. I thought I'd come back and it'd be the same people for the most part, but I was just astounded at how many new faces there were, and the people I met, and how much talent there was. Maybe I wouldn't have noticed so much if I wasn't gone for those five years, but when I came back, it was like, 'Wow!'"
Although it took him a year to pursue his first area show since 2005 ("First year I was back, I struggled a lot, and had a lot of things going on with family"), Moss-Peterson auditioned for Playcrafters' 2011 comedy Leaving Iowa. After all, its plot - which concerns a conflicted young man who returns from the eastern U.S. to the Hawkeye State because of family obligations - did somewhat mirror his own life.
"It was me," says Moss-Peterson of the play's central character Don Browning. "And it was such a personal story for me. But my thought when I auditioned was, 'I know how this works. I haven't been here for a while, I haven't done theatre in so long, I'm rusty - I probably won't get it.' But there were all these extra parts, these cameos, so I thought it'd be fine if I got one of those. I just needed to get back into it."
Instead, Moss-Peterson got the lead, which he found out about while with a friend at the Bier Stube in the Village of East Davenport. "And I just started high-fiving people in the Village," he says with a grin. "People I didn't even know.
"Life is never perfect," he continues, "but in theatre, you can have these perfect moments. And that was especially true with Leaving Iowa. It was like every star and planet aligned for that to happen. There was so much emotion wrapped up in it, and my dad who lives in Georgia - who hadn't seen me in a show since Servant of Two Masters in high school in '95 - came and sat in the front row, and we got a standing ovation that first night ... . It was mind-blowing. And if I never would've left for Philadelphia, it wouldn't have meant as much."
Since Leaving Iowa, Moss-Peterson has gone on to enjoy many additional area-theatre opportunities, among them the chance to portray Death of a Salesman's Biff Loman, which he calls "a 20-year dream come true." (He says he also has another, perhaps unlikely dream: "To play Biff Loman and Don Browning on Broadway, traveling the country, wherever, every other day for the rest of my life. Then I'd have nothing to complain about, ever.")
But in terms of his wish list, "I hope one day I can say, 'I did something at every theatre in the Quad Cities.' Theatres are like baseball parks. You're playing the same game, but they're all different, and where you are changes things. So yes, playing Biff Loman or Sherlock Holmes or Mozart is awesome. But I'm old enough now, and I've done enough now, where if I get a three-page part in a show in a new theatre - hey, that's a new experience. And if I can have a new experience with new people, then I don't care if it's one page or 100. I'll be able to look back and say, 'I learned something on that show.'"
In the meantime, as the first-time director of a two-act production, Moss-Peterson says he's learning an awful lot in rehearsals for Playcrafters' 13th of Paris.
"The show is a whole lot of fun," he says. "The characters are really passionate and well-drawn, and it's funny, it's touching, it's not too preachy, it's not too sappy - I couldn't be more happy. I also got really lucky with this show, because I don't have an elaborate set, there are no scene changes, there are no costume changes, there's not a whole lot of lights and sound ... . And I've got an experienced, passionate cast and crew who are all really good people. Sometimes talented people aren't good people, but I would hang out with all of these people outside the theatre, you know?
"But it is this constant up and down," Moss-Peterson continues. "This roller coaster. This constant battle of 'Am I giving them enough?' 'Am I communicating the right things to them?' 'They're telling me I am, but do they really mean it?'" He laughs. "Undertaking directing is so much different than acting. Everything is on you. And I'm sleeping pretty well, but there have been a few nights where I'm trying to go to sleep and it's like, 'Brain, just turn off ... !'
"So it's a monumental undertaking. But I love to challenge myself. And having my first directing experience be at Playcrafters ... . I'm just very fortunate. Playcrafters does feel like home to me. They say, 'You can't ever go home again.' It's not true."
13th of Paris runs at the Playcrafters Barn Theatre (4950 35th Avenue, Moline) March 13 through 22, and more information and tickets are available by calling (309)762-0330 or visiting Playcrafters.com.