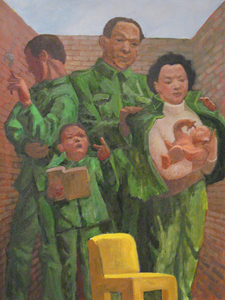 The centerpiece of the current two-person exhibit at Quad City Arts is a collection of four paintings recalling Peter Xiao's childhood in China.
From an artistic perspective, Xiao is rendering people more conventionally in terms of both figure and color, said Les Bell, the other artist in the show. In the past, he said, Xiao worked in a "cubistic" space, bending figures and objects and colors to meet the formal needs of the piece.
Bell called Xiao's use of color in these new works "smoldering," and said: "It's a much more complex level of narrative than I've ever seen in his work. ... I'm completely charmed by the drama of these scenes."
Bell also said that "you'd swear he was working from models to get these individual personalities."
But these works come from memory, and Xiao -- a professor at Augustana College -- said that "I sort of turned [auto]biographical for the first time. I always worked with the figure but was usually shy about putting myself there, because you want to be objective about things."