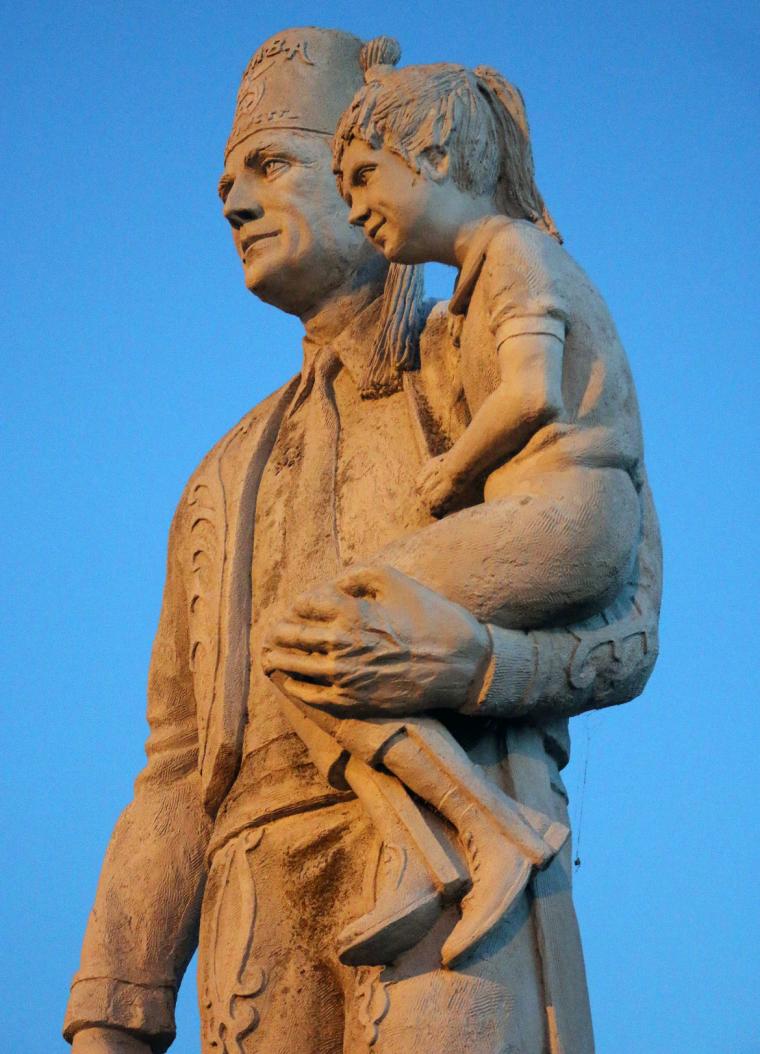 Two similar Quad Cities sculptures that could be best described as sentimental raise issues about the role of art. Although their tones are different, both pieces depict young girls with adult-male authority figures and are meant to reflect the goals of the organizations that host them.
A brightly lit sculpture of a young handicapped girl held by a man shines in the night on a nearly empty stretch of road in north Davenport. It is placed in front of the Kaaba Shriners Masonic Center at 511 Veterans Memorial Parkway – halfway between cornfields and a Brady Street intersection with a gas station, hotel, restaurant, and home-improvement store. This is not where one expects to find a nine-foot-tall statue atop a pedestal.
The sculpture aspires to touch us emotionally. The girl is held by the man easily in one hand; she is no burden. She looks upward in joy, forgetting for a moment her physical limitations. A child-sized crutch is held in the man's other hand. This is the only sculpture I know of in the Quad Cities that depicts a handicapped child.
The artwork, sculpted by Harrison Covington, is based on a newspaper photo taken by Randy Dieter in 1970 while covering a Shriner outing for handicapped children in Evansville, Indiana. Dieter had film in his camera for one last snapshot when he "saw a local Shriner walking by carrying a little girl in one hand and her crutches in the other." The little girl, Bobbi Jo Wright, was born with cerebral palsy and was a patient at a Shriner hospital.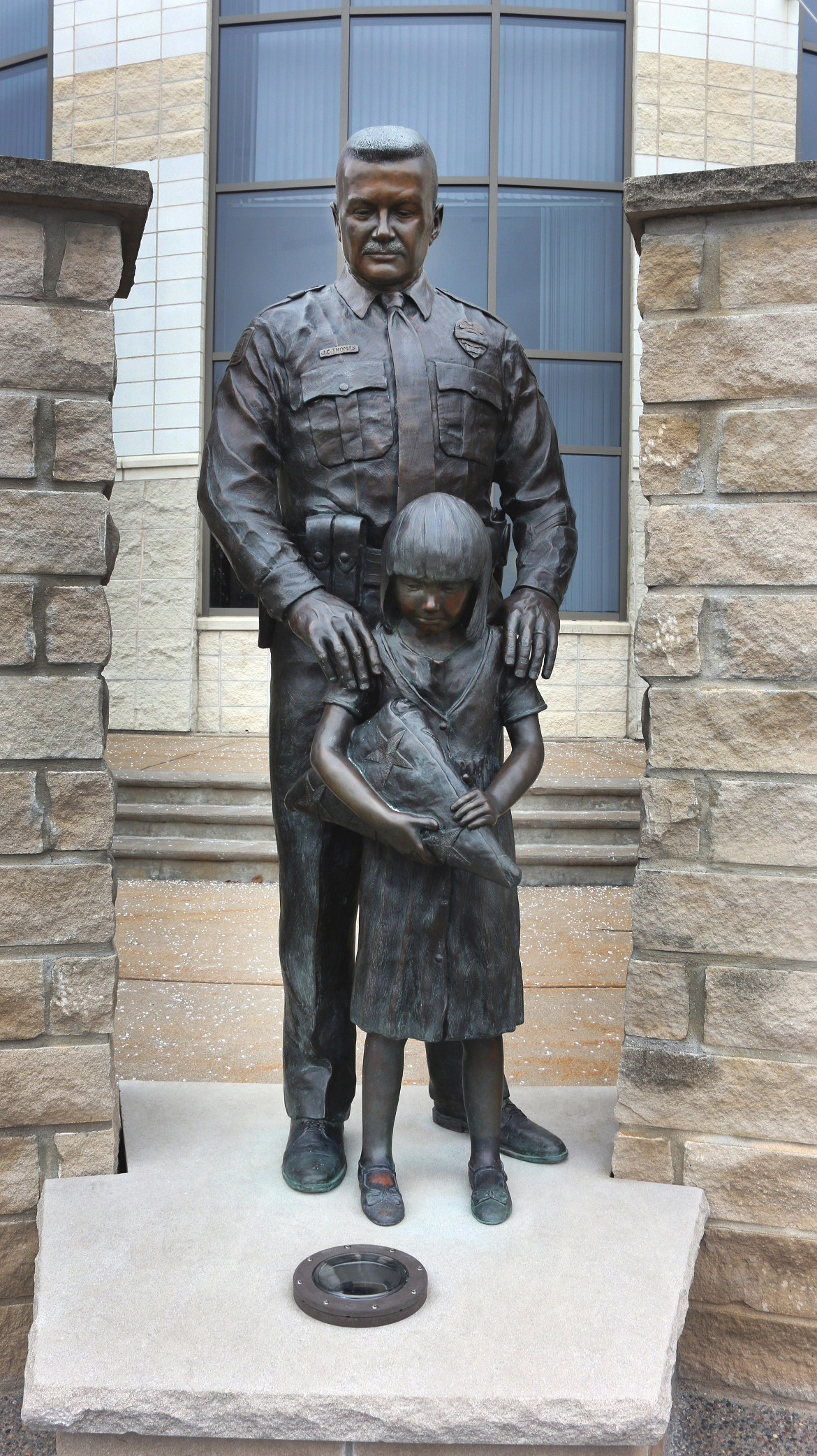 A young girl protected by a male figure is also the subject of a sculpture at the center of the Quad Cities Law Enforcement Officers Memorial, in front of the entrance to the Rock Island County Justice Center at 1317 Third Avenue in Rock Island. This child's gaze is downward, and her face is cast in grief. The likeness of the man is based on a Moline police officer, Jamie Thomas. The life-sized bronze sculpture was created by area artist John Ketner in 2002.
The straightforward – even prosaic – subjects give these two artworks an authenticity. I am reminded of the Civil War monuments that placed a common soldier – not a celebrated general or politician – atop their columns.
My assessment, however, isn't universal in the art community. J. Carter Brown, the former chair of the U.S. Commission of Fine Arts, once infamously described the Iwo Jima Memorial as kitsch – commonly defined as sentimental artwork that appeals to popular taste. He elaborated: "It was taken from a photograph, [and] it is by a sculptor ... who is not going to go down as a Michelangelo in history."
Although sentimentality has been described as a cardinal sin in modern art, it has its defenders. Author and philosopher Robert Solomon stated: "Sentimentality implies no deficiency in one's rational faculties and does not imply any inappropriateness, unwillingness, or lack of readiness to act. It is not an escape from reality or responsibility, but, quite to the contrary, provides the precondition for ethical engagement rather than an obstacle to it." Sentimentality, to him, is an "appeal to tender feelings."
Initially, I saw the two young girls as the focus of these two works. Their expressions – one joyful, one full of grief – are their emotional hearts.
But as I thought more about them, I realized that the act of reaching out to others is their true emphasis. Each man stands before a building and, in effect, personifies each organization's mission. Each conveys a sense of responsibility – a strength expressed through simple protective acts and gestures. Both works "appeal to tender feelings" and call for "ethical engagement." They are undoubtedly sentimental, in the best sense of the word.
Bruce Walters is a professor of art at Western Illinois University.
This is part of an occasional series on the history of public art in the Quad Cities. If there's a piece of public art that you'd like to learn more about, e-mail the location and a brief description to BD-Walters@wiu.edu.