Tree house, snow fort, doll house, sand castle - most of us enjoyed playing with some kind of architecture as a child. The exhibition Questionable Architecture, by Terry Rathje in collaboration with Steve Banks and Monica Correia, unleashes a whiff of that joy for viewers with fanciful structures that appeal as sophisticated art forms.
The exhibition - running through August 25 - is located in the fourth-floor gallery of the Figge Art Museum, and a transitional experience is suggested by the lattice-passageway entrance, constructed with loosely assembled wood slats arcing above that recall youthful explorations in building. Nearly a dozen structures are in place that you walk around in the conventional way, but you also walk into and through some of the works. Materials range from a pagoda constructed of found objects to a tunnel of foam planks trussed together with bamboo skewers.
Rathje commutes from the banks of the Wapsipinicon River in Scott County to Macomb, where he is an assistant professor of graphic design at Western Illinois University. He received his MFA in 3D design from the University of Iowa, which is where he met mentor and collaborator Correia - presently an associate professor of design there; her design work has been gaining international recognition. Steve Banks, a graduate of Florida State University, is himself a Quad Cities artist who creates multimedia works.
Over the past three decades, Rathje's work has evolved from two-dimensional paintings and drawings with naturalistic imagery to wall objects made of assembled parts, such as used license plates. In an e-mail this month, Rathje wrote that he shifted gradually to his three-dimensional structures, as the objects "got larger, and soon I was thinking about creating spaces, which naturally starts to overlap with architecture."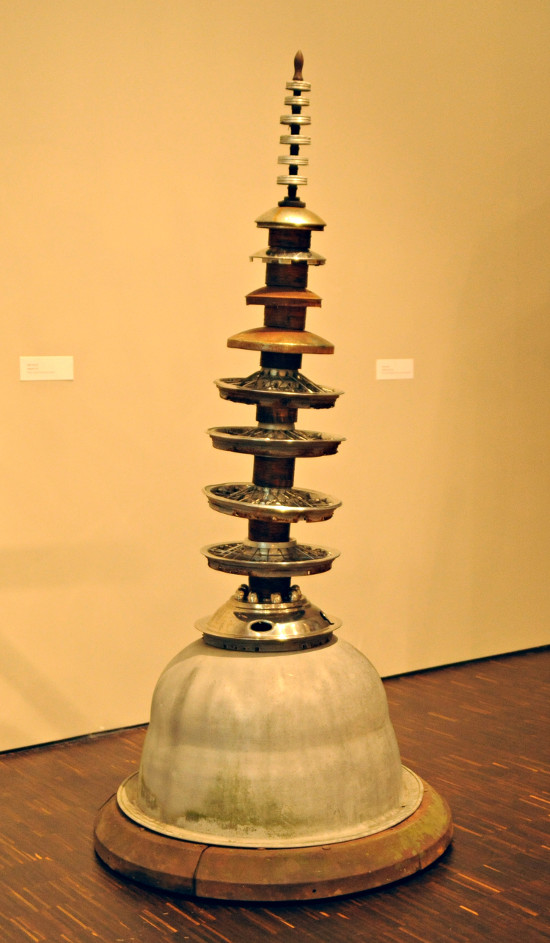 One of the first encounters in the exhibition is the seven-foot-tall Capagoda (2006), which on approach appears to be a refined tribute to the architecture of a Buddhist temple. Such temples are built so that you wind around the floors in a spiral, ascending and then descending, gaining a heady spiritual experience. Up close, Capagoda is tipped sideways just enough to reveal that it actually is made up of found objects: Shiny hub caps are balanced on rusted canning-jar lids. The sculpture melds the elegance of a temple form with the amusing discovery of the construction materials. (Rathje noted that he used parts found in scrap yards and along a river bank.)
Structures in the exhibition often are clad with recycled metal graphics, sometimes playing painted signage against manipulated snippets of license plates. The Way (2008) juxtaposes the statements "OPEN TO CONJECTURE" against "NO PLAN B," among other quips to contemplate.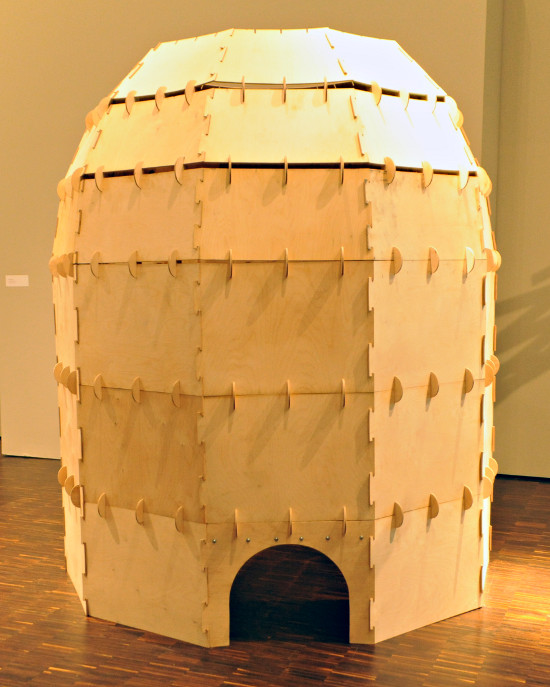 The beehive-shaped wood shelter Skep (2009) is methodically fitted together like a puzzle of many wood panels. The doorway is but a foot high, jesting with our sense of scale: It's as if we once were small enough to enter but now as adults we look at the roof; we are given the perspective of a giant. Although perhaps intentional, I found the presence of dark dirt scuffs on the wood surface to be distracting.
The title of the work Ophidian (2012) refers to snakes, and I liked the overall undulating tunnel shape of the piece. But at first glance I wondered about the inconsistent gaps in the side walls of foam planks. Were these gaps an issue of craftsmanship akin to the dirt scuffs on Skep? Once inside Ophidian, however, it was clear that the gaps, whether part of the original plan for the piece or something discovered by chance, were intentional. They allow for a gentle sparkle of light dashes on the shadowed walls - a magical light, not to be missed.
The PPMH (Personal Portable Museum Hut) (2012) has an exterior covered in reclaimed metal signage, deftly arranged to fill the walls with graphics and color. A circa-1960 flattened sand bucket printed with a beach scene idyll, including a child starting to build a sand castle, is set against containers for Muriel cigars and Mrs. Tucker's Shortening.
I asked Rathje if there was a reason for the frequent recurrence of lard brands in the piece. He replied that those containers were the largest vintage graphics he found to efficiently cover surface areas, and they often mentioned locations around the Quad Cities. He added: "I collected things for at least a year and a half for the skin of PPMH. As you can tell ... collection is a serious part of the process. It is a good thing I started when I did, because as the American Pickers have become more popular, lard containers have become more scarce."
As much as the exterior of PPMH is derived from popular culture, the interior relates to an elite tradition. Inside, the hut is a kind of Wunderkammer, or chamber of wonders. Dating back centuries, such rooms were showcases for treasured and valuable collections and are now regarded as the predecessor of modern museums. A stuffed alligator would have been mounted above old master paintings next to African masks, etc. The walls of Rathje's hut, floor to ceiling, bear shelves displaying objects you might have brought home from childhood wanderings - mammal skulls next to variegated rocks, and shells next to a rusted metal toy. Rathje's chamber has a less stuffed-to-the-gills approach than some, but it evokes the same sense of pride in collecting. He has provided a museum within a museum.
Rathje notes on his Web site that "there is an obsession to make things to get them out of your head and into the world, to leave yourself a milepost that marks the passage of time and an accumulation of effort." Large in scale, cohesive in concept, and visually rich, this exhibit achieves a kind of milepost: a new level of synergy for collaboration among area artists. It also is the first big-gallery show focused on a local talent that has been presented by the Figge in years.
We are given the title Questionable Architecture and asked, "Can a structure be considered 'architecture' if it has no apparent function?" This is not a final-exam topic; the exhibition's structures are witty artistic accomplishments made to tweak our imagination about space-making and the approximation of architecture.
For more information on Terry Rathje, visit TerryRathje.com. For more information on the Figge Art Museum, visit FiggeArtMuseum.org.
Sherry C. Maurer holds an MFA in painting, an MA in art history, and a BFA with a printmaking concentration. She was the director of the Augustana College Art Museum from 1983 to 2013. She can be reached at sherry_maurer@yahoo.com.