It is as if a Jimi Hendrix concert outfit collided and merged with great-grandma's doily and potholder collection in the 2009 Soundsuit by Nick Cave, part of the exhibition Innovators & Legends: Generations in Textiles & Fiber that runs through September 7 at the Figge Art Museum.
Cave's 97-inch-tall soundsuits enclose the head and are made to be danced in, akin to African practices where the body is completely covered with an outfit. When traditionally "danced," an African ensemble imbues the wearer with its particular spiritual power. For full effect, Cave's suits need his performance energy and musical accompaniment.
Yet his suits alone are still imposing in size and detail. On the front of this suit at the Figge is a colorful, kaleidoscopic array of salvaged homemade crocheted and knitted goods, the kind that lovingly protected modest American tabletops. The back of the suit presents an opulent spectacle of sequined and beaded floral designs in gold, silver, and jewel colors that visually spin and pop. All of the components are unified by a common shimmering black-beaded and -sequined background.
The Figge's newsletter notes that the traveling exhibition, organized by the Muskegon Museum of Art, includes more than 50 artists who explore the technical possibilities in fabric, thread, fiber, and yarn.
The exhibition title perhaps overreached the capacity of a single undertaking. To feature the "legendary" protagonists who, beginning in the mid-1950s, rapidly moved traditional fiber "craft" to "fine art" would require a linear tracing of their progress and profound change. The earliest pieces in this presentation date to the mid-1980s.
Nonetheless, the included works - mostly dating from the past 10 years - are accomplished and innovative in their technical mastery, surprising breadth of materials, and strength of statement.
Cave, for example, might ultimately prove to be "legendary." He comes from a large African-American Missouri family of modest means, and the previously mentioned suit references both a humble home and an opulent gala, perhaps reflective of the trajectory of his career.
Cave said in a 2012 PBS interview that his soundsuits arose from a concern about racial profiling and identity assumptions. The doily/gala suit balances imagery of economic and social disparity - a prevalent, unresolved issue of our era.
Cave's other 2009 Soundsuit in the exhibit has pink and violet arcs and circles bobbing on a dark-brown background, all made of soft, straight human hair. While in jest I'd say it looks like a cross between a Wookiee and a lava lamp, it challenges our expectations and prejudices about hair color: pinkish blonde versus brunette versus violet streaks. Cave has a sense of humor and a keen grasp of pushing traditional materials in new directions.
Many pioneering fine-art fiber artists are noted in the exhibition catalog, but their actual work is not represented. Among the missing big names are Annie Albers, Jack Lenor Larsen, Ed Rossbach, and Lenore Tawney. Tawney once told me that when she started in the mid-'50s at the Cranbrook Academy of Art in Michigan, she wove table runners as expected, but she graduated as something new: an experimental fiber sculptor.
Earlier trailblazers included in Innovators & Legends are Katherine Westphal, who led the fine-art quilt movement; Ted Hallman, who explored plastics; and two artists who used emerging technologies: Sherri Smith (Sloan telescope images of the cosmos) and Cynthia Schira (electronic Jacquard loom). Also represented is Gerhardt Knodel, a pioneer of fiber installations during the 1970s, with a 2011 entry titled Do You See What I See?
Knodel lines up a kind of carnival shooting gallery of three tiers of stylized fringed heads, each of slightly different facial configuration. Tipped heads reveal a drawing design. Knodel states in the exhibition catalog that the drawings are derived from Victorian-period stencils "used by children as an aid in early image-making." Behind the tiers of heads, the design on a quilted backdrop swirls in cursive freedom. The artist seems to convey that it takes time and effort to notice these features; careful seeing is needed for much in life. He also may be warning that rote learning results when creativity is "shot."
There is much innovation to contemplate, beginning on the third floor where the viewer is greeted with a flowing silk organza robe, This Land (2010), by Sara Rockinger. A combination of photo silkscreen, freestyle machine embroidery, line-drawing, and hand-stitching creates the delicate imagery on the tan, wide flare of the garment - an echo of the decorated tipi skins of the Plains Indians. The imagery moves in historical overview, beginning with ancient pictographs. Fluid dyed sky blues soak down the neck into the sleeves where images of modern ships float. All is balanced with restraint similar to a Japanese ink-painting. The different techniques unobtrusively work together for a beautiful effect.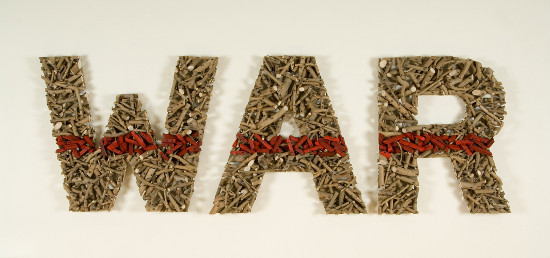 Several entries probe social issues, including the spooky feral Chernobyl cats by Sarah Wagner and Globalization III: Red Ink (2005) by Gyöngy Laky. Globalization III comprises three 32-inch-high capital letters spelling "WAR."
The word is made up of collaged tree cuttings, banded across the center with a horizontal red line of jostling painted commercial blocks. Hundreds of screws attach the components to a backing board, at a distance looking like bullets that have pierced the wood. Laky works with salvaged tree trimmings as an environmental statement. She uses the visual power of concrete poetry; here the stark layout intensifies the presence of the word. The letters suggest a deforested landscape divided by a blood-soaked trench. The bisection implies an impasse, with no winners. The result is a succinct, direct, and disturbing gestalt.
At the fourth-floor entry are the hand-knit hero suits of Mark Newport. These garments consider expectations for men as well as the childhood fascination with superheroes. The suits are reminiscent of awkward sweater fashions for boys and include big gloves that have the parental-requisite "room to grow." The ensemble of Sweaterman 7 (2011), in canary yellow striped with black and navy, is subtly accented with mismatched socks. We could imagine that, if a boy wore the outfit, he might feel he could accomplish more - but he would have to mature into the role.
Among many worthy exhibition inclusions are those that prompt wonder. How did Amy Clarke Moore have the patience to handle the thousands (?) of Japanese seed beads stitched to create her images? It is hard to believe the machine-embroidered scenes by Carol Shinn are not paintings. The 96-by-96-inch Dome (2010), by Piper Shepard, presents a monumental gray, filigreed circle with a small center circle pierced with regular dots. The lacy surface allows light to travel through and bounce against the back wall, turning the centermost circle into a lens that focuses a shadow below. From afar, the work has some weight, like a millstone. Up close, it is clarified that this cloth was cut by hand to produce all of the delicate openings; it must take Zen persistence to bring about such a result. For sheer labor intensity, I'd guess this exhibition would win a record.
In addition to the traveling exhibit, the Figge invited participation by some area fiber artists for Local Threads, blending those into the fourth-floor display. The contributions from Astrid Hilger Bennett, Carol Coohey, Tricia Coulson, Mary Merkel-Hess, Amber O'Harrow, Rowen Schussheim-Anderson, and Dawn Wohlford could have been an entire separate exhibition, but it is nice to see them hold their own alongside a nationally touring presentation. Schussheim-Anderson's works, also displayed in the Figge gift shop, reflect the trend of fiber artists drawing inspiration from global textile traditions. In her tapestry Thursday Market (2012), she merges sensations of the visual richness of a marketplace in Ghana, Africa. In contrast to the dusty earth tone, there is a wealth of vibrant shapes and patterns, from stacked baskets to richly designed woven and dyed garments, all suffused in golden sunshine.
Wohlford's She Was Happiest When Surrounded by Art (2014) has a great title, and the artwork lives up to it. The "dress" is composed of hundreds of slides of artworks, wired together to form a chic summer sheath. These slides - obsolete tools of the art profession - have been recycled for a new purpose. The clever dress is completed with a matching necklace of a slide with a purple mount.
This exhibition might be light on legends, but it offers an amazing variety of works covering two galleries and well worth a visit.
So ... what if Nick Cave's soundsuit took Dawn Wohlford's dress out on a date ... ?
Sherry C. Maurer holds an MFA in painting, an MA in art history, and a BFA with a printmaking concentration. She was the director of the Augustana College Art Museum from 1983 to 2013. She can be reached at sherry_maurer@yahoo.com.