Try not to blindly accept the emerging "official story" behind the Boston Marathon bombing, and instead view it though a prism of healthy skepticism. Question the corporate media cartel's versions of events. Something is clearly amiss, so it's time to keep an open mind and pay attention.
The first thing that should raise an eyebrow is the homogeneous messaging across the media cartel's broadcasting networks, news publications, and talk radio. At a minimum, it illustrates the collusion of information - reading from the same script - that exists within the corporate media, regardless of political bias.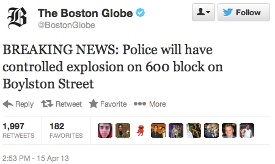 Second, the prior notification that Boston police would be conducting a controlled-explosion drill during the marathon is glaringly absent in the corporate media's coverage. The Boston Globe tweeted specifics about the planned drill, actually naming Boylston Street in its alert mere hours before the bombs exploded at the intersection of Boylston and Exeter streets (RCReader.com/y/globetweet).