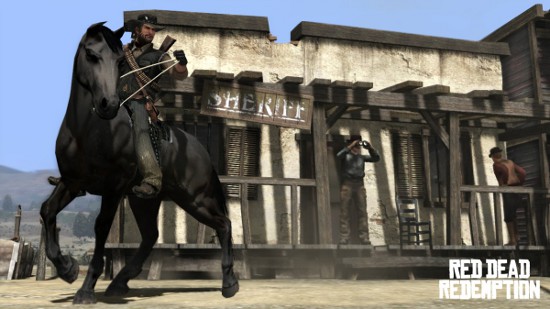 The sequel to Red Dead Revolver, a story of vengeance in the Wild West, has been a long-awaited title from Grand Theft Auto developer Rockstar Games, with almost five years since its announcement. It was feared to be neglected with the developer's focus on 2008's critically acclaimed Grand Theft Auto 4 and its Liberty City expansions. Fear not though: This western tale (finally released this month) is a great experience that's heightened with finely tuned controls and a new innovation in multiplayer gaming.
Red Dead Redemption takes place in 1911 and tells the story of John Marston, a reformed outlaw whose family has been taken from him by the U.S. government. Reluctant to go back to his old ways, he can only see his family again if he hunts down his former brothers-in-arms and brings them to justice.
The Rockstar Games formula is in place: You've got an open-world game designed for the purpose of having fun. The game world is so large that it's easy to get distracted with all the options available, whether hunting outlaws or wild game, gambling on games of chance, or simply exploring. It's a bit slow getting into the meat of the story, but the traditional (and somewhat predictable) twists and turns help put you in the mood to act like John Wayne. It's a fine tale watching John Marston struggle with the changing times as the Old West is cast aside.
Gunplay is the main draw of this grown-up version of Cowboys & Indians, with a variety of pistols and rifles at your disposal. And what cowboy would be complete without a lasso? A snapping-aim feature similar to Call of Duty's allows players to draw their guns and instantly follow their targets for a second or two. This makes it easy to learn but still challenging, because the aim doesn't automatically go for a kill shot; you'll have to learn that one to quickly dispense enemies. The only exception to this snap-aim feature is duels; when the signal to draw is given, time slows down as you mark where you want to shoot your opponent. But don't dawdle or you'll be shot dead.
A big factor in whom you become is the appropriately named "honor" system. You earn honor by helping strangers in need or not killing your enemies, gaining you more leniency from the law as well as discounts at local shops. Dishonorable actions such as committing crimes will lower your rating, but you might become wealthier in the process. I had some difficult decisions, but the situations were usually so grotesque (choosing to hunt down a group of murders and rapists or aiding their escape) that I couldn't bring myself to do anything other than the honorable thing. For someone looking to be a dastardly villain, though, it's there for the taking.
Online multiplayer is taken to new heights with the base online mode "Free Roam." Instead of a plain screen where you wait to join in online play like other shooters, you're thrust into the same massive game world and can do as you please while encountering other players. You can run around solo or join up to seven other players in a posse to pursue bandits, take on the law, hunt wild game, or even jump straight into competitive team battles such as a death matches or variations on Capture the Flag in which you grab bags of gold. The more you do, the more points you get for new horses, weapons, challenges, and fancy cowboy titles to announce how tough you are. It brings an impressive number of options to the table for both casual and hardcore players.
The vibe of the Old West hits in full force as you ride trails on horseback, trot off into the setting sun, or watch the tumbleweeds roll by. Of course you can travel by stagecoach and skip the manual riding, but you risk missing out on strangers to help or attack, not to mention the great view. Voice work is also well done, with a strong cast of characters from snake-oil salesmen and drunks to ranchers and lawmen, all truly selling the era.
The game's physics are equally impressive. Shooting a man's leg out while he's on stairs will send him tumbling down unless he catches a railing; aiming a little too high will shoot a man's hat off; and you can actually see the muscles ripple on horses as they gallop.
The core story of Red Dead Redemption lasts almost 15 hours, while there's tons of potential for reliable fun just screwing around in both the main story and online modes. The idea of a Wild West game might not be new, but it definitely hasn't been done this well before.
Red Dead Redemption is now available for PlayStation 3 and Xbox 360 for $59.95. For this review, the author completed the main story and reached Rank 20 out of 50 in the online play.
Luke Hamilton is a buyer, creative designer, and online coordinator for Video Games Etc. He can be reached at ssj_4luke@hotmail.com.