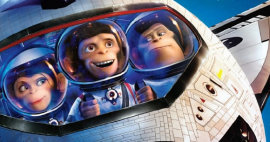 At first, I thought it might be fun to compose 200-ish words each on my 10 least-favorite 2008 movies, to go along with my 10 favorites for the year. And then I realized that would just be mean-spirited and silly. And I still opted against it.
So instead, I'll content myself with random comments on the top 10 (well ... 20 ... ) Hollywood entertainments that made the job of being a movie critic just a little tougher than it should ever have to be.
10) Delgo, Fly Me to the Moon, and Space Chimps: Lazy, cynical, waste-of-time kiddie drivel.
9) Star Wars: The Clone Wars: Lazy, cynical, waste-of-time kiddie drivel so bad it deserves its own mention.
8) 88 Minutes and Righteous Kill: So who do you think has the strongest defamation-of-character case against director Jon Avnet: Al Pacino, or serial killers? I'm thinking serial killers. But it's close.
7) Mirrors, One Missed Call, and Shutter: Hmph. Imports.
6) Changeling: I enjoy Angelina Jolie on-screen. I truly do. But so help me, if she gets an Oscar nomination for her mostly terrible performance in this mostly terrible Clint Eastwood movie, I'm burning my SAG card. An empty threat, sure, but still ... .
5) Speed Racer: You remember that Simpsons episode in which, while in Tokyo, the family collapses in writhing seizures while watching a Japanese cartoon on TV? Me, too. Now.
4) Fool's Gold, My Best Friend's Girl, and What Happens in Vegas ... : Movies that take the "but fun" out of the phrase, "relentlessly unsurprising rom-com claptrap that makes its stars look like nattering buffoons, but fun."
3) Bangkok Dangerous, Funny Games, and Prom Night: Would those of you who were demanding remakes of these films please raise your hands? Anyone? No? I thought not.
2) Nights in Rodanthe: During my 13-year-plus Reader tenure, I've seen a lot of romantic dramas in which, by magical accident, characters that initially seem all wrong for each other turn out to be all right for each other. This is the worst of them. Seriously.
1) Strange Wilderness and Witless Protection: The former makes Steve Zahn and Jonah Hill look desperate and untalented. That's awful. The latter makes Larry the Cable Guy look classier than his material. That's insane.