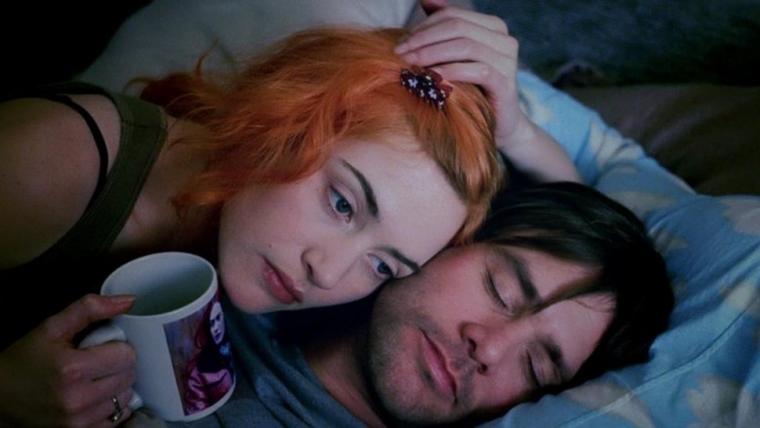 After the announcement of last year's Oscar nominations, in which the Academy made almost shockingly inspired choices across the board, this year's slate of nominees was bound to be a more predictable lot; barring a few minor surprises - the director and screenplay nods for Mike Leigh's Vera Drake (still unseen by me) chief among them - voters opted for traditional, safe choices in 2004, especially among the squarer-than-usual Best Picture contenders. And although I can't argue with the majority of the Academy's selections in the top categories - any competition that includes the likes of Sideways, Million Dollar Baby, Eternal Sunshine of the Spotless Mind, and Before Sunset can't be completely shrugged off - and applaud the fact that African-American performers finally made a big impression among the actors' branch, that's not going to stop me from playing Monday-morning quarterback.

So, for a moment, forget all about this year's Eastwood-versus-Scorsese battle and Jamie Foxx's fait acompli victory and the fact that Hilary Swank will soon have more best-actress Oscars than Meryl Streep, and consider this roster of 30 shoulda-beens in the major categories.

Best Picture: Before Sunset, Eternal Sunshine of the Spotless Mind, Kill Bill: Vol. 2, Kinsey, We Don't Live Here Anymore.

Million Dollar Baby and Sideways are easily the finest contenders in this year's lineup, and actually deserved more nominations than the seven and five, respectively, that they received. (Baby's cinematography, sound, and score easily merited consideration, and don't even get me started on the lack of a Paul Giamatti nod ... oh wait, I'll be bitching about that soon enough.) But despite their considerable strengths, The Aviator and Ray are too bio-pic bland for my tastes, and the nomination for Finding Neverland represents a triumph of middlebrow tastefulness - the movie, like Paul McCartney's halftime show at the Super Bowl, seems all but designed to ruffle as few feathers as possible, which somehow makes its inclusion even more offensive. In the end, despite considerable competition from Million Dollar Baby, I'm guessing that The Aviator will prove victorious here while acting, directing, and screenplay citations are awarded to more deserving winners; big, sweeping epics tend to nab the final prize even when the major Oscars leading up to best picture go elsewhere. (Think of 2001, when Gladiator won Best Picture after Traffic won director, screenplay, supporting-actor, and film-editing kudos, or 2003, the year that Chicago triumphed after director, screenplay, and actor Oscars went to The Pianist.)

With three bio-pics in the top five, it seems almost to ridiculous to wish that another one had made the cut, but, in a perfect world, voters should have found room for the genre's finest achievement in 2004: Bill Condon's thrillingly smart and entertaining Kinsey, easily the most egregiously overlooked work of the year. Eternal Sunshine, which should have made the cut as well, will, I hope, at least have a best-original-screenplay Oscar to its name, and while Before Sunrise didn't really have a hope in hell of a best-picture nod, at least the screenwriters' branch was wise enough to nominate its script - I'm thrilled that Richard Linklater, Ethan Hawke, and Julie Delpy have received recognition of some kind. We Don't Live Here Anymore had, for me, more emotional impact than the 2001 domestic drama (and best-picture nominee) In the Bedroom. And for sheer filmmaking magic, no 2004 release was quite as exhilarating as Kill Bill: Vol. 2; I don't think it featured a single scene that I wanted to end. Call it the anti-Finding Neverland.

Best Director: Jonathan Glazer (Birth), Michel Gondry (Eternal Sunshine of the Spotless Mind), Richard Linklater (Before Sunset), Michael Mann (Collateral), Quentin Tarantino (Kill Bill: Vol. 2).

As in the Best Picture race, I think the nominations for Clint Eastwood (Million Dollar Baby) and Alexander Payne (Sideways) are richly deserved, and the nods for Martin Scorsese (The Aviator) and Taylor Hackford (Ray) more a tip of the hat to the directors themselves; neither film is either helmer's best work, but both Scorsese and Hackford succeeded in making financially successful bio-pics, which, in Hollywood, certainly commands respect. (I'll reserve judgment on Mike Leigh's nod until I actually see the film, but if Vera Drake is anywhere near the caliber of Leigh's Secrets & Lies or Topsy-Turvy, I'm going to love it.) And, of course, the battle of the evening is the much-analyzed competition between beloved veterans Eastwood and Scorsese. I'll actually be shocked if anyone other than Eastwood wins, but if Oscar prognosticators still want to make this a horse race, so be it.

Personally, I'd swap Scorsese's and Hackford's nominations for nods to Richard Linklater and Michel Gondry, who made two of the most supremely romantic, magical, and clever movies of the past 10 years; everyone I know thinks that Eternal Sunshine is the greatest, and I have yet to introduce a friend to Before Sunset who didn't adore it. Quentin Tarantino, bless his cinephilic soul, reminded us all that he's iconic (and much-imitated) for a reason; no one can pull off a Tarantino set piece like Tarantino. (The Bride being buried alive is, hands down, the scare scene of 2004.) I thought that Jonathan Glazer's work was rather remarkable - he created a mood of hushed ambiguity and terror that carried you past Birth's borderline laughable premise; you didn't dare laugh during that movie. And speaking of those who overcame sensational odds to deliver a riveting movie, Michael Mann's direction of Collateral was so much more kinetic than the movie's cutesy storyline that he very nearly established a new genre: The High Concept Art Movie.

Best Actress: Julie Delpy (Before Sunset), Laura Dern (We Don't Live Here Anymore), Nicole Kidman (Birth), Uma Thurman (Kill Bill: Vol. 2), Ziyi Zhang (House of Flying Daggers).

Barring Imelda Staunton and her Vera Drake performance, I've seen the nominees in this lineup and can't imagine the Academy making better choices; assuming that Staunton is, indeed, marvelous, best actress is the most fully satisfying category of the year. The Oscar itself is probably Hilary Swank's to lose, but Annette Bening for Being Julia, Kate Winslet for Eternal Sunshine of the Spotless Mind, and Catalina Sandino Moreno for Maria Full of Grace are just as deserving as the Million Dollar Baby star; of the four, I thought Bening's performance was the most joyous - you can practically feel the glee with which she rips into her role - but Swank's portrayal is probably too strong to be ignored. Imagine: Bening usurped by a younger rival. Just like in Being Julia. Ah, the irony ... .

Sadly, 2004 was so weak for leading actresses that I was rather hard-pressed to come up with five suitable replacements; I was even tempted to let Nicole Kidman take up two slots, since her startling work in Lars von Trier's Dogville was nearly on a par with her tortured widow in Birth (and she was often mighty funny in The Stepford Wives). Julie Delpy, of course, makes the list for expanding and enriching her 1995 Before Sunrise character, and Uma Thurman is so dazzling in Tarantino's revenge opera that she attains an almost mythic status: You don't mess with Uma with a sword. Laura Dern's work ranks with the most ferocious, heartfelt acting of her career, and Ziyi Zhang has, in a few short years, established herself as such a radiant, focused presence that she doesn't have to do much to convey years of romantic and spiritual anguish.

Best Actor: Jim Carrey (Eternal Sunshine of the Spotless Mind), Paul Giamatti (Sideways), Ethan Hawke (Before Sunset), Liam Neeson (Kinsey), Mark Ruffalo (We Don't Live Here Anymore).

So much has been made in the press about Clint Eastwood squeezing Paul Giamatti out for a best-actor nomination that I feel like screaming, "Don't blame Clint, you idiots! Blame Johnny Depp!" Because, as much as I love the actor, he just doesn't do anything in Finding Neverland; he's sweet, passive, and dull. (In my mind, a nomination for his hilarious Secret Window portrayal would have made more sense.) Eastwood, however, is a more-than-deserving choice, as are Leonardo DiCaprio in The Aviator (giving the most surprisingly great performance of the year), Don Cheadle in Hotel Rwanda, and the unstoppable eventual victor, Jamie Foxx in Ray.

Depp's nod aside, a pretty sensational lineup. But here's my chance to moan, and I'm taking it: Where the hell is Paul Giamatti's nomination?

There. I feel better now.

Moving on, I'm also a little astonished that Liam Neeson's turn as Alfred Kinsey didn't get much recognition, as I - and organizations such as the Los Angeles Film Critics Association, which voted him 2004's best actor - thought the film showcased some of Neeson's finest screen work yet. Jim Carrey also did some career-best work with Eternal Sunshine; he still has a little bit of shtick to get out of his system when in dramatic roles, but he's so touching in the film that you barely care. If people would stop assuming that Ethan Hawke is always playing himself, his incredible talent - and incredible performances in the Sunrise/Sunset movies - might begin to receive more notice. And Mark Ruffalo, perhaps the most exceptional screen talent to debut in this new millennium, gave his best performance since You Can Count on Me in the riveting Andre Dubus adaptation, with bonus points for his strong Collateral turn and his downright heroic work as the Love Interest in 13 Going on 30. Now that's range.

Best Supporting Actress: Cate Blanchett (Coffee & Cigarettes), Irma P. Hall (The Ladykillers), Anne Heche (Birth), Regina King (Ray), Naomi Watts (We Don't Live Here Anymore).

Since she's filling the annual Gorgeous Ingénue slot in this category, I won't bemoan Natalie Portman's Closer nomination all that much, and she has, in movies such as Beautiful Girls and Anywhere but Here and Garden State, proven herself to be a wonderful actress. I just didn't buy her in Closer. 'Nuff said. Cate Blanchett in The Aviator, Laura Linney in Kinsey, Virginia Madsen in Sideways, and Sophie Okonedo in Hotel Rwanda are all superb choices for nominations, and despite everything you hear about the grudge-fest between The Aviator and Million Dollar Baby, this is actually the category that seems the tightest match; I'm guessing a Blanchett victory, especially if The Aviator winds up winning best picture - the movie has to get something besides cinematography and costume design - but Madsen would be a deserving paid-her-dues-and-then-some champion, and Linney is quietly astounding in her role. Any of the three, or the marvelous Okodeno, would be a fine choice for the year's best.

For my money, I wish Portman's nod had gone to any of the following four instead: Hall, for her hysterically funny troublemaker in the latest Coen brothers contraption; Anne Heche, for her inscrutable vixen with an eye for 10-year-olds (I know ... I'm making Birth sound terrible ... seriously, it's really good); Regina King, who, next to Jamie Foxx and Charles' music, was the most electrifying thing about Ray; and Naomi Watts, matching Laura Dern's naked intensity as a cheating spouse in We Don't Live Here Anymore. But if the Oscar itself winds up going to Cate Blanchett for her radiant take on Katherine Hepburn, voters might also be awarding her for her dry turn in The Life Aquatic with Steve Zissou and her sublime dual role in Coffee & Cigarettes, in which she plays a 10-minute scene opposite herself, as both Cate Blanchett and her attention-starved cousin. Her sequence in Jim Jarmusch's art-house endeavor is like the best Patty Duke routine ever recorded.

Best Supporting Actor: John Lithgow (Kinsey), Michael Madsen (Kill Bill: Vol. 2), Peter Sarsgaard (Kinsey), Billy Bob Thornton (Friday Night Lights), Mark Wahlberg (I Heart Huckabees).

Morgan Freeman for Million Dollar Baby? Richly deserving of his nod. (And, on Oscar night, a can't-miss victor, to boot. I can now die a happy man.) Thomas Haden Church for Sideways? Terrifically funny, even if I still don't buy his late-film crying jag, which comes off as more perplexing than touching. (Thankfully, he's so funny in the film that it's an easy moment to ignore.) Clive Owen for Closer? A fine choice - he's gives what is easily the best performance in Mike Nichols' love quadrangle - but the portrayal, due to the nature of the material, is still a mite stagy. Jamie Foxx for Collateral? A very fine piece of work, but what about this performance, exactly, makes it a supporting one? (Is it too rude to suggest "Tom's ego"?) Alan Alda for The Aviator? Ugh. With the exception of Neverland's picture and actor nods, the most distractingly undeserving nomination in a major category. Were voters just so wowed that Alda wasn't playing Mr. Nice Guy again that they didn't realize he's been playing Smarmy, Self-Infatuated Bastard for the past 15 years now?

And although I'm not entirely satisfied with this year's supporting-actor lineup, I wasn't a fan of many of the year's potential candidates for nods, including Golden Globe/SAG nominees David Carradine (Kill Bill: Vol. 2), Freddie Highmore (Finding Neverland), and James Garner (The Notebook). Whose work did I enjoy? Well, both Peter Sarsgaard and John Lithgow provided tremendous support in Kinsey, Billy Bob Thornton - despite having leading-man billing - was, as usual, a remarkable ensemble player in Friday Night Lights, and Mark Wahlberg was so sweetly, crazily entertaining in I Heart Huckabees that he walked off with David O. Russell's gaga extravaganza. As for the fifth slot, although Carradine might have received most of the attention, I thought Michael Madsen's turn in Tarantino's Kill Bill sequel was the best work he's done in more than a decade. Madsen, like Tarantino himself, reminded us what a volatile presence he can be - the scene of him getting fired is a true nail-biter, as your mind fills with images of ultraviolence to come - and come on, wouldn't it be cool to see him at the Oscars with sister, and fellow nominee, Virginia? Now that's Oscar sentiment.