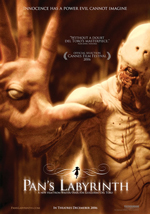 Babel (R, Great Escape Theatre) - In a year that saw a spectacularly inclusive roster of nominees, the seven citations for Alejandro González Iñárritu's globe-trotting drama - Picture, Director, Supporting Actress (Adriana Barraza and Rinko Kikuchi), Original Screenplay (Guillermo Arriaga), Editing, and Original Score - seemed not only inevitable, but just. But where is Rodrigo Prieto's cinematography nod?
Blood Diamond (R, not in local release) - Never underestimate the Academy's susceptibility to liberal guilt. Leonardo DiCaprio received a Best Actor nod for his South African patois; Djimon Hounsou received a Supporting Actor nomination for screaming really loudly; and the film's Sound, Sound Effects, and Editing were cited because, I dunno, Blood Diamond struck voters as a fun movie about genocide, or something.
Borat: Cultural Learnings of America for Make Benefit Glorious Nation of Kazakhstan (R, on DVD March 6) - So considering that they're de facto co-screenwriters (along with the nominated Sacha Baron Cohen, Anthony Hines, Peter Baynham, Dan Mazer, and Todd Phillips), do you think those litigious frat-boy yahoos will drop their lawsuit now?
Children of Men (R, Great Escape Theatre, Showcase 53) - More-than-deserved nominations went to the film's Cinematography, Editing, and Screenplay Adaptation (by Timothy J. Sexton, David Arata, Mark Fergus, Hawk Ostby, and director Alfonso Cuarón). But if this spectacular entertainment had been released in the fall, as was originally planned, I'm thinking the shape of this year's Oscar race - particularly in the Picture and Director categories - might have been vastly different.
The Departed (R, re-opens Friday, Great Escape Theatre and Showcase 53) - Martin Scorsese's sublime gangster drama deserved about twice as many nominations as the five it received, but that's mostly because the Academy didn't allow 10 entries in the Supporting Actor race. We'll have to be satisfied with nods for Picture, Director, Screenplay Adaptation (William Monahan), Editing, and Supporting Actor Mark Wahlberg, the lone Departed performer to make the cut. Bring it home, Marky Mark.
The Devil Wears Prada (PG-13, on DVD) - In her Golden Globe acceptance speech, Best Actress contender Meryl Streep referenced Prada's costumes as the movie's special effects, and the Academy's costume branch seemed to agree; Patricia Field's nominated designs were to this film what Bill Nighy's squid face was to the Pirates sequel.
Dreamgirls (PG-13, Great Escape Theatre, Showcase 53) - Bill Condon's musical leads the pack with eight nominations, but Best Picture isn't one of them. The last time this happened was ... uh ... hmm ... has this ever happened? The dissing was actually merited, but deserved nods went to the film's Art Direction, Costume Design, Sound, and Songs (three of 'em - "Listen," "Love You I Do," and "Patience"); Eddie Murphy for Supporting Actor; and Jennifer Hudson for Supporting Actress, who may as well write her acceptance speech now.
Half Nelson (R, on DVD February 13) - Ryan Gosling received a Best Actor nod for his crack-addicted high-school teacher, in a film that was exactly the kind of widely acclaimed, marginally released indie drama that the Brew & View, once upon a time, would have delivered to a grateful area audience. Sigh.
The Last King of Scotland (R, Showcase 53) - All hail Idi Amin! Well, actually, don't do that. But all hail Best Actor nominee Forest Whitaker, whose almost absurdly powerful portrayal of the Ugandan dictator is the most spectacularly fine work of this veteran screen actor's career.
Letters from Iwo Jima (R, Showcase 53) - Bully to the Academy for at least choosing the better of Clint Eastwood's World War II dramas for Best Picture and Director nods. I thought the nominated Original Screenplay, by Iris Yamashita and Paul Haggis, was the movie's weakest element, but the film is certainly an awesome technical achievement (Letters' Sound Editing was also cited), and - as those Blood Diamond nods indicate - leaving your audience feeling bad never hurts when seeking Oscar's approval.
Little Children (R, not in local release) - As someone for whom Jackie Earle Haley has always been iconic - The Bad News Bears! Breaking Away! - his Supporting Actor nod was perhaps the morning's happiest announcement. While Kate Winslet was also nominated for Best Actress, and Tom Perrotta and director Todd Field were tapped for their Screenplay Adaptation, this lauded drama has yet to make it to the area. And here's the kicker: Did you know Little Children was named Best Picture by the Iowa Film Critics Association? Where the hell did those voters see it?
Little Miss Sunshine (R, on DVD) - She's a super freak, super freak, she's super- freaky! Yow! I'm delighted for Abigail Breslin's Best Supporting Actress nomination, and equally happy about Alan Arkin's Supporting Actor nod, almost 40 years after his last one (for 1968's The Heart is a Lonely Hunter). I'm less delighted about the movie's Best Picture and Original Screenplay nominations - the latter going to Michael Arndt - but hey, at least voters didn't go with Blood Diamond instead.
Notes on a Scandal (R, opens Friday, Showcase 53) - Last year, on the Friday after the nominations were announced, Showcase 53 opened Mrs. Henderson Presents, for which Judi Dench was nominated as Best Actress. This year, on the Friday following the Oscar nominations, Showcase 53 again opens a movie for which Judi Dench is nominated for Best Actress (with additional nods for Patrick Marber's Screenplay Adaptation, Original Score, and Supporting Actress Cate Blanchett). I'm enjoying this trend, just so long as Notes isn't as god-awful as Mrs. Henderson Presents.
Pan's Labyrinth (R, Showcase 53) - As with Children of Men, a movie so good that Little Miss Sunshine's Best Picture inclusion seems borderline ridiculous. But you couldn't argue that Guillermo del Toro's spellbinding fantasy-drama was ignored - the film's impressive tally includes nods for Best Foreign Language Film, Cinematography, Art Direction, Original Score, Make-Up, and del Toro's Original Screenplay.
The Pursuit of Happyness (PG-13, Great Escape Theatre, Showcase 53) - Along with Meryl Streep's Prada portrayal, Will Smith's Best Actor turn was the rare blockbuster performance that not only captured the Academy's attention but deserved to; if not for Forest Whitaker - damn you, Idi Amin! - this award would probably be Smith's to lose.
The Queen (PG-13, Great Escape Theatre, Showcase 53) - I was secretly hoping that Michael Sheen would sneak in for his witty channeling of Tony Blair, but considering how well The Queen fared overall - nominations for Best Picture, Actress (Helen Mirren), Director (Stephen Frears), Original Screenplay (Peter Morgan), Original Score, and Costume Design - his being overlooked is hardly reason to bitch.
United 93 (R, on DVD) - It was probably too much to hope that Paul Greengrass' terrifying, brilliant accomplishment would garner the Academy's love. I'm thrilled to see that it at least earned their respect - Greengrass beat out Little Miss Sunshine's marrieds for Best Director, and the film's Editing was also cited. Now you have even less of an excuse for avoiding it.
Venus (R, not in local release) - Peter O'Toole received his eighth Best Actor nomination. It hasn't been seen here yet, but then again, it's hardly been seen anywhere else, either.
Volver (R, opens Friday, Showcase 53) - Pedro Almodóvar's latest was all but ignored, but Penélope Cruz did receive a Best Actress nod. She's got to be better in her native Spanish than she is in English, right? Please?