Well before the 2009 Academy Award nominations were announced this morning, Oscar-watchers were abuzz over the potential excitement in this year's major categories. Would Slumdog Millionaire's seemingly unstoppable march toward a Best Picture win be derailed by a surge of popular support for The Dark Knight or even - gulp! - WALL·E? Would the season's continued award-splitting between Milk's Sean Penn (recipient of 15 pre-Oscar citations thus far) and The Wrestler's Mickey Rourke (14 and counting) allow Clint Eastwood to sneak in a career-achievement win for Gran Torino? Would Kate Winslet receive her long-overdue trophy for Best Actress in Revolutionary Road, or for Best Supporting Actress in The Reader ... or could the performer, as she did at the Golden Globes, actually walk away with both awards?
The excitement was fun while it lasted, huh?
Granted, we still have the Penn/Rourke showdown to look forward to, and Winslet might now be in a better position for an Oscar victory than she was prior to 5:40 a.m. PST. But to quote the Facebook message I received minutes after the nominations were announced, this year's line-up is incredibly "meh" - no Picture or Director nods for The Dark Knight (despite eight nominations overall, which is nothing to sniff at); WALL·E (six nominations) receiving its fait accompli Animated Feature recognition but denied a shot at the big prize; Clint - with Gran Torino and Changeling giving him shots at Actor, Picture, Director, Score, and Original Song - completely shut out; and Winslet, in one of the morning's few pleasant surprises, getting a Best Actress citation for The Reader (which is the category that performance belongs in) instead of Revolutionary Road.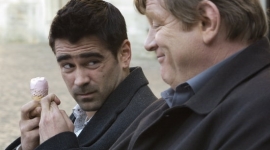 Other surprises? Well, after being ignored by nearly every Oscar precursor under the sun, Michael Shannon received a long-shot Supporting Actor nod for Revolutionary Road, and the Original Screenplay category found room for Courtney Hunt's Frozen River and Martin McDonaugh's In Bruges. (It was a happy morning for playwrights; in addition to McDonaugh, of The Pillowman fame, there were nominations for David Hare, Peter Morgan, and John Patrick Shanley.) Veteran character actors Richard Jenkins (The Visitor) and Melissa Leo (Frozen River) got an invitation to the February 22 ceremony. And while The Curious Case of Benjamin Button was the expected leader in total nominations - 13 in all, the highest tally since 2002's Chicago - Slumdog Millionaire racked up 10 without having any of its actors nominated.
Two of those nominations, by the by, were for Best Original Song - "Jai Ho" and "O Saya" - which begs the question: Where the hell is Bruce Springsteen's nomination for The Wrestler? And why, with WALL·E's "Down to Earth" filling out the roster, were only three songs nominated instead of the typical five? (You could've stocked the category with tunes from High School Musical 3 all by itself.)
Other notable dissings: Golden Globe winner (and recipient of nine other pre-Oscar accolades) Sally Hawkins for Happy-Go-Lucky; Waltz with Bashir for Animated Feature (though the cartoon documentary is among this year's Foreign Language Film nominees); Woody Allen's Vicky Cristina Barcelona screenplay; The Wrestler for anything other than Rourke and Supporting Actress contender Marisa Tomei; The Dark Knight for Original Score (especially after the Academy tumult regarding its eligibility); Rachel Getting Married for anything besides Anne Hathaway ... .
Instead, the Academy generally played it safe; there was no outlandishly out-there choice, and very, very little to raise the blood pressure come February 22. Another Best Director nod for the proficient, mostly unimaginative Ron Howard. Another nod - albeit a moderately surprising one - for The Reader's Stephen Daldry, who has now been nominated for each of the three movies he's directed. (The Reader did quite well with five total nominations, proving that you can never underestimate the Academy's penchant for a good, middlebrow Holocaust tale.) Invitations to the ball for the combined star power of Brangelina ... though the pair deserved recognition more for Burn After Reading and Wanted than the films they were actually cited for. And a Best Picture and Director lineup that matched five-for-five for only the second time in more than a quarter-century.  (Yet also the second time in only four years. Hmm.)
But hey, at least composer Danny Elfman - ignored since his dual nominations for 1997's Good Will Hunting and Men in Black - was welcomed back to the club for Milk, and Hellboy II: The Golden Army snuck in a more-than-deserved Makeup nod. And, of course, we're one step closer to watching Heath Ledger getting named Best Supporting Actor. Its collective tastes this year may have been a bit on the careful side, but at least you can't argue that the Academy of Motion Picture Arts & Sciences was completely out-to-lunch.
And here ... we ... go.
BEST PICTURE
The Curious Case of Benjamin Button
Frost/Nixon
Milk
The Reader
Slumdog Millionaire
BEST DIRECTOR
Danny Boyle, Slumdog Millionaire
Stephen Daldry, The Reader
David Fincher, The Curious Case of Benjamin Button
Ron Howard, Frost/Nixon
Gus Van Sant, Milk
BEST ACTOR
Richard Jenkins, The Visitor
Frank Langella, Frost/Nixon
Sean Penn, Milk
Brad Pitt, The Curious Case of Benjamin Button
Mickey Rourke, The Wrestler
BEST ACTRESS
Anne Hathaway, Rachel Getting Married
Angelina Jolie, Changeling
Melissa Leo, Frozen River
Meryl Streep, Doubt
Kate Winslet, The Reader
BEST SUPPORTING ACTOR
Josh Brolin, Milk
Robert Downey Jr., Tropic Thunder
Philip Seymour Hoffman, Doubt
Heath Ledger, The Dark Knight
Michael Shannon, Revolutionary Road
BEST SUPPORTING ACTRESS
Amy Adams, Doubt
Penélope Cruz, Vicky Cristina Barcelona
Viola Davis, Doubt
Taraji P. Henson, The Curious Case of Benjamin Button
Marisa Tomei, The Wrestler
BEST ORIGINAL SCREENPLAY
Dustin Lance Black, Milk
Courtney Hunt, Frozen River
Mike Leigh, Happy-Go-Lucky
Martin McDonagh, In Bruges
Andrew Stanton, Jim Reardon, Pete Docter, WALL·E
BEST SCREENPLAY ADAPTATION
Simon Beaufoy, Slumdog Millionaire
David Hare, The Reader
Peter Morgan, Frost/Nixon
Eric Roth, Robin Swicord, The Curious Case of Benjamin Button
John Patrick Shanley, Doubt
BEST ANIMATED FEATURE
Bolt
Kung Fu Panda
WALL-E
BEST ORIGINAL SONG
Slumdog Millionaire, "Jai Ho"
Slumdog Millionaire, "O Saya"
WALL·E, "Down to Earth"
BEST FOREIGN LANGUAGE FILM
The Baader Meinhof Complex, Germany
The Class, France
Departures, Japan
Revanche, Austria
Waltz with Bashir, Israel
BEST DOCUMENTARY FEATURE
The Betrayal (Nerakhoon)
Encounters at the End of the World
The Garden
Man on Wire
Trouble the Water
BEST ORIGINAL SCORE
The Curious Case of Benjamin Button
Defiance
Milk
Slumdog Millionaire
WALL·E
BEST CINEMATOGRAPHY
Changeling
The Curious Case of Benjamin Button
The Dark Knight
The Reader
Slumdog Millionaire
BEST FILM EDITING
The Curious Case of Benjamin Button
The Dark Knight
Frost/Nixon
Milk
Slumdog Millionaire
BEST ART DIRECTION
Changeling
The Curious Case of Benjamin Button
The Dark Knight
The Duchess
Revolutionary Road
BEST COSTUME DESIGN
Australia
The Curious Case of Benjamin Button
The Duchess
Milk
Revolutionary Road
BEST SOUND EDITING
The Dark Knight
Iron Man
Slumdog Millionaire
WALL·E
Wanted
BEST SOUND MIXING
The Curious Case of Benjamin Button
The Dark Knight
Slumdog Millionaire
WALL·E
Wanted
BEST VISUAL EFFECTS
The Curious Case of Benjamin Button
The Dark Knight
Iron Man
BEST MAKEUP
The Curious Case of Benjamin Button
The Dark Knight
Hellboy II: The Golden Army
BEST DOCUMENTARY SHORT SUBJECT
The Conscience of Nhem En
The Final Inch
Smile Pinki
The Witness - From the Balcony of Room 306
BEST LIVE ACTION SHORT FILM
Auf der Strecke (On the Line)
Manon on the Asphalt
New Boy
The Pig
Spielzeugland (Toyland)
BEST ANIMATED SHORT FILM
La Maison en Petits Cubes
Lavatory - Lovestory
Oktapodi
Presto
This Way Up