If you were wondering what that anguished roar was at approximately 7:40 a.m., it was probably the sound of thousands upon thousands of Christopher Nolan fans simultaneously wailing, "Not again!!!"
In what was easily the biggest surprise of the 2011 Academy Awards nominations - yet also, sadly, little surprise at all - the Inception creator's name was left off the roster for this year's Best Director nominees, despite the recognition he received from the Directors Guild of America (DGA) a few weeks ago. Just like in 2009, when his DGA-nominated work for The Dark Knight was ignored. And just like in 2002, when his DGA-nominated work for Memento was ignored. If my stats are correct, that makes Nolan the only helmer thrice lauded by the DGA with, as of yet, no Best Director Oscar nods to his name ... except for Rob Reiner. All due respect, but that's not exactly the sort of company you wanna keep. (At least Nolan can console himself with the two Inception nominations he did receive, for Best Original Screenplay and as a producer of one of the year's Best Picture competitors.)
Otherwise, the shockers were mostly kept to a minimum, with the current Best Picture favorite The King's Speech leading the field with 12 nominations, the Coen brothers' True Grit next in line with 10, and Inception and The Social Network tied with eight apiece. Among the other Best Picture nominees, The Fighter had a more-than-respectable showing with seven nods (apparently, Best Director contender David O. Russell, all is now forgiven!), Danny Boyle's 127 Hours landed six [any chance we're gonna finally gonna get the movie in the Quad Cities now? (Author's note: Looks like we are - it opens at Davenport 53 on Friday, January 28.)], and Toy Story 3 and Black Swan managed five each - an excellent showing for the Pixar title, and a less-than-expected tally for Darren Aronofsky's divisive ballet-world thriller. (No Mila Kunis? No Barbara Hershey? No Original Screenplay? No costumes, for heaven's sake?)
Rounding out the top category, The Kids Are All Right scored its four widely anticipated nods, although Julianne Moore unfortunately missed out on sharing the Best Actress spotlight with Annette Bening. And in the only moderate surprise among the 10 recognized for the big prize, little-indie-that-could Winter's Bone snagged the spot that many (including yours truly) presumed would've gone to the much bigger hit The Town, with that film's only recognition going to Supporting Actor contender Jeremy Renner. (Maybe they'll let Affleck present an award at the ceremony.) All told, it's a rather extraordinary Best Picture lineup, with no obvious filler in the Blind Side vein. And while I'm still not convinced that doubling the number of nominees was a good idea, I'll admit that this year, at least, it's a relief; can you imagine how pissed off the online Inception brigade would've been had Nolan's movie been dissed there, too?
As far as personal disappointments go, I was bummed that the one performance I was rooting for the hardest - Andrew Garfield's in The Social Network - didn't make the cut; I would've happily awarded the actor the statuette just for his goofy little dance at that Caribbean-night frat party. But you won't hear me complain about Garfield's Supporting Actor slot instead being filled by Winter's Bone's John Hawkes, who was absolutely magnificent, nor about The Social Network getting recognized for Best Cinematography, Sound Mixing, and Original Score, all seemingly dicey categories for the film. (Oscar nominee Trent Reznor. Nice.) And while it kind of sucks that Shutter Island and The Ghost Writer were completely dismissed, it was at least heartening to see that voters found room for modern-art legend Banksy's Exit Through the Gift Shop documentary, Animal Kingdom's fabulously evil Jacki Weaver, I Am Love's costumes, and even the visual effects in Clint Eastwood's Hereafter. That tsunami sequence was freakin' stunning.
Plus, on a purely selfish level, it's cool to see that a trio of specialty films - Biutiful, Rabbit Hole, and Blue Valentine - received nominations for their leading performers (Javier Bardem, Nicole Kidman, and Michelle Williams, respectively), as that heightens the chance that they might be screened locally, and I won't have to schlep to a larger burg to catch them. Excluding the five foreign-language nominees, three of the Best Documentary Feature contenders, and the shorts, those three movies and the trio of Another Year, Barney's Version, and The Tempest are the only Oscar-cited titles I've yet to see. Don't let me down, area bookers! (The animated and live-action shorts, by the by, will be shown at the University of Iowa's Bijou Theatre February 11 through 17.)
Oh, and how did I do on my predictions, especially after my last-minute changes in a bunch of categories? Meh. It turned out to be a wash; for roughly every correct guess I included, I dropped a nominee I shouldn't have. Damn you and your category confusion, Hailee Steinfeld! (I kid the kid. She's delightful.)
I've listed the accuracy of my revised picks, in boldface, following the nominations below. And for those miserable that we're now going to be denied a Cher number at the February 27 Academy Awards ceremony, take heart: Maybe Gwyneth will sing!
BEST PICTURE
Black Swan
The Fighter
Inception
The Kids Are All Right
The King's Speech
127 Hours
The Social Network
Toy Story 3
True Grit
Winter's Bone
(9/10 correct)
BEST DIRECTOR
Darren Aronofsky, Black Swan
Joel Coen & Ethan Coen, True Grit
David Fincher, The Social Network
Tom Hooper, The King's Speech
David O. Russell, The Fighter
(4/5 correct)
BEST ACTOR
Javier Bardem, Biutiful
Jeff Bridges, True Grit
Jesse Eisenberg, The Social Network
Colin Firth, The King's Speech
James Franco, 127 Hours
(4/5 correct)
BEST ACTRESS
Annette Bening, The Kids Are All Right
Nicole Kidman, Rabbit Hole
Jennifer Lawrence, Winter's Bone
Natalie Portman, Black Swan
Michelle Williams, Blue Valentine
(3/5 correct)
BEST SUPPORTING ACTOR
Christian Bale, The Fighter
John Hawkes, Winter's Bone
Jeremy Renner, The Town
Mark Ruffalo, The Kids Are All Right
Geoffrey Rush, The King's Speech
(4/5 correct)
BEST SUPPORTING ACTRESS
Amy Adams, The Fighter
Helena Bonham Carter, The King's Speech
Melissa Leo, The Fighter
Hailee Steinfeld, True Grit
Jacki Weaver, Animal Kingdom
(4/5 correct)
BEST ORIGINAL SCREENPLAY
Lisa Cholodenko, Stuart Blumberg, The Kids Are All Right
Mike Leigh, Another Year
Christopher Nolan, Inception
David Seidler, The King's Speech
Scott Silver, Paul Tamasy, Eric Johnson, Keith Dorrington, The Fighter
(4/5 correct)
BEST SCREENPLAY ADAPTATION
Michael Arndt, John Lasseter, Andrew Stanton, Lee Unkrich, Toy Story 3
Danny Boyle, Simon Beaufoy, 127 Hours
Joel Coen, Ethan Coen, True Grit
Debra Granik, Anne Rosellini, Winter's Bone
Aaron Sorkin, The Social Network
(5/5 correct)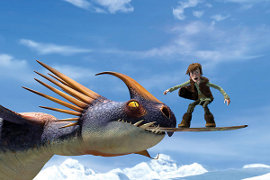 BEST ANIMATED FEATURE
How to Train Your Dragon
The Illusionist
Toy Story 3
(3/3 correct)
BEST ORIGINAL SONG
"Coming Home," Country Strong
"I See the Light," Tangled
"If I Rise," 127 Hours
"We Belong Together," Toy Story 3
(3/4 correct)
BEST FOREIGN-LANGUAGE FILM
Biutiful, Mexico
Dogtooth, Greece
In a Better World, Denmark
Incendies, Canada
Outside the Law, Algeria
(4/5 correct)
BEST DOCUMENTARY FEATURE
Exit Through the Gift Shop
Gasland
Inside Job
Restrepo
Waste Land
(3/5 correct)
BEST ORIGINAL SCORE
How to Train Your Dragon
Inception
The King's Speech
127 Hours
The Social Network
(4/5 correct)
BEST CINEMATOGRAPHY
Black Swan
Inception
The King's Speech
The Social Network
True Grit
(5/5 correct)
BEST FILM EDITING
Black Swan
The Fighter
The King's Speech
127 Hours
The Social Network
(4/5 correct)
BEST ART DIRECTION
Alice in Wonderland
Harry Potter & the Deathly Hallows: Part I
Inception
The King's Speech
True Grit
(4/5 correct)
BEST COSTUME DESIGN
Alice in Wonderland
I Am Love
The King's Speech
The Tempest
True Grit
(4/5 correct)
BEST SOUND EDITING
Inception
Toy Story 3
Tron Legacy
True Grit
Unstoppable
(3/5 correct)
BEST SOUND MIXING
Inception
The King's Speech
Salt
The Social Network
True Grit
(3/5 correct)
BEST VISUAL EFFECTS
Alice in Wonderland
Harry Potter & the Deathly Hallows: Part I
Hereafter
Inception
Iron Man 2
(3/5 correct)
BEST MAKEUP
Barney's Version
The Way Back
The Wolfman
(2/3 correct)
BEST DOCUMENTARY SHORT
Killing in the Name
Poster Girl
Strangers No More
Sun Come Up
The Warriors of Qiugang
BEST LIVE-ACTION SHORT
The Confession
The Crush
God of Love
Na Wewe
Wish 143
BEST ANIMATED SHORT
Day & Night
The Gruffalo
Let's Pollute
The Lost Thing
Madagascar, carnet de voyage (Madagascar, A Journey Diary)
TOTAL NUMBER OF NOMINATIONS:
The King's Speech - 12
True Grit - 10
Inception - 8
The Social Network - 8
The Fighter - 7
127 Hours - 6
Black Swan - 5
Toy Story 3 - 5
The Kids Are All Right - 4
Winter's Bone - 4
Alice in Wonderland - 3
Biutiful - 2
Harry Potter & the Deathly Hallows: Part I - 2
How to Train Your Dragon - 2
Animal Kingdom - 1
Another Year - 1
Barney's Version - 1
Blue Valentine - 1
Country Strong - 1
Dogtooth - 1
Exit Through the Gift Shop - 1
Gasland - 1
Hereafter - 1
I Am Love - 1
The Illusionist - 1
In a Better World - 1
Incendies - 1
Inside Job - 1
Iron Man 2 - 1
Outside the Law - 1
Rabbit Hole - 1
Restrepo - 1
Salt - 1
Tangled - 1
The Tempest - 1
The Town - 1
Tron Legacy - 1
Unstoppable - 1
Waste Land - 1
The Way Back - 1
The Wolfman - 1