So what did we learn from this morning's announcement of contenders for the 85th Annual Academy Awards?
Well, with a leading 12 nominations under its belt, we learned that Steven Spielberg's Lincoln is clearly the film to beat for the big prize ... unless a small-scale romantic comedy titled Silver Linings Playbook, with eight citations, upsets it. We learned that support for Argo and Zero Dark Thirty might not be as strong as many of us presumed. We learned that voters weren't going to let a little thing like a public dissing get in the way of their lauding one of the year's strongest performances. And we learned that whatever happens with Seth MacFarlane's February 24 hosting of the Oscar ceremony, he should definitely be the first person called to host the Oscar-nomination press conference, particularly if he can again get Emma Stone to host with him.
Rather than the traditional route of having the current president of the Academy of Motion Picture Arts & Sciences name the nominees alongside a recent Oscar winner, this year's early-morning announcement (really early in Hollywood) found Stone and next month's emcee MacFarlane revealing the competitors in 11 of this year's 24 categories. And even before the annual entertainment of "Can you believe they nominated _____?!" and "Can you believe they ignored _____?!" commenced, the pair was making this year's announcement easily the most enjoyable one in all the years of its pre-dawn broadcasts; MacFarlane made breezy jokes about his low recognition factor and resemblance to Donny Osmond, and the coyly grinning Stone didn't argue when her co-presenter, reading the teleprompter, stated, "Some say she's even more talented than Meryl Streep." ("Who says that?" asked MacFarlane, to which Stone replied, "Oh, I dunno ... nobody ... a lot of people ... .") Together, their preamble to the revelation of 2013 nominees proved a delightful warm-up. The nominations themselves, in more than a few cases, proved downright incendiary.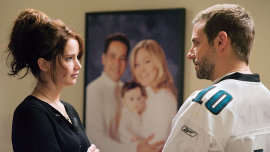 They were kicked off, however, with familiarity. Quite literal familiarity, in truth, because it turned out that for the first time ever in an acting race, all five nominees for Best Supporting Actor were previous Oscar winners. ("A breath of fresh air in that category," deadpanned MacFarlane.) But with all of each category's nominees revealed, as MacFarlane explained, "in no particular order" - an extension of last year's decision to have the Best Picture contenders announced out of alphabetical sequence - there were shockers that we didn't realize were shockers until every last nomination in a category was read. Consequently, we didn't know until the full lineups were revealed that The Sessions' John Hawkes had somehow missed the Best Actor roster - with The Master's Joaquin "I'm just saying that I think it's bullshit" Phoenix likely taking his spot - or that Jacki Weaver's lack of Golden Globe and Screen Actors Guild recognition for Silver Linings wouldn't keep her from competing for Best Supporting Actress.
And we really didn't know that there'd be not one but two huge upsets in the Best Director race, with Zero Dark Thirty's Kathryn Bigelow and Argo's Ben Affleck - the latter of whom was looking more and more like the front-runner for the win - denied recognition in favor of underdogs Michael Haneke for Amour and Benh Zeitlin for Beasts of the Southern Wild. (Haneke's Austrian, French-language drama - also a Best Foreign-Language Film nominee - and Zeitlin's micro-budgeted indie both did remarkably well this morning, each nabbing additional nods for Best Picture, Actress, and Screenplay.) The duo's snubs were easily the Oscar stories of the morning, along with the news of Lincoln's massive showing and Silver Linings' larger-than-expected nomination haul; with Weaver, Bradley Cooper, Jennifer Lawrence, and Robert De Niro all in the running, this marks the first time a film has found placement in every acting category since Warren Beatty's Reds in 1982. (Silver Linings helmer David O. Russell, who was denied recognition from the Directors Guild of America two days ago, also scored his second Best Director nod in three years, beating out not only Affleck and Bigelow but possible contenders Tom Hooper and Quentin Tarantino for fellow Best Picture nominees Les Misérables and Django Unchained.)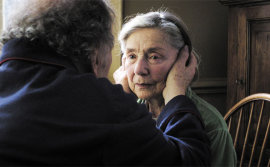 There were surprises aplenty during MacFarlane's and Stone's presentation, from Amour becoming the first foreign-language film since 2000's Crouching Tiger, Hidden Dragon (if you don't count The Artist) to score a Best Picture nod to the realization that the Best Supporting Actress category, like Supporting Actor, was populated entirely with returning nominees, if not returning winners; an all-veteran lineup in an acting race last happened in 1995. (MacFarlane's post-nomination address to the Supporting Actress contenders was another of his finer bits this morning, as he congratulated the nominees with "You no longer have to pretend to be attracted to Harvey Weinstein.") And the surprises continued amongst the categories not read on live television. No recognition for The Master beyond its three stars. No Best Original Song citations for Keith Urban or Dolly Parton or Paul Williams. No mention of The Dark Knight Rises anywhere. (The morning's biggest shock, for my money? My scoring five-for-five in three whole categories, including this year's especially tricky Best Actress contest! You can check out my astonishing precognitive abilities - and embarrassing gaffes - by clicking here, though my correct guesses are also in boldface below.)
So while we wait for February 24 to roll around, a hearty congratulations to the motion-picture academy for making today's announcement totally worth the early rise, and to MacFarlane for not only handling his duties this morning with terrific - and, in regards to the forthcoming ceremony, intensely promising - panache, but for scoring his own nomination as the lyricist for "Everybody Needs a Best Friend," an Original Song nominee from his comedy Ted. Upon the news of his nomination, the clearly touched MacFarlane said, "Wow ... I get to go to the Oscars now!" Yes, he does. I can't wait.
BEST PICTURE
Amour
Argo
Beasts of the Southern Wild
Django Unchained
Les Misérables
Life of Pi
Lincoln
Silver Linings Playbook
Zero Dark Thirty
BEST DIRECTOR
Michael Haneke, Amour
Ang Lee, Life of Pi
David O. Russell, Silver Linings Playbook
Steven Spielberg, Lincoln
Benh Zeitlin, Beasts of the Southern Wild
BEST ACTOR
Bradley Cooper, Silver Linings Playbook
Daniel Day-Lewis, Lincoln
Hugh Jackman, Les Misérables
Joaquin Phoenix, The Master
Denzel Washington, Flight
BEST ACTRESS
Jessica Chastain, Zero Dark Thirty
Jennifer Lawrence, Silver Linings Playbook
Emmanuelle Riva, Amour
Quvenzhané Wallis, Beasts of the Southern Wild
Naomi Watts, The Impossible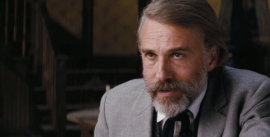 BEST SUPPORTING ACTOR
Alan Arkin, Argo
Robert De Niro, Silver Linings Playbook
Philip Seymour Hoffman, The Master
Tommy Lee Jones, Lincoln
Christoph Waltz, Django Unchained
BEST SUPPORTING ACTRESS
Amy Adams, The Master
Sally Field, Lincoln
Anne Hathaway, Les Misérables
Helen Hunt, The Sessions
Jacki Weaver, Silver Linings Playbook
BEST ORIGINAL SCREENPLAY
Amour, Michael Haneke
Django Unchained, Quentin Tarantino
Flight, John Gatins
Moonrise Kingdom, Wes Anderson, Roman Coppola
Zero Dark Thirty, Mark Boal
BEST ADAPTED SCREENPLAY
Argo, Chris Terrio
Beasts of the Southern Wild, Lucy Alibar, Benh Zeitlin
Life of Pi, David Magee
Lincoln, Tony Kushner
Silver Linings Playbook, David O. Russell
BEST ANIMATED FEATURE
Brave
Frankenweenie
ParaNorman
The Pirates! Band of Misfits
Wreck-It Ralph
BEST ORIGINAL SONG
"Before My Time," Chasing Ice
"Everybody Needs a Best Friend," Ted
"Pi's Lullaby," Life of Pi
"Skyfall," Skyfall
"Suddenly," Les Misérables
BEST FOREIGN-LANGUAGE FILM
Amour, Austria
Kon-Tiki, Norway
No, Chile
A Royal Affair, Denmark
War Witch, Canada
BEST DOCUMENTARY FEATURE
5 Broken Cameras
The Gatekeepers
How to Survive a Plague
The Invisible War
Searching for Sugar Man
BEST ORIGINAL SCORE
Anna Karenina
Argo
Life of Pi
Lincoln
Skyfall
BEST CINEMATOGRAPHY
Anna Karenina
Django Unchained
Life of Pi
Lincoln
Skyfall
BEST FILM EDITING
Argo
Life of Pi
Lincoln
Silver Linings Playbook
Zero Dark Thirty
BEST PRODUCTION DESIGN
Anna Karenina
The Hobbit: An Unexpected Journey
Les Misérables
Life of Pi
Lincoln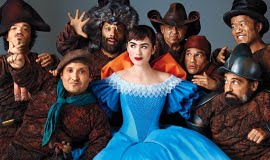 BEST COSTUME DESIGN
Anna Karenina
Les Misérables
Lincoln
Mirror Mirror
Snow White & the Huntsman
BEST SOUND EDITING
Argo
Django Unchained
Life of Pi
Skyfall
Zero Dark Thirty
BEST SOUND MIXING
Argo
Les Misérables
Life of Pi
Lincoln
Skyfall
BEST VISUAL EFFECTS
The Hobbit: An Unexpected Journey
Life of Pi
Marvel's The Avengers
Prometheus
Snow White & the Huntsman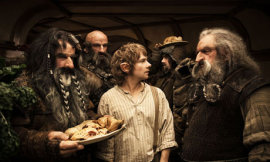 BEST MAKEUP & HAIRSTYLING
The Hobbit: An Unexpected Journey
Hitchcock
Les Misérables
 
BEST DOCUMENTARY SHORT
Inocente
Kings Point
Mondays at Racine
Open Heart
Redemption
BEST LIVE-ACTION SHORT
Asad
Buzkashi Boys
Curfew
Death of a Shadow (Dood van een Schaduw)
Henry
BEST ANIMATED SHORT
Adam & Dog
Fresh Guacamole
Head Over Heels
Maggie Simpson in "The Longest Daycare"
Paperman
TOTAL NUMBER OF NOMINATIONS
Lincoln - 12
Life of Pi - 11
Les Misérables - 8
Silver Linings Playbook - 8
Argo - 7
Amour - 5
Django Unchained - 5
Skyfall - 5
Zero Dark Thirty - 5
Anna Karenina - 4
Beasts of the Southern Wild - 4
The Hobbit: An Unexpected Journey - 3
The Master - 3
Flight - 2
Snow White & the Huntsman - 2
5 Broken Cameras - 1
Brave - 1
Chasing Ice - 1
Frankenweenie - 1
The Gatekeepers - 1
Hitchcock - 1
How to Survive a Plague - 1
The Impossible - 1
The Invisible War - 1
Kon-Tiki - 1
Marvel's The Avengers - 1
Mirror Mirror - 1
Moonrise Kingdom - 1
No - 1
ParaNorman - 1
The Pirates! Band of Misfits - 1
Prometheus - 1
A Royal Affair - 1
Searching for Sugar Man - 1
The Sessions - 1
Ted - 1
War Witch - 1
Wreck-It Ralph - 1