The big shock of this morning's announcement of nominees for the 86th Annual Academy Awards? The almost complete lack of shocks, especially given such an insanely competitive year.
The nine films up for Best Picture, a lineup led by American Hustle and Gravity with 10 nods apiece, were the nine films that scored the most nominations overall. (Also not a shock: that there were nine films up for Best Picture, just as there were the past two years.) The Best Director category - which, last January, provided enough shock for the Oscar race as a whole - featured four of the nominees cited by the Directors Guild of America, with the fifth, Nebraska's Alexander Payne, a directing nominee at the Golden Globes. Voters for Best Original Song, as usual, didn't let us down, sneaking in a number ("Alone Yet Not Alone") from a movie (Alone Yet Not Alone) that had prognosticators scrambling to find its Internet Movie Database page. (The film's IMDb synopsis begins: "The year is 1755, and the English colonies are being ravaged by the atrocities of war ... ." When the hell did that get released?) [ January 30 update: Today, the Academy officially rescinded the film's nomination.]
There wasn't even any self-imposed shock, because unlike in 2013, the nominees were read - by Academy President Cheryl Boone Isaacs and actor Chris Hemsworth - in alphabetical order, depriving viewers the nerve-racking thrill of not knowing which titles or performers were dissed until the categories' final names were revealed. All told, barring a few minor upsets in the acting races (and the ever-impossible-to-predict Best Original Song category ... grrr ... ), events transpired more or less according to plan.
Not everyone's plan, of course. It certainly wasn't the plan for the team behind 12 Years a Slave, which earned an impressive nine nominations, but must surely have expected bragging rights to the most citations total; the film's unexpected lack of mention for Best Cinematography, Original Score, and both sound categories contributed to its bridesmaid status. (The movie, however, is hardly out of the running for Best Picture, having also picked up nods for director Steve McQueen, screenwriter John Ridley, Best Film Editing - a crucial category for potential winners - and performers Chiwetel Ejiofor, Lupita Nyong'o, and Michael Fassbender.) And it also, just as certainly, wasn't the plan for those rooting for Saving Mr. Banks. Once considered a done deal for major recognition, at least before voters actually started watching the thing, the pleasant but hopelessly retrograde Disney flick was ignored for everything except Thomas Newman's Original Score - and it could be argued that even that nod came less from Newman's skills than from the strains of Mary Poppins wafting throughout the soundtrack. (Even presumed Best Actress contender Emma Thompson was denied a nomination this morning, as was Disney portrayer Tom Hanks - for this and for Captain Phillips. If there's such a thing as a depressing day to be Tom Hanks, this would be the one.)
Who were the biggest beneficiaries of this morning's announcement? (Besides, you know, all of them?) Well, the Wolf of Wall Street brigade has to be feeling mighty cheery. Its Best Picture and Adapted Screenplay nominations were considered near-givens, but Leonardo DiCaprio and director Martin Scorsese made the lineup amidst seriously heavy competition, and Supporting Actor nominee Jonah Hill was this year's performer to make Oscar's short list despite no recognition by the Critics Choice Awards, Golden Globes, or Screen Actors Guild. (I didn't predict that citation happening, and definitely didn't predict that the movie would miss out on a Film Editing nod, as the beloved three-time Oscar champ Thelma Schoonmaker is a freaking rock star among editors.) Dallas Buyers Club's fans have to be a bit over-the-moon this morning; with six nods including Best Picture, Original Screenplay, and Film Editing - plus the expected recognition of Matthew McConaughey and Jared Leto - the little-movie-that-could absolutely did.
Fellow Best Picture nominees Captain Phillips and Nebraska also netted six nods each - although the former's team must be stinging by the absences of Hanks and Directors Guild and Golden Globe contender Paul Greengrass - while the lovely, low-key Her, with five mentions, proved the everlasting appeal of the timeless boy-meets-computerized-girl story. And despite a relative lack of precursor acknowledgment (although I guess Best Picture nods from the Golden Globes and the British Academy of Film & Television Arts are hardly a "relative lack"), Philomena landed four citations: Best Picture, Actress Judi Dench, Original Score, and Adapted Screenplay. That latter citation finally makes co-star/co-screenwriter Steve Coogan an Academy Award nominee. I'll content myself with his recognition here by imagining it's actually for The Trip or Hamlet 2 instead.
And as long as we're on the subject of me, here are other Oscar-morning odds 'n' ends that brought a smile to my face: American Hustle's Amy Adams and Christian Bale making the leading-performer lineups despite the cray-cray-formidable talents they were up against. Her's sweet, piquant "The Moon Song" scoring a Best Original Song mention. (Fun fact: After 2013's nod for "Before My Time" from Chasing Ice, this is the second year in a row to feature an Original Song nominee sung onscreen by Scarlett Johansson!) Inside Llewyn Davis, which got exactly as shortchanged as I prayed it wouldn't, at least receiving nods for Best Cinematography and Sound Mixing. A Jackass movie now being able to call itself an Academy Award nominee. (No kidding. See Best Makeup & Hairstyling.) Before Midnight's very deserving team of Richard Linklater, Ethan Hawke, and Julie Delpy receiving their widely predicted Adapted Screenplay recognition. Blue Jasmine's very deserving Sally Hawkins receiving her hardly-predicted-at-all recognition for Best Supporting Actress. (Hardly-predicted, but not completely unpredicted, as the nomination I most wanted to see happen actually did - and, as I thought it might, at the expense of Lee Daniels' The Butler's ignored Oprah Winfrey. Best Supporting Actress, in truth, was the only category I achieved precognitive perfection in; the nominees I correctly forecast are also in boldface below.)
But the morning's big story is sure to be the 10-and-10 showings of American Hustle and Gravity, which now (if they weren't before) have to be considered threats for the ultimate prize just as formidable as 12 Years a Slave. And with Hustle, David O. Russell now (if he wasn't before) has to be considered the go-to guy for actors hoping to score an acting nod from the Academy, as this marks the second year in a row in which the man directed four performers, in four categories, to Oscar recognition. Silver Linings Playbook? Try Gold-Plated Playbook.
Winners will be announced on the evening of Sunday, March 2. As for the nominees ... :
Best Picture
12 Years a Slave
American Hustle
Captain Phillips
Dallas Buyers Club
Gravity
Her
Nebraska
Philomena
The Wolf of Wall Street
Best Director
Alfonso Cuarón (Gravity)
Steve McQueen (12 Years a Slave)
Alexander Payne (Nebraska)
David O. Russell (American Hustle)
Martin Scorsese (The Wolf of Wall Street)
Best Actress
Amy Adams (American Hustle)
Cate Blanchett (Blue Jasmine)
Sandra Bullock (Gravity)
Judi Dench (Philomena)
Meryl Streep (August: Osage County)
Best Actor
Christian Bale (American Hustle)
Bruce Dern (Nebraska)
Leonardo DiCaprio (The Wolf of Wall Street)
Chiwetel Ejiofor (12 Years a Slave)
Matthew McConaughey (Dallas Buyers Club)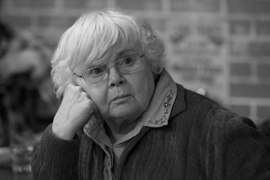 Best Supporting Actress
Sally Hawkins (Blue Jasmine)
Jennifer Lawrence (American Hustle)
Lupita Nyong'o (12 Years a Slave)
Julia Roberts (August: Osage County)
June Squibb (Nebraska)
Best Supporting Actor
Barkhad Abdi (Captain Phillips)
Bradley Cooper (American Hustle)
Michael Fassbender (12 Years a Slave)
Jonah Hill (The Wolf of Wall Street)
Jaret Leto (Dallas Buyers Club)
Best Original Screenplay
American Hustle, David O. Russell, Eric Warren Singer
Blue Jasmine, Woody Allen
Dallas Buyers Club, Craig Borten, Melisa Wallack
Her, Spike Jonze
Nebraska, Bob Nelson
Best Adapted Screenplay
12 Years a Slave, John Ridley
Before Midnight, Julie Delpy, Ethan Hawke, Richard Linklater
Captain Phillips, Billy Ray
Philomena, Steve Coogan, Jeff Pope
The Wolf of Wall Street, Terence Winter
Best Animated Feature
The Croods
Despicable Me 2
Ernest & Celestine
Frozen
The Wind Rises
Best Original Song
"Happy," Despicable Me 2
"Let It Go," Frozen
"The Moon Song," Her
"Ordinary Love," Mandela: Long Walk to Freedom
Best Foreign-Language Film
The Broken Circle Breakdown (Belgium)
The Great Beauty (Italy)
The Hunt (Denmark)
The Missing Picture (Cambodia)
Omar (Palestine)
Best Documentary Feature
20 Feet from Stardom
The Act of Killing
Cutie & the Boxer
Dirty Wars
The Square
Best Original Score
The Book Thief
Gravity
Her
Philomena
Saving Mr. Banks
Best Cinematography
The Grandmaster
Gravity
Inside Llewyn Davis
Nebraska
Prisoners
Best Film Editing
12 Years a Slave
American Hustle
Captain Phillips
Dallas Buyers Club
Gravity
Best Production Design
12 Years a Slave
American Hustle
Gravity
The Great Gatsby
Her
Best Costume Design
12 Years a Slave
American Hustle
The Grandmaster
The Great Gatsby
The Invisible Woman
Best Sound Editing
All Is Lost
Captain Phillips
Gravity
The Hobbit: The Desolation of Smaug
Lone Survivor
Best Sound Mixing
Captain Phillips
Gravity
The Hobbit: The Desolation of Smaug
Inside Llewyn Davis
Lone Survivor
Best Visual Effects
Gravity
The Hobbit: The Desolation of Smaug
Iron Man 3
The Lone Ranger
Star Trek Into Darkness
Best Makeup & Hairstyling
Dallas Buyers Club
Jackass Presents: Bad Grandpa
The Lone Ranger
Best Documentary Short
CaveDigger
Facing Fear
Karama Has No Walls
The Lady in Number 6: Music Saved My Life
Prison Terminal: The Last Days of Private Jack Hall
Best Live-Action Short
Aquel No Era Yo (That Wasn't Me)
Avant Que De Tout Perdre (Just Before Losing Everything)
Helium
Pitääkö Mun Kaikki Hoitaa? (Do I Have to Take Care of Everything?)
The Voorman Problem
Best Animated Short
Feral
Get a Horse!
Mr. Hublot
Possessions
Room on the Broom
TOTAL NUMBER OF NOMINATIONS
American Hustle - 10
Gravity - 10
12 Years a Slave - 9
Captain Phillips - 6
Dallas Buyers Club - 6
Nebraska - 6
Her - 5
The Wolf of Wall Street - 5
Philomena - 4
Blue Jasmine - 3
The Hobbit: The Desolation of Smaug - 3
August: Osage County - 2
Despicable Me 2 - 2
Frozen - 2
The Grandmaster - 2
The Great Gatsby - 2
Inside Llewyn Davis - 2
The Lone Ranger - 2
Lone Survivor - 2
20 Feet from Stardom - 1
The Act of Killing - 1
All Is Lost - 1

Before Midnight - 1
The Book Thief - 1
The Broken Circle Breakdown - 1
The Croods - 1
Cutie & the Boxer - 1
Dirty Wars - 1
Ernest & Celestine - 1
The Great Beauty - 1
The Hunt - 1
The Invisible Woman - 1
Iron Man 3 - 1
Jackass Presents: Bad Grandpa - 1
Mandela: Long Walk to Freedom - 1
The Missing Picture - 1
Omar - 1
Prisoners - 1
Saving Mr. Banks - 1
The Square - 1
Star Trek Into Darkness - 1
The Wind Rises - 1