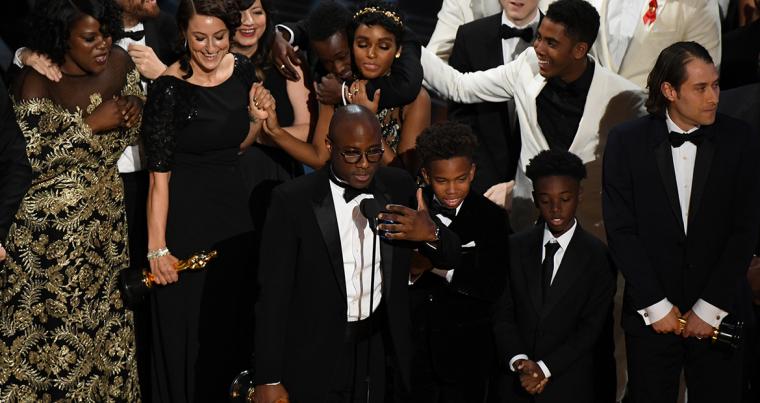 Many, many people were made happy – and more than a little surprised – by the final minutes of last night's Academy Awards ceremony. But you know who had to be the happiest of all? Marisa Tomei.
Some of you may recall that back in 1993, Tomei won Best Supporting Actress for her role as Joe Pesci's squawking fiancée in My Cousin Vinny. Considered today, it's an absolutely inspired choice; actors are still rarely awarded for superior comedy turns, and Tomei – a busy screen performer who's nearly always wonderful – is something of a national treasure. But within weeks of her wholly unexpected victory, the rumor began circulating: Tomei actually hadn't won, because presenter Jack Palance mistakenly read the last name he saw on the teleprompter, and not the one in his envelope.
With the New York Daily News suggesting that "a Watergate-level cover-up has been in effect" regarding the imagined snafu, the fake-news buzz had escalated so much by the following year's Oscars that the Academy was forced to issue a statement formally denying the charges, and insisting that backstage representatives from the Price Waterhouse tabulating firm would have immediately rectified Palance's error. While that seemed to calm the cynics, the idea that Tomei's win was a faux one never entirely vanished. Or rather, it didn't until last night, because it turns out that, yep, if the wrong name were announced, someone would definitely have stepped forward. Marisa must feel so vindicated.
As the world now knows, in an Oscar-night whoopsie-daisy for the ages, Best Picture presenters Warren Beatty and Faye Dunaway strode on-stage with the wrong information, Dunaway announced the winner to be La La Land, and the musical's team was already deep in acceptance-speech mode when it was revealed, amidst much understandable hubbub, that the actual champion was Moonlight. Apparently, the Bonnie & Clyde stars were mistakenly handed a Best Actress envelope – a second Best Actress envelope – containing the name of La La Land's Emma Stone, and when a deeply confused-looking Beatty paused for an eternity after scanning the contents, Dunaway decided to take the reins and read the name of the title she saw inside. Why it took so long – long enough for scores of La La Land participants to take the stage and begin speaking – for one of those backstage tabulators to correct the mistake remains a mystery.
There are, to be sure, people to blame for this embarrassing kerfuffle. But taking a more empathetic approach: Who to begin feeling sorry for? Beatty, who was put in a spot no 79-year-old should ever be put in on live TV? Dunaway, who likely thought she was trying to save a moment, and instead made it worse? La La Land producer Justin Horowitz, who had to tell the crowd and millions of viewers that he hadn't actually won (and who handled the moment with inspiring grace, humility, and generosity)? The rest of Team La La Land, who had to collectively slink off the stage while Team Moonlight ascended it? That backstage employee – likely an intern, likely fired – who handed Beatty and Dunaway the wrong envelope and now has to live with the knowledge that he or she couldn't do one simple thing correctly?
As internationally televised goofs go, it's hard to imagine a more epic one, or just what confluence of events had to occur for the goof to happen at all. (What if, for example, Emma Stone hadn't been awarded Best Actress? Would Dunaway have consequently announced that Best Picture was won by a movie not even nominated for the prize?) As a live-TV moment, though, it was unforgettable – astounding, to be sure, and kind of horrifying, but also pretty damned thrilling. I mean, seriously: They announced the wrong Best Picture!!! There isn't a font size or italics big enough for the "WTF?!?!?" that deserves. This was a such an unprecedented shocker that it totally buried what should have been the night's actual ledes: that (1) major front-runner and widely presumed champ La La Land was actually beat out (2) by a movie about a gay guy (3) that cost a reported $1.5 million. (For perspective, the last movie with 14 nominations to lose the prize was none of them, the last movie with an LGBT central figure to win was none of them, and the last movie to win with that small a budget was Rocky.)
All told, though, this may have been the best thing that could have happened to La La Land, which, had it won, would likely have been the most divisive Best Picture champ the Oscars had seen since Crash. (Its fans may love it, but its haters ha-a-a-ate it.) Instead, even given the six Oscars it did win, it's now an easy title to feel a little bad for; no matter your feelings toward the movie, no announced victors should have to relinquish their trophies quite that quickly, and in front of tens of millions of people, to boot. Besides, can you fathom how much La La Land would have been loathed had Dunaway said, "And the Oscar goes to ... Moonlight!", and we were then told whoops, sorry, it actually goes to that box-office behemoth with all the singing and dancing white people?
So let the lede be buried no more: Moonlight won the 2017 Academy Award for Best Picture – and it's definitely the best thing that could have happened to that film. Judging by the rapturous standing ovation that greeted the announcement – once, you know, people got their bearings – Barry Jenkins' magnificent character study found loads of favor with Academy members, even if it wasn't quite enough to score the movie more than three trophies overall. Still, for a tiny independent that no one was remotely aware of even seven months ago, God knows that Picture, Adapted Screenplay (for Jenkins and Tarell Alvin McCraney), and Supporting Actor for the ne plus ultra of cool that is Mahershala Ali are nothing to sniff at. And I'm additionally cheered in my belief that viewers who may have otherwise skipped Moonlight might now, because of last night's historic foul-up, be tempted to see what all the fuss is about. (If this applies to you, please allow me a brief plug for this wholly deserving Best Picture winner: Moonlight! Available on home video tomorrow!)
Given that the 89th Annual Academy Awards' final five-or-so minutes made the preceding 224 feel kind of irrelevant, I'm not sure how much else there is to say about last night's telecast. Host Jimmy Kimmel was ... Jimmy Kimmel. I thought his opening monologue was reasonably amusing – even if it never got better than Kimmel's acknowledgment, after Justin Timberlake's opening number had the crowd on its feet, that he was greeted with a "sitting ovation" – and his familiar "Mean Tweets" segment brought some laughs with the readings by Tilda Swinton, a very pregnant Natalie Portman, and a very blunt Robert De Niro. Kimmel's long-running comic feud with Matt Damon, meanwhile, has been old news for ages, but at least it yielded one excellent gag: Damon being "played off" by the orchestra during his introduction to Best Original Screenplay, with Kimmel shown in the pit wielding a baton.
But that god-awful routine with the tour-bus riders meandering past the front row and taking selfies was endless and pointless. (If those visitors chose to spend their time taking a Hollywood tour rather than watching the Oscars, how much could they have possibly cared about being there?) The candy and doughnuts dropping from the sky was little more than a well-executed dumb-ass stunt. And considering how so many presenters and winners seemed to go out of their way to not reference a certain tweet-happy president, it felt like Kimmel was taking the lowest of roads by seeming to do nothing but reference him. By the time the host was commenting that Trump hadn't tweeted about the show even once and then chose to message the man himself, I almost felt that the commander-in-chief was being unfairly picked on. (Almost.)
With the nominees for Best Original Song better than usual, it made sense that the musical numbers, beginning with Timberlake's über-peppy "Can't Stop the Feeling!" anthem, were also better than usual; Sting performed an especially lovely rendition of "The Empty Chair," and John Legend nicely fused the cited La La Land tunes "Audition (The Fools Who Dream)" and eventual champ "City of Stars." (Teen chanteuse Auli'l Cravalho, singing Moana's "How Far I'll Go," did a beautiful job in her first Oscars appearance. Hopefully, next time around, she won't get accidentally thunked in the head by an errant prop during one of her closeups.) And while laughs from the non-Kimmel contingent were few and far between, I'd like to start a petition to make next year's Oscar emcees Leslie Mann and John Cho, who presented a segment from their hosting of the Academy Scientific & Technical Awards and were, hands down, the funniest awards-show duo since 2013's legendary Golden Globes pairing of Will Ferrell and Kristen Wiig. I could listen to Mann's and Cho's deadpan-doofus shtick all night.
And a few other mentions before we all go back to talking about WrongEnvelope-gate ... .
• In what had to be a tight race among four completely viable possibilities (sorry, Andrew Garfield), Best Actor went to the fantastically deserving Casey Affleck for Manchester by the Sea – and people even stood up! It had been 13 years since the Best Actor victor at the SAG Awards didn't go on to win the Oscar, and in his sweet and humble (and typically mumbly) acceptance speech, Affleck mentioned that he was privileged to have met fellow nominee and SAG champ Denzel Washington for the first time earlier that night. Given Denzel's stern expression after his loss, it may have been the last time Affeck would ever get to meet him.
• Speaking of getting the crowd on its feet, last night was positively lousy with standing ovations, and few could argue that they weren't earned. Moonlight got one. Timberlake got one. Casey got (part of) one. Shirley MacLaine got one. Michael J. Fox got one. Meryl Streep got one (apparently just for being there). The honorary-Oscar recipients got one. And the most moving one went to 98-year-old Hidden Figures inspiration Katherine Goble Johnson, who was introduced by Octavia Spencer, Janelle Monae, and Taraji P. Henson (Johnson's portrayer in the movie), and who managed to wreck everyone watching with three simple words: "Thanks so much." This is why God made award shows.
• With Sara Bareilles offering a plaintive, haunting take on Joni Mitchell's "Both Sides, Now," the traditional "In Memoriam" tribute was, I felt, particularly beautiful this year – and given that his passing on Saturday made his inclusion in the tribute impossible, I was glad that segment presenter Jennifer Aniston made mention of the gone-far-too-soon Bill Paxton in her opening remarks. Aniston wasn't the only one fighting off tears.
• On more than a few occasions, history was made last night. O.J.: Made in America – at 467 minutes, the longest Oscar-nominated movie ever – is now the longest Oscar-winning movie ever. The Salesman director Asghar Farhabi, who boycotted the ceremony because of the travel ban against his native Iran – and sent a representative to read an eloquent and pointed speech – becomes only the fourth filmmaker to have helmed two Best Foreign-Language Feature winners. La La Land's Damien Chazelle becomes the youngest-ever winner of the Best Director trophy ... and the first American man to win the award in nine years! (We're such a maligned people, I tell ya ... .) And with his Sound Mixing win for Hacksaw Ridge, Kevin O'Connell received his very first Oscar after 20 previous nominations dating back to 1984. Nice.
• For once, telecast producers got the film clips right! The snippets from the nominated performances lasted just long enough to suggest the actors' merit, the flashes of scenes in the technical categories were appropriate for the categories under consideration, and instead of stopping the show nine separate times for highlight reels from the nominated Best Pictures, they were all saved for the end, right before Best Picture was announced. Way to go, producers Michael De Luca and Jennifer Todd! Now that it's no longer broke, let's hope future producers don't try to fix it!
• The Original and Adapted Screenplay winners were, respectively, Manchester by the Sea and Moonlight – which happened to rank, respectively, number-one and -two on my annual 10-Best list. Who says I don't have taste?!
• Despite doing better than my pathetic 13-out-of-24 in predicted wins last year, I managed only a not-much-better 15-out-of-24 correct guesses this year. Who says I know what I'm talking about?!
• And finally, to quote Denzel at SAG, "Two words: Viola. Davis." Hellz yeah.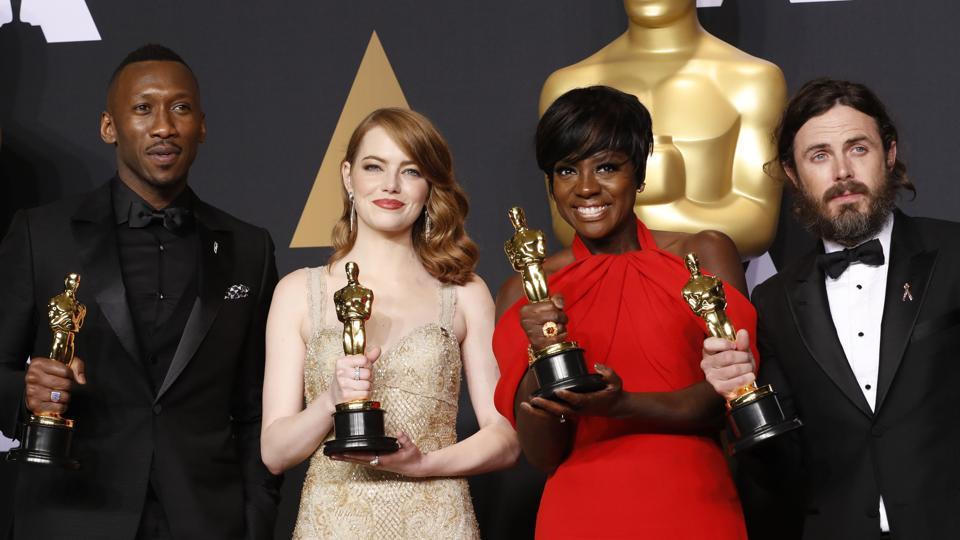 2017 Academy Award winners
Best Picture: Moonlight
Best Directing: La La Land, Damien Chazelle
Best Actress: Emma Stone, La La Land
Best Actor: Casey Affleck, Manchester by the Sea
Best Supporting Actress: Viola Davis, Fences
Best Supporting Actor: Mahershala Ali, Moonlight
Best Original Screenplay: Manchester by the Sea, Kenneth Lonergan
Best Adapted Screenplay: Moonlight, Barry Jenkins, Tarell Alvin McCraney
Best Animated Feature: Zootopia
Best Foreign-Language Film: The Salesman, Iran
Best Documentary Feature: O.J.: Made in America
Best Cinematography: La La Land
Best Film Editing: Hacksaw Ridge
Best Production Design: La La Land
Best Costume Design: Fantastic Beasts & Where to Find Them
Best Original Score: La La Land
Best Original Song: "City of Stars," La La Land
Best Sound Mixing: Hacksaw Ridge
Best Sound Editing: Arrival
Best Visual Effects: The Jungle Book
Best Makeup & Hairstyling: Suicide Squad
Best Documentary Short: The White Helmets
Best Live-Action Short: Sing
Best Animated Short: Piper