Heading into this morning's announcement of nominees for the 90th Annual Academy Awards, there were loads of questions waiting to be answered. Would The Shape of Water set a new record for most nominations? Would the late release dates for The Post and Phantom Thread damage their Oscar chances? Would the announcement of James Franco's name result in spontaneous booing?
But oddly lost amidst them was a question that, in previous years, has been at the forefront of Oscar-morning guessing games: Would Christopher Nolan somehow be denied a Best Directing nomination again?!
Well gloriosky and hallelujah, fellow Nolan fans – the guy who was denied nods for The Dark Knight, Inception, Memento, Interstellar, et al. is finally a bona fide Academy Award nominee in the Directing category! And to think it only took 16 years of our whining to make it happen!
Nolan's inclusion, however, was hardly the only story of Oscar morning. So now that we have answers, let's return to the half-dozen questions I raised before making my annual Academy Awards predictions. (I managed to correctly forecast 81 of 107 nominees, thank you very much, going five-for-five in Best Actress, Actor, Original Screenplay, and Cinematography. The full list of contenders – with my correct guesses in boldface – can be found by scrolling past the commentary.)
Could any movie equal, or conceivably top, La La Land's record-tying tally of 14 nominations?
No … but it sure was close! The Shape of Water, Guillermo del Toro's romance between a mute woman and a scaly sea creature, was the easy leader of the Oscar pack with 13 nominations overall, a feat matched by only nine other titles in history. (La La Land's haul of 14 nods tied it with All About Eve and Titanic.) Trailing behind it in nominations this year was Nolan's World War II thriller Dunkirk with a faraway eight, followed by Martin McDonagh's revenge saga Three Billboards Outside Ebbing, Missouri with seven and Paul Thomas Anderson's late-breaking period drama Phantom Thread with six. All four are Best Picture contenders in a nine-film race that also boasts Darkest Hour (five nods), Lady Bird (five), Call Me by Your Name (four), Get Out (four), and The Post (two). More on that latter title in a bit.
Could any movie equal, or conceivably top, the They Shoot Horses, Don't They? record of nine nominations without a corresponding Best Picture nomination?
No … and it wasn't even close! The most Oscar-lauded movie not up for a Picture nomination was Denis Villeneuve's sci-fi sequel Blade Runner 2049 with five citations – the exact five I predicted it would get. (Yeah, I'm gonna be patting myself on the back a lot today.) Next in line were Mudbound and Star Wars: The Last Jedi with four apiece, followed by Baby Driver and I, Tonya with three.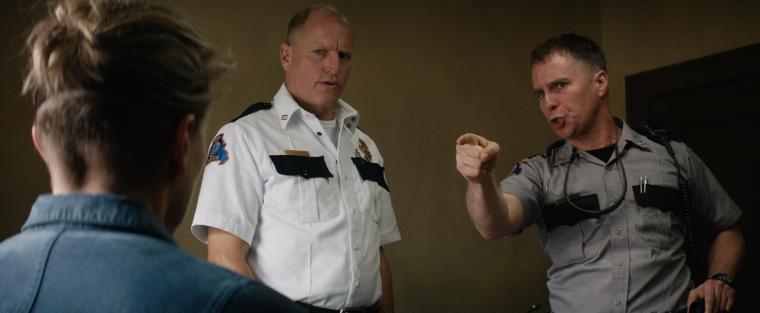 Could an acting category see only three movies cited, the way Best Supporting Actor did 43 years ago?
Although theoretically possible, it didn't happen this year. But Best Supporting Actor did find both Woody Harrelson and Sam Rockwell nominated for Three Billboards – the first time there was double-dipping in this category since 1992.
Could we be in for another year of #OscarsSoWhite in the acting and directing categories?
We could have been, but it didn't happen – not by a longshot. Four performers of color were cited in the acting races, with Get Out's Daniel Kaluuya and Roman J. Israel, Esq.'s Denzel Washington among the Best Actor contenders, and the Best Supporting Actress lineup featuring The Shape of Water's Octavia Spencer and Mudbound's Mary J. Blige, the latter also nominated for co-writing her film's Best Original Song nominee "Mighty River." (Washington and Spencer, by the way, were nominated in those categories last year, as well.) In perhaps my favorite announcement of the morning, Jordan Peele made the Best Directing roster for his feature-film debut Get Out, making him the fifth black nominee in that category's history, and the third in the last five years.
And on a semi-related note, not only will there likely be no #OscarsSoWhite furor this year, but probably little chance of #OscarsSoMale outrage: Greta Gerwig, with Lady Bird, becomes only the fifth woman nominated for Best Directing; female screenwriters were recognized with nods for Lady Bird, The Big Sick, The Shape of Water, and Mudbound; two-thirds of the Best Picture nominees have newly Oscar-nominated female producers; and Rachel Morrison, for Mudbound, is the first woman ever nominated for Best Cinematography.
Could recent Hollywood scandals strongly affect what gets nominated?
I don't know if they did, but you could probably ask James Franco … though maybe not for a few more days. Despite winning the Golden Globe and being widely predicted for a nomination, the Disaster Artist star didn't hear his name among the Best Actor contenders this morning, and has to be wondering whether allegations of sexual harassment against him, which became very public in the final days of voting, had anything to do with it. (My guess? Those allegations had ultimately less impact than Franco's god-awful co-hosting of the 2011 Oscars.)
Who knows if voters were Making a Statement with the Best Supporting Actor nomination for Christopher Plummer – I'd prefer to think they were simply rewarding a magnificent performance – but Kevin Spacey's really-late-in-the-game replacement was the only nomination for All the Money in the World. And just because Spacey was a castmate didn't mean voters were going to ignore Baby Driver, as Edgar Wright's zippy crime lark landed three nominations including a deserved Best Film Editing nod that six Best Picture nominees are no doubt envious of.
Could Spielberg's The Post possibly be in for a complete dissing?
I'll admit I thought it could happen when the film missed out for Best Original Score this morning, because composer John Williams never misses out for Best Original Score. (Case in point: He did get nominated for Star Wars: The Last Jedi – his 50th nod in this category alone.) Yet The Post bypassed utter humiliation by receiving nods for Picture and Best Actress contender Meryl Streep, who received her 21st career nomination. Still, a prestigious Spielberg/Streep/Hanks drama about the freedom of the press getting the same number of nominations as The Blind Side, and in the same categories, is a little humiliating, no … ?
And here are a few other Oscar-morning fun facts:
* At age 22, Call Me by Your Name's Timothée Chalamet became the youngest Best Actor nominee since 19-year-old Mickey Rooney was cited for Babes in Arms way back in 1940.
* At age 88, Christopher Plummer became the oldest acting nominee ever; at 89, Call Me by Your Name writer James Ivory became the oldest Screenplay nominee ever; at a slightly older 89, Agnes Varda – co-director of Documentary Feature nominee Faces Places – became the oldest nominee in any category ever.
* Denzel Washington, with his eighth acting nomination, became only the 12th performer in history to have received eight or more nods, a feat accomplished by only three other living actors: Meryl Streep (21), Jack Nicholson (12), and Al Pacino (eight).
* Logan became the first live-action superhero movie ever recognized with a screenplay nomination, and is one of four movies this year whose screenplays are their only nominations, the others being The Big Sick, The Disaster Artist, and Molly's Game.
* Jordan Peele became only the third person in history – alongside Heaven Can Wait's Warren Beatty and Terms of Endearment's James L. Brooks – to receive nominations for Best Picture, Director, and Screenplay for a debut feature.
The awards are scheduled to be presented the night of Sunday, March 4, with Jimmy Kimmel returning as host. And regarding the evening's biggest prize, you've got to be pretty happy if you're Team Shape of Water this morning, especially considering its eight Best Picture rivals are all missing at least one of the accompanying nominations theoretically "needed" to win: Call Me by Your Name, Darkest Hour, The Post, and Three Billboards are all lacking Directing nominations; Darkest Hour, Dunkirk, Phantom Thread, and The Post are all lacking Screenplay nominations (Dunkirk also has no acting nods); and Dunkirk and Three Billboards are the only other Picture candidates cited for Best Film Editing.
Looks like The Shape of Water is the film to beat. For the moment, I'm still going with Get Out. Movie-love makes you brave. Or maybe just stupid.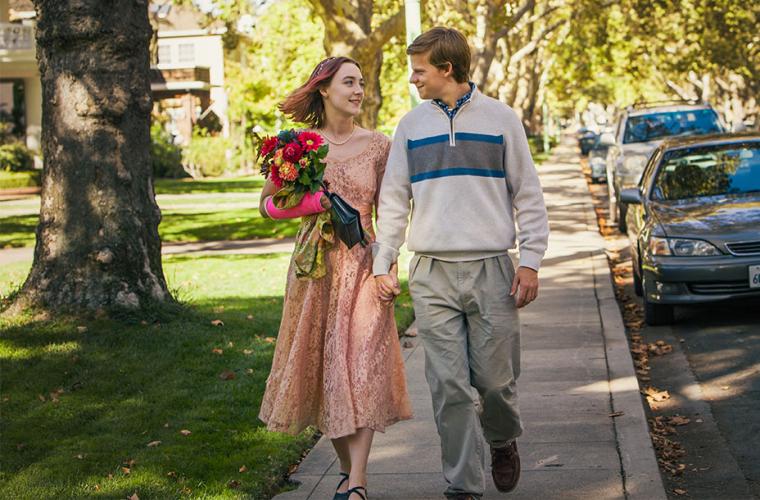 Best Picture
Call Me by Your Name
Darkest Hour
Dunkirk
Get Out
Lady Bird
Phantom Thread
The Post
The Shape of Water
Three Billboards Outside Ebbing, Missouri
Best Directing
Dunkirk, Christopher Nolan
Get Out, Jordan Peele
Lady Bird, Greta Gerwig
Phantom Thread, Paul Thomas Anderson
The Shape of Water, Guillermo del Toro
Best Actress
Sally Hawkins, The Shape of Water
Frances McDormand, Three Billboards Outside Ebbing, Missouri
Margot Robbie, I, Tonya
Saoirse Ronan, Lady Bird
Meryl Streep, The Post
Best Actor
Timothée Chalamet, Call Me by Your Name
Daniel Day-Lewis, Phantom Thread
Daniel Kaluuya, Get Out
Gary Oldman, Darkest Hour
Denzel Washington, Roman J. Israel, Esq.
Best Supporting Actress
Mary J. Blige, Mudbound
Allison Janney, I, Tonya
Lesley Manville, Phantom Thread
Laurie Metcalf, Lady Bird
Octavia Spencer, The Shape of Water
Best Supporting Actor
Willem Dafoe, The Florida Project
Woody Harrelson, Three Billboards Outside Ebbing, Missouri
Richard Jenkins, The Shape of Water
Christopher Plummer, All the Money in the World
Sam Rockwell, Three Billboards Outside Ebbing, Missouri
Best Original Screenplay
The Big Sick, Emily V. Gordon, Kumail Nanjiani
Get Out, Jordan Peele
Lady Bird, Greta Gerwig
The Shape of Water, Guillermo del Toro, Vanessa Taylor
Three Billboards Outside Ebbing, Missouri, Martin McDonagh
Best Adapted Screenplay
Call Me by Your Name, James Ivory
The Disaster Artist, Scott Neustadter, Michael H. Weber
Logan, James Mangold, Scott Frank, Michael Green
Molly's Game, Aaron Sorkin
Mudbound, Dee Rees, Virgil Williams
Best Animated Feature
The Boss Baby
The Breadwinner
Coco
Ferdinand
Loving Vincent
Best Foreign-Language Film
A Fantastic Woman, Chile
The Insult, Lebanon
Loveless, Russia
On Body & Soul, Hungary
The Square, Sweden
Best Documentary Feature
Abacus: Small Enough to Jail
Faces Places
Icarus
Last Men in Aleppo
Strong Island
Best Cinematography
Blade Runner 2049
Darkest Hour
Dunkirk
Mudbound
The Shape of Water
Best Film Editing
Baby Driver
Dunkirk
I, Tonya
The Shape of Water
Three Billboards Outside Ebbing, Missouri
Best Production Design
Beauty & the Beast
Blade Runner 2049
Darkest Hour
Dunkirk
The Shape of Water
Best Costume Design
Beauty & the Beast
Darkest Hour
Phantom Thread
The Shape of Water
Victoria & Abdul
Best Sound Editing
Baby Driver
Blade Runner 2049
Dunkirk
The Shape of Water
Star Wars: The Last Jedi
Best Sound Mixing
Baby Driver
Blade Runner 2049
Dunkirk
The Shape of Water
Star Wars: The Last Jedi
Best Original Score
Dunkirk
Phantom Thread
The Shape of Water
Star Wars: The Last Jedi
Three Billboards Outside Ebbing, Missouri
Best Original Song
"Mighty River," Mudbound
"Mystery of Love," Call Me by Your Name
"Remember Me," Coco
"Stand Up for Something," Marshall
"This Is Me," The Greatest Showman
Best Visual Effects
Blade Runner 2049
Guardians of the Galaxy Vol. 2
Kong: Skull Island
Star Wars: The Last Jedi
War for the Planet of the Apes
Best Makeup & Hairstyling
Darkest Hour
Victoria & Abdul
Wonder
Best Documentary Short
Edith+Eddie
Heaven Is a Traffic Jam on the 405
Heroin(e)
Knife Skills
Traffic Stop
Best Live-Action Short
DeKalb Elementary
The Eleven O'clock
My Nephew Emmett
The Silent Child
Watu Wote/All of Us
Best Animated Short
Dear Basketball
Garden Party
Lou
Negative Space
Revolting Rhymes
Total Number of Nominations
The Shape of Water – 13
Dunkirk – 8
Three Billboards Outside Ebbing, Missouri – 7
Phantom Thread – 6
Blade Runner 2049 – 5
Darkest Hour – 5
Lady Bird – 5
Call Me by Your Name – 4
Get Out – 4
Mudbound – 4
Star Wars: The Last Jedi – 4
Baby Driver – 3
I, Tonya – 3
Beauty & the Beast – 2
Coco – 2
The Post – 2
Victoria & Abdul – 2
Abacus: Small Enough to Jail – 1
All the Money in the World – 1
The Big Sick – 1
The Boss Baby – 1
The Breadwinner – 1
The Disaster Artist – 1
Faces Places – 1
A Fantastic Woman – 1
Ferdinand – 1
The Florida Project – 1
The Greatest Showman – 1
Guardians of the Galaxy Vol. 2 – 1
Icarus – 1
The Insult – 1
Kong: Skull Island – 1
Last Men in Aleppo – 1
Logan – 1
Loveless – 1
Loving Vincent – 1
Marshall – 1
Molly's Game – 1
On Body & Soul – 1
Roman J. Israel, Esq. – 1
The Square – 1
Strong Island – 1