Will a comic-book movie finally be nominated for Best Picture? (Probably!) Will a Grammy-winning pop star be nominated for Best Actress? (Almost certainly!) Will the ceremony ever find a host? (At this point, I couldn't care less!)
Regardless, it's prediction time, Oscar hounds! Nominations for the 91st Annual Academy Awards are scheduled to be announced at 7:22 a.m. CST on Tuesday, January 22, with me no doubt burying my face in prognostic embarrassment at roughly 7:40. The boldface names and titles below are my predicted nominees, non-boldface denotes runners-up, and predictions are in order of probability.
BEST PICTURE
A Star Is Born
Roma
The Favourite
BlacKkKlansman
Green Book
Black Panther
Bohemian Rhapsody
If Beale Street Could Talk
Vice
First Man
A Quiet Place
Mary Poppins Returns
Can You Ever Forgive Me?
The Ballad of Buster Scruggs
The motion-picture academy began nominating between five and 10 films for this prize beginning in 2012, and over the years since, I've never felt as secure about my Best Picture guesses – both the specific titles and how many nominees there would ultimately be – as I do this year. I'll frankly be shocked if this isn't the final lineup. I'll be just as shocked if there happens to be a 10th inclusion, as that hasn't happened once since the 2012 rule change. (Nor, for that matter, have there ever been fewer than eight cited titles, which won't happen this year, either.) If, by some miracle, there is a number 10, count on it being one of five: First Man because it's bound to get numerous technical nods (and maybe acting/writing/directing recognition); A Quiet Place because people love it and it never left the Oscar conversation despite an April debut; Mary Poppins Returns because voters might be in the mood for one wholly lighthearted option void of Themes and Issues; CYEFM? because it's practically a done deal for a screenplay nod and two acting nods; and Buster Scruggs because even though Roma has soaked up all of Netflix's Oscar buzz, it's the biggest wild card of the year, and I can imagine it getting as many as 12 nominations – or as few as zero. Which, sadly, is what I'm expecting.
BEST DIRECTING
Alfonso Cuarón, Roma
Spike Lee, BlacKkKlansman
Bradley Cooper, A Star Is Born
Yorgos Lanthimos, The Favourite
Barry Jenkins, If Beale Street Could Talk
Adam McKay, Vice
Ryan Coogler, Black Panther
Peter Farrelly, Green Book
I cannot believe that his Golden Globe and Directors Guild of America (DGA) Award nominations mean I have to seriously consider Farrelly for this citation. Sure, Green Book is fun and all, but shouldn't he maybe have to make a few more well-meaning dramedies before we decide to collectively forget about Shallow Hal and The Three Stooges and Dumb & Dumber To? (Granted, fellow Globe and DGA nominee McKay previously gave us Anchorman and Talladega Nights – but also, ya know, The Big Short.) With Cuarón, Lee, and Cooper joining them on the Globe and DGA rosters, I'm gonna cross fingers that both Farrelly and McKay are bypassed in favor of Lanthimos and Jenkins, as the Academy's directors' branch tends to go far artsier than other awards bodies. But I wouldn't rule out the possibility of Coogler, either – nor of Cold War's Pawel Pawlikowski, or First Man's Damien Chazelle, or Can You Ever Forgive Me?'s Marielle Heller, or A Quiet Place's John Krasinski … . Just no Farrelly. Not this year, at least.
BEST ACTRESS
Glenn Close, The Wife
Olivia Colman, The Favourite
Lady Gaga, A Star Is Born
Melissa McCarthy, Can You Ever Forgive Me?
Julia Roberts, Ben Is Back
Emily Blunt, Mary Poppins Returns
Nicole Kidman, Destroyer
Viola Davis, Widows
Those first four – all Globe nominees, all Screen Actors Guild (SAG) Award nominees, all British Academy of Film & Television Award (BAFTA) nominees – appear to be sure bets. It's that fifth spot that's the killer. SAG went with Blunt, yet that performance, delightful though it is, feels awfully frivolous compared to the heavy-lifting done by numerous others this year. BAFTA went with Davis – a weightier role and portrayal, to be sure, yet in a film that seems to have vanished from consideration. So despite an embarrassment of leading-female riches this year – in addition to Kidman, there were her fellow Globe nominees Rosamund Pike in A Private War and Elsie Fisher in Eighth Grade, debuting Yalitza Aparicio in Roma, Regina Hall in Support the Girls, Toni Collette in Hereditary, Saorise Ronan in Mary Queen of Scots, Joanna Kulig in Cold War … – I'm going out on a major limb and predicting Roberts. Okay, fine: Predicting a previous Oscar winner, four-time nominee, and major above-the-title star hardly qualifies as "a major limb." But the Academy clearly adores her, Roberts' reviews were sensational, the movie's own reviews were solid, Ben Is Back opened wide at precisely the right time to coincide with Oscar voting (which took place from January 7 through 14), and Roberts is the perfect "gritty" choice here for voters who didn't like or refused to watch Destroyer, A Private War, Hereditary, and Cold War. If I'm wrong, I won't be surprised. If I'm right, I'll be gloating for years. Maybe you should hope I'm wrong.
BEST ACTOR
Rami Malek, Bohemian Rhapsody
Bradley Cooper, A Star Is Born
Christian Bale, Vice
Viggo Mortensen, Green Book
John David Washington, BlacKkKlansman
Ethan Hawke, First Reformed
Willem Dafoe, At Eternity's Gate
John C. Reilly, Stan & Ollie
My boldface names (all Globe nominees) constitute the exact SAG lineup, and this looks to me like the most securely set of all of this year's acting races. Only Washington, who missed a BAFTA nod in favor of Reilly's Stan & Ollie co-star Steve Coogan, feels like a maybe. But I can't quite envision his place being taken by either of the Globe nominees (Dafoe and Reilly) or by Hawke, who, as of this writing, has amassed just under 30 national and international critics' prizes or his work in First Reformed. For many, though, that movie is a tough sit. And as I have to repeat to myself on an annual basis: Critics don't vote for the Oscars. But if wishing made it so ... .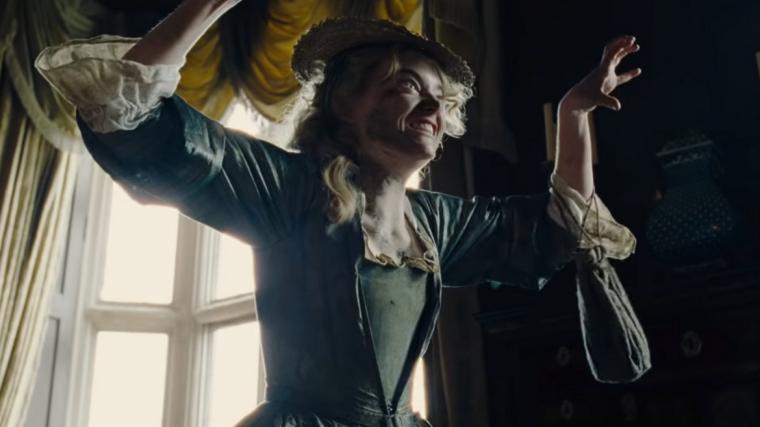 BEST SUPPORTING ACTRESS
Rachel Weisz, The Favourite
Emma Stone, The Favourite
Regina King, If Beale Street Could Talk
Amy Adams, Vice
Linda Cardellini, Green Book
Claire Foy, First Man
Margot Robbie, Mary Queen of Scots
Emily Blunt, A Quiet Place
A reminder: The names above are listed in order of probability for a nomination, not a win. Despite being done-deal nominees, I don't think that either of The Favourite's phenomenal supporting performers (both of them previous Oscar winners) will take home the gold. That'll be either King or Adams – if, that is, King missing nods from SAG and BAFTA doesn't destroy her chances, and if voters don't decide that Adams, when all is said and done, really doesn't get to do much in Vice. (The five-time nominee is certainly Oscar-due, but voters might choose to wait for Adams in a juicier role.) Regarding nominations, though, all four feel like certain bets, with that fifth slot completely up in the air. Foy got Globe and BAFTA nods. Robbie got SAG and BAFTA nods. Blunt got a SAG nod, as everyone has apparently agreed to consider her role in A Quiet Place a supporting one. (Puh-leeze.) But considering the apparent adoration for Green Book and the fact that she's been an endearing, reliable character actor for going on 20 years, I've been quietly – and now publicly – thinking that hearing Cardellini's name read aloud might be one of Oscar morning's happy surprises. (Like Adams, Cardellini doesn't get nearly enough to do in her film, but voters will surely remember her – she delivers Green Book 's climactic punchline, for Pete's sake!) Meanwhile, the surprise that would make me happiest would be Zoe Kazan for The Ballad of Buster Scruggs. Twelve nods for the film may not happen, but I'd be totally content with just this one.
BEST SUPPORTING ACTOR
Mahershala Ali, Green Book
Richard E. Grant, Can You Ever Forgive Me?
Adam Driver, BlacKkKlansman
Sam Elliott, A Star Is Born
Brian Tyree Henry, If Beale Street Could Talk
Timothée Chalamet, Beautiful Boy
Michael B. Jordan, Black Panther
Sam Rockwell, Vice
Another 80-percent-solid category, as I see it, with the first four seeming so secure that I'd be kind of flabbergasted if anyone else took one of their spots. But this year, there are so many anyone elses to choose from! The smart money says that Ali, Grant, Driver, and Elliott will be joined by Chalamet, which would make perfect sense given that he scored the Globe/SAG/BAFTA nomination trifecta and is probably still enjoying Academy goodwill from his Call Me by Your Name nod last year. (Not for nothing, but he's also fantastic in Beautiful Boy.) Yet if voters collectively agree that 23-year-old Timothée will have plenty of chances in the future and they can consequently direct their support elsewhere, Heaven knows they have options: Globe and BAFTA nominee Rockwell (or even his Vice co-star Steve Carell); Jordan, whose omission among Supporting Actor awards bodies is truly baffling; The Hate U Give's Russell Hornsby; The Favourite's Nicholas Hoult; Buster Scruggs' Tom Waits, or Tim Blake Nelson, or Bill Heck … . (I'll get off my high horse soon, but seriously: Such a good movie!) So with a plethora of possibilities at hand, I'm gonna be brave-slash-stupid and say Henry, as he's devastating in Beale Street, he was also great in Widows and (as a voice actor) Spider-Man: Into the Spider-Verse, and he's quickly turning into an invaluable character actor in a number of mediums. (Last year, he was nominated for an Emmy for Atlanta and a Tony for Broadway's Lobby Hero.) If Henry isn't Oscar-cited this year, he will be soon. But I have a sneaking suspicion that "soon" might be January 22.
BEST ORIGINAL SCREENPLAY
The Favourite
Roma
Vice
A Quiet Place
Eighth Grade
Green Book
Sorry to Bother You
First Reformed
I know it won the Globe. I know it's up for a Writers Guild of America (WGA) prize and a BAFTA. But I just don't see it happening for Green Book here … not given the complaints against the film by the family of Mahershala Ali's character Don Shirley, and not given the recent reveal of anti-Muslim tweets by co-screenwriter Nick Vallelonga (a story that landed right in the midst of Oscar voting), and not given that Green Book is basically the 2019 Oscars' version of The Help, a Best Picture nominee whose script, direction, and design elements were totally ignored. But I absolutely can see a nod for Bluebox Films pioneers and local-talents-made-really-good Scott Beck and Bryan Woods (oh yeah, and John Krasinski), whose script has already made them WGA nominees this year. Lets's go Quiet Place! (Clap clap clapclapclap!)
BEST ADAPTED SCREENPLAY
BlacKkKlansman
If Beale Stree Could Talk
Can You Ever Forgive Me?
A Star Is Born
The Death of Stalin
Black Panther
First Man
The Ballad of Buster Scruggs
That's the same lineup I was predicting back in October, even though a couple of those boldface titles had yet to open. It just seemed like a kick-ass lineup. It is. My first impressions have to be right one of these days, don't they … ?!
BEST ANIMATED FEATURE
Incredibles 2
Isle of Dogs
Mirai
Early Man
Spider-Man: Into the Spider-Verse
Ralph Breaks the Internet
Ruben Brandt, Collector
Lu Over the Wall
Spider-Verse won the Globe, is nominated for a BAFTA, and boasts wins from, at present, two dozen critics' groups, among them the revered – some might say snooty – Los Angeles Film Critics Association and New York Film Critics Circle. I still think it'll barely squeak by with a nod, as the Academy's animation branch, the same one that denied recognition for The Lego Movie four years ago, is even snootier.
BEST DOCUMENTARY FEATURE
Won't You Be My Neighbor?
Minding the Gap
Three Identical Strangers
Shirkers
Free Solo
RBG
Hale County This Morning, This Evening
Crime + Punishment
In an extraordinary year for docs, with four of them busting the $10 million mark at the box office, I think the Ruth Bader Ginsburg hit might just miss out in favor of more inherently cinematic releases. But I'm kind of hoping for it to sneak in at the expense of Minding the Gap, because this would consequently be the first time ever that I saw all five nominated feature documentaries prior to their nominations. It's the little things in life.
BEST FOREIGN-LANGUAGE FILM
Roma, Mexico
Cold War, Poland
Burning, South Korea
Shoplifters, Japan
Capernaum, Lebanon
Ayka, Kazakhstan
Birds of Passage, Colombia
Never Look Away, Germany
BEST CINEMATOGRAPHY
Roma
A Star Is Born
First Man
Cold War
If Beale Street Could Talk
The Favourite
Black Panther
The Ballad of Buster Scruggs
BEST FILM EDITING
Vice
BlacKkKlansman
Roma
First Man
A Star Is Born
Bohemian Rhapsody
Black Panther
The Favourite
BEST PRODUCTION DESIGN
Black Panther
The Favourite
Roma
First Man
Ready Player One
Mary Queen of Scots
Bohemian Rhapsody
Mary Poppins Returns
BEST COSTUME DESIGN
The Favourite
Mary Queen of Scots
Black Panther
Bohemian Rhapsody
Mary Poppins Returns
The Ballad of Buster Scruggs
Crazy Rich Asians
If Beale Street Could Talk
BEST SOUND EDITING
Black Panther
First Man
Bohemian Rhapsody
A Quiet Place
Ready Player One
Roma
Incredibles 2
Mission: Impossible – Fallout
BEST SOUND MIXING
Black Panther
First Man
Bohemian Rhapsody
A Star Is Born
Roma
Ready Player One
A Quiet Place
Mission: Impossible – Fallout
BEST ORIGINAL SCORE
First Man
Mary Poppins Returns
Isle of Dogs
BlacKkKlansman
If Beale Street Could Talk
Black Panther
The Ballad of Buster Scruggs
Ready Player One
BEST ORIGINAL SONG
A Star Is Born, "Shallow"
Mary Poppins Returns, "Trip a Little Light Fantastic"
Black Panther "All the Stars"
RBG, "I'll Fight"
Quincy, "Keep Reachin'"
Mary Poppins Returns, "The Place Where Lost Things Go"
Dumplin', "Girl in the Movies"
The Ballad of Buster Scruggs, "When a Cowboy Trades His Spurs for Wings"
BEST VISUAL EFFECTS
Black Panther
Ready Player One
Avengers: Infinity War
Solo: A Star Wars Story
Christopher Robin
First Man
Jurassic World: Fallen Kingdom
Welcome to Marwen
BEST MAKEUP & HAIRSTYLING
Black Panther
Mary Queen of Scots
Suspiria
Border
Vice
Bohemian Rhapsody