Every January, I share my numerical rankings of the 10 most enjoyable movies I saw during the previous year. I do not, however, share my numerical rankings of all the other titles I caught during those 12 months, as such a list would, I think, be hopelessly arbitrary, terribly self-indulgent, and something that only a person with too much time on his hands would attempt.
Let's get cracking, shall we?
In descending order of appreciation ... .
11) The Muppets
12) The Ides of March
13) Win Win
14) Cedar Rapids
15) Young Adult
16) Mission: Impossible - Ghost Protocol
17) Bridesmaids
18) Warrior
19) Weekend
20) Crazy, Stupid, Love
A grouping of movies that, in a weaker year, could easily have made my 10-favorites list, my runners-up include several popular hits, several that should've been popular hits, and Weekend, a frank, resonant, moving British romance that was my favorite 2011 release that I wasn't able to see at the cineplex. (Thank you, streaming!) A couple of repeat viewings on DVD scoot Bridesmaids further up the rankings than I would've initially anticipated. And man but Warrior is good. Clichéd as hell, but really, really good.
21) Bill Cunningham New York
22) Thor
23) Kung Fu Panda 2
24) Tabloid
25) The Trip
26) The Debt
27) Page One: Inside the New York Times
28) Water for Elephants
29) Winnie the Pooh
30) 50/50
And here's where catching up with titles on DVD and streaming makes things tricky. Would I have appreciated the un-linked films above (three terrific documentaries and one terrific comedy) even more had I seen them on the big screen and not at the office? Er ... that is ... on the big screen and not at home when I was off the clock? We'll never know. They're absolutely worth watching in any case, though, and The Trip should be mandatory viewing for Steve Coogan's and Rob Brydon's dueling Michael Caine impressions alone.
31) Source Code
32) In Time
33) J. Edgar
34) Real Steel
35) Arthur Christmas
36) The Way
37) Insidious
38) The Help
39) Straw Dogs
40) Horrible Bosses
All of 'em flawed, all of 'em still really enjoyable. (Even if, in the case of Straw Dogs, "enjoyable" is a relative term.) I would've ranked Insidious higher had I not seen the movie again on DVD; it's definitely better than about 90 percent of the scare flicks released nowadays but didn't quite hold up on a second viewing. And I'll admit it: I broke down and bought The Help, a worthwhile purchase just for Viola Davis, and for Jessica Chastain shaking the bag of chicken and exclaiming, "This is so much fun!!!"
41) Like Crazy
42) A Very Harold & Kumar Christmas
43) The Lincoln Lawyer
44) Paranormal Activity 3
45) War Horse
46) Rise of the Planet of the Apes
47) Final Destination 5
48) Jane Eyre
49) Happy Feet Two
50) Buck
I really do have to watch Apes again, as I'm one of those pesky viewers who isn't completely wild about it yet. But I'd certainly recommend any of the above titles, even though I have major problems with a few (War Horse, especially), and found that the horse-whisperer doc Buck, while lovely, was so genteel that it left my brain five minutes after seeing it. The impressively designed Jane Eyre was also overly sedate for my tastes - I remember the book being a much livelier experience - but Michael Fassbender plays Rochester, so all is forgiven.
51) The Adjustment Bureau
52) X-Men: First Class
53) My Week with Marilyn
54) A Better Life
55) Limitless
56) Cave of Forgotten Dreams
57) Bad Teacher
58) Justin Bieber: Never Say Never
59) Hanna
60) Johnny English Reborn
Amazing. We're up to number 60 and still haven't hit a 2011 film that I'd suggest shying away from. (Well, feel free to shy away from Bieber's opus. But it's actually really well done!) In several cases, the portrayals by certain actors - X-Men's Michael Fassbender, Marilyn's Michelle Williams, A Better Life's Demián Bichir - are far stronger than their movies, but the movies themselves are still fairly good. Werner Herzog's cave-painting doc Forgotten Dreams, by the way, is technically a 2010 film, but it wasn't released nationally until April, so I'm including it here. It's kinda dull. Werner rocks.
61) No Strings Attached
62) Prom
63) Rio
64) Diary of a Wimpy Kid: Rodrick Rules
65) Beginners
66) The Girl with the Dragon Tattoo
67) Soul Surfer
68) Glee: The 3D Concert Movie
69) The Conspirator
70) Jumping the Broom
Beginners' Christopher Plummer is the odds-on favorite to win the Best Supporting Actor Oscar this year, and it would be an honorable choice; Plummer is excellent in the film, and God knows he's paid his dues. It's the movie itself I find rather oppressively cute. The other films on this particular assemblage of 10 form a combo of not-bad flicks that should've been a lot better, and should've-been-awful flicks that were surprisingly pleasant. Oh yeah, and after missing its local theatrical release, I did put Disney's Prom on my Netflix queue. Stop laughing.
71) Born to Be Wild 3D
72) The Eagle
73) Paul
74) The Descendants
75) Beastly
76) Gnomeo & Juliet
77) Mr. Popper's Penguins
78) African Cats
79) Friends with Benefits
80) Exporting Raymond
No, that's no typo: The Descendants is sitting alongside Gnomeo & Juliet and Mr. Popper's Penguins. I actually enjoyed those two more than Alexander Payne's latest, but George Clooney's and Robert Forster's work does count for something, I guess. Overall, it's a pretty "meh" grouping, with the Everybody Loves Raymond-goes-to-Russia doc amusing, but like something Michael Moore would produce on an off day. I enjoy its stars (and director Will Gluck's previous efforts) enough to eventually give Friends with Benefits another shot. Oh, and can you remember anything about The Eagle? Yeah. I had to look that one up, too.
81) Immortals
82) Dolphin Tale
83) Courageous
84) Tower Heist
85) The Thing
86) What's Your Number?
87) Fright Night
88) The Art of Getting by
89) Conan O'Brien Can't Stop
90) The Twilight Saga: Breaking Dawn - Part 1
While I have nothing against the man personally, obviously I am not on Team Coco. Nor am I on-board with any of these offerings, really, despite a few of them featuring performances that I quite enjoyed. (Welcome back, Mr. Murphy! Nice job under trying circumstances, Mr. Farrell! Are you ever going to appear in a good movie again, Ms. Faris?) I also don't know whether it says more about this particular year or this particular series, but Breaking Dawn - Part 1 is my favorite Twilight movie to date and still doesn't notch higher than 90.
91) Scream 4
92) Our Idiot Brother
93) Alvin & the Chipmunks: Chipwrecked
94) The Adventures of Tintin
95) Unknown
96) The Rite
97) Fast Five
98) Monte Carlo
99) The Mechanic
100) The Roommate
So many titles; so many titles lost to memory. (The Rite, as I was reminded by the Internet Movie Database, was that springtime exorcism thriller with Anthony Hopkins. Who knew?) Several critics whom I genuinely respect adore Fast Five - it made Richard Corliss' 10-best list in Time! - but I trust my first judgment enough to not give it a second chance. As I mentioned in their reviews a couple weeks back, Alvin just squeaks (sorry) ahead of Tintin. And yes, after missing it locally this summer, I eventually saw Monte Carlo, too. I'm a completist! Sue me!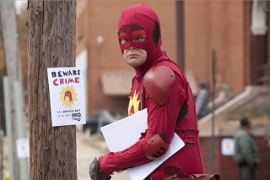 101) 30 Minutes or Less
102) The Sitter
103) Something Borrowed
104) Cars 2
105) The Rum Diary
106) Don't Be Afraid of the Dark
107) Killer Elite
108) Arthur
109) Super
110) Transformers: Dark of the Moon
A Pixar release not in my top 10? A Kate Hudson rom-com not in my bottom 10? What's happening here?!? I don't know what to say about the former film except that it's soulless, grating, and unfunny. As for the latter, Hudson actually salvages a bunch of scenes in Something Borrowed, just as Michael Cera and Aziz Ansari make 30 Minutes more bearable, and Jonah Hill and the kids help elevate The Sitter. The vicious-superhero indie Super is kind of fascinating but intensely off-putting. Transformers 3 is at least an improvement over 2. Man, could you imagine if it weren't?
111) Dream House
112) Hall Pass
113) Puss in Boots
114) One Day
115) Pirates of the Caribbean: On Stranger Tides
116) Anonymous
117) We Bought a Zoo
118) Season of the Witch
119) Captain America: The First Avenger
120) Tyler Perry's Madea's Big Happy Family
Now we're really getting down to it. It goes without saying that I didn't care for any of these movies, but at least they all had something that prevented them from appearing further down in the rankings: the killer-mermaid scene in Pirates; the USO tour in Captain America; the presence of Vanessa Redgrave in Anonymous. And there isn't a title among them that I couldn't imagine sitting through again on cable one day ... if I were bed-ridden ... and couldn't find the remote ... and was too high on painkillers to realize what I was watching ... .
121) Battle: Los Angeles
122) The Smurfs
123) I Am Number Four
124) Drive Angry
125) Footloose
126) Hoodwinked Too! Hood Vs. Evil
127) Super 8
128) Apollo 18
129) Judy Moody & the Not-Bummer Summer
130) Red Riding Hood
I know, I know ... Super 8 probably isn't that bad. But I was so off-the-charts-pissed at the film for its unbelievably senseless final 20 minutes (I'm sorry, but we're supposed to love the poor, maligned, human-eating alien now?!?) that I steadfastly refuse to rank it higher. The critically decimated Apollo 18 deserves points for trying; Drive Angry deserves points for William Fichtner's satanic turn. (Bring on Fichtner's spin-off movie!) Battle: Los Angeles and I Am Number Four, meanwhile, should probably be ranked lower than they are, but unintentional laughs are still laughs.
131) Cowboys & Aliens
132) Green Lantern
133) Your Highness
134) Sherlock Holmes: A Game of Shadows
135) The Change-Up
136) The Big Year
137) Take Me Home Tonight
138) Priest
139) The Other Woman
140) Hop
Ah, rankings 131 through 140 ... that magical land of over-produced, high-concept Hollywood pap, a gentle Owen Wilson/Steve Martin/Jack Black comedy without one laugh, and two 2011 releases I rented this summer in the hopes that I might be completely caught up by year's end. (What was I thinking?) Green Lantern's Peter Sarsgaard gets my 2011 citation for Best Performance in a Steaming Pile of Poo. And with Your Highness and the not-so-wicked-stepmother dramedy The Other Woman, Natalie Portman scores two movies in my bottom 30. I'm sure she and her Oscar will be crying themselves to sleep.
141) Mars Needs Moms
142) Sanctum
143) I Don't Know How She Does It
144) Shark Night 3D
145) Sucker Punch
146) The Dilemma
147) New Year's Eve
148) The Beaver
149) The Hangover: Part II
150) Atlas Shrugged: Part One
Have you seen The Beaver, in which Mel Gibson loses it and thinks his hand puppet is alive? Jesus God it's terrible. Mel's the only semi-decent thing about it, much as it pains me to say. (I pray to whoever will listen that Jodie Foster, Anton Yelchin, and Jennifer Lawrence never give worse performances.) But every movie among these 10 is wretched, and while we probably shouldn't worry about an Atlas Shrugged: Part Two (thankfully), let's definitely fear a third go-around with the Wolf Pack. Something tells me that as low as they sank this summer, they can sink lower.
151) The Three Musketeers
152) The Green Hornet
153) Larry Crowne
154) Abduction
155) The Darkest Hour
156) Just Go with It
157) Dylan Dog: Dead of Night
158) Zookeeper
159) Big Mommas: Like Father, Like Son
160) Jack & Jill
That's right! No fewer than three Happy Madison productions scraped the bottom of my cinematic barrel! And I didn't even see Bucky Larson: Born to Be a Star! What I find more intriguing, though, is that only four of these 10 movies are sequels, reboots, or comic-book adaptations ... which consequently makes Hollywood's paralyzing fear of original material a tad more understandable. Oh, and if you think one of these titles doesn't really seem to fit in with the others, then you didn't see the Tom Hanks/Julia Roberts vehicle Larry Crowne. Lucky, lucky you.
For a look at Mike's 10 favorites of 2011, see "Sweet and Lowdown."
Follow Mike on Twitter at Twitter.com/MikeSchulzNow.