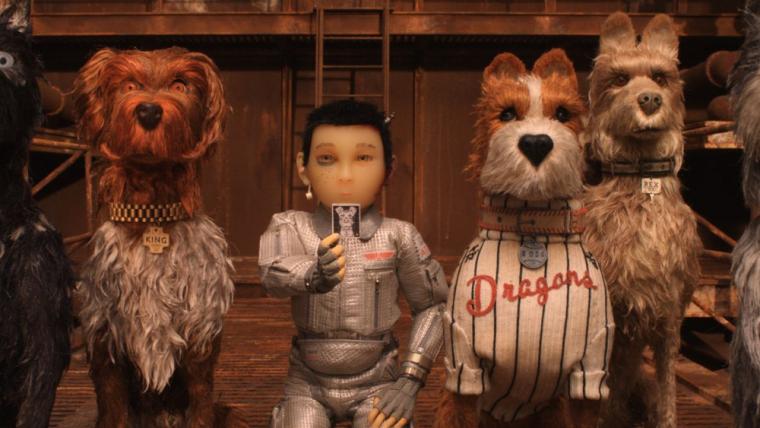 ISLE OF DOGS
Isle of Dogs is Wes Anderson's stop-motion-animated tale of a 12-year-old boy's search for his missing pooch, and somehow, against all logic, it feels like one of the least precious works on its writer/director's résumé.
With their meticulously, almost neurotically stylized framing, wistful melancholia, and deader-than-deadpan humor, Anderson's movies are a genre unto themselves, and sometimes it seems as though very little separates the brilliant (The Grand Budapest Hotel) from the annoyingly twee (The Life Aquatic with Steve Zissou). But while the traditional Anderson-isms are on full display in his latest outing, this comic adventure set in 2038 Japan is much grubbier, and a whole lot grabbier, than its central premise would suggest. Yes, the central characters are a furry group of neglected and abandoned creatures who, following an epidemic of "snout fever," are shipped to a floating trash dump and long to return to their former lives of domesticity. Cute, however, Isle of Dogs most definitely isn't, unless you're the type to reflexively "Aw-w-w-w!" at the sight of maggot-covered garbage, a disturbingly accurate rendering of sushi preparation, and what must be animated movies' first on-screen kidney transplant.
In truth (and pardon the pun), there are any number of bones you could pick with the film, from Anderson's choice to rarely subtitle or translate his Japanese characters' dialogue (a decision that inevitably leads to them appearing one-dimensional) to the lone Caucasian figure, voiced by Greta Gerwig, emerging as the movie's loudest voice of conscience. Yet I had so much fun looking at and listening to this thing that, over the course of its 100 minutes, I'm pretty sure I never stopped smiling. Even at its ugliest, the movie is a ravishing viewing experience, with the exquisite animation lending particular tactile beauty to the canines' coats; sublime though it was, not even Anderson's Fantastic Mr. Fox had this kind of magical reach-out-and-touch-it quality. As usual, the director loads the screen with visual jokes made all the funnier by how sharply edited they are, such as the gag that finds four of our four-legged heroes newly airborne, and hilariously unaware of the potential death trap they've inadvertently floated into.
Plus, because Anderson appears to be friends with every single name actor in Hollywood (and Yoko Ono), it's totally unsurprising that the film is full to bursting with recognizable voices that add fresh comic spin and deep humanity to even the inhuman characters. It would have been enough for our quintet of puppy protagonists to be enacted by a commanding Bryan Cranston and the Anderson-veteran cabal of Edward Norton, Jeff Goldblum, Bob Balaban, and the inevitable Bill Murray, whose eccentric, low-key nattering is a consistent delight. (Goldblum is the funniest of the group as a proud gossip who starts nearly every sentence with "Did you hear the rumor about …?") But we also get Liev Schreiber as the 12-year-old's prized pet, and Ken Watanabe as a principled scientist, and Frances McDormand as an excitable interpreter, and F. Murray Abraham as a sage elder mutt, and Tilda Swinton as the miniature soothsayer Oracle (she's the one dog who comprehends television), and Harvey Keitel, and Fisher Stevens, and Courtney B. Vance … .
And we get Scarlett Johansson as the collie Nutmeg, who never looks less than freshly shampooed, and who, naturally, captures the grouchy heart of Cranston's growling loner Chief. (Staring at Nutmeg adoringly, Chief offers her the highest of compliments: "You've got papers.") Their romance was a sweet touch in the fabulously clever and enjoyable Isle of Dogs, but I have to admit that as a devoted fan of Lost in Translation, I still kind of wished that Johansson's pup had found her way to Murray instead, especially considering their animated alter egos were also kept apart in The Jungle Book. What's it gonna take for these two to finally get a Happily Ever After?
SGT. STUBBY: AN AMERICAN HERO
Because Isle of Dogs' dozens of animated canines apparently weren't enough for one weekend, we were also treated to Sgt. Stubby: An American Hero, director Richard Lanni's computer-animated tale of a real-life Boston Terrier who, after his heroic and life-saving exploits in World War I, was decorated as a sergeant in the U.S. Army. I am so not making this up. It's an amazing story, given that Stubby – whose G.I. owner Robert Conroy even taught the pooch to salute – was able to sniff out impending gas attacks, locate wounded soldiers in No Man's Land, ferret out German spies, procure rabbits for dinner, and ride atop one of General Patton's tanks. It's also too bad that this clearly well-meaning effort designed for young children couldn't deliver an equally amazing presentation.
There's an interesting dichotomy regarding low-budget and live-action animated releases, in that the live-action ones tend to look a bit grungy, and the animated ones tend to look eerily clean. Sgt. Stubby looks almost impossibly clean; there's no debris in even the most war-torn locales, no grime on the soldiers' faces, and when a doctor tending to Stubby said "That's a bad wound," I practically did a double-take, because there was no wound. (As I hardly wanted bloody viscera, a tiny scratch would've sufficed.) Adult patrons such as myself may also have to just shut up and accept the failings that will no doubt fly over the heads of the film's target demographic: the sub-Uncanny Valley quality of the humans' expressions and movements; the aggressively sentimental score; the buckets of narrative corn that would shame the Spielberg of War Horse. But there are lovely readings by vocal actors Logan Lerman, Helena Bonham Carter, and, as the jolly French soldier Gaston, Gérard Depardieu. (I could've listened to his endearing pronunciation of "Stuh-bee" all day.) There's enough historical detail and accuracy to make the movie an excellent World War I primer for kids. And even though too much of Sgt. Stubby: An American Hero aims for humor through the inevitable yet unfortunate anthropomorphizing of its title character, Lanni's and Mike Stokey's script is sometimes legitimately funny. I, for one, laughed out loud when a commanding officer told his troops "You could all learn something from Stubby," and the subsequent shot showed the dog discreetly licking himself below the belt. Guess that particular lesson will have to wait for the sequel.
For reviews of Rampage, Beirut, and Blumhouse's Truth or Dare, visit "Gorilla Tactics."