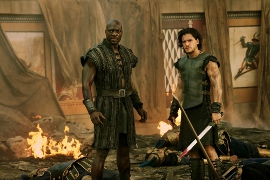 POMPEII
About a half-hour into Paul W.S. Anderson's Pompeii, the film's protagonist - a gladiator-turned-slave amusingly named Milo - hears the unfamiliar sound of the nearby Mount Vesuvius preparing to erupt. "It is the mountain," says Milo's comrade Atticus. "It grumbles from time to time." So do movie reviewers, and this latest 3D action spectacle by the director of Mortal Kombat, Death Race, and a trio of Resident Evil flicks would, at first glance, appear to be exactly the sort of thing I'd personally grumble about: a predictably corny, derivative, overscaled costume party with loads of generic violence and nothing in the way of subtlety or emotional nuance.
Yet while it's easy to name the movie's most direct influences, Gladiator and Titanic chief among them, what I didn't at all expect was for this swords-and-sandals outing to be so thoroughly, cheerfully indebted to 1970s disaster epics in the vein of The Towering Inferno and The Poseidon Adventure; Pompeii, to its cheeky credit, is kind of like 1974's Earthquake with the ancient Roman city cast in the role of Los Angeles.
As with the big-budget, "all-star" entertainments of the Irwin Allen era, it takes a while for Pompeii to really get rolling, given the formulaic exposition we have to slog through, and all the characters we have to build sufficient empathy or loathing for before the volcano does its worst. (As opposed to the likes of Stella Stevens and Red Buttons, the actors in peril here include Carrie-Anne Moss, Jared Harris, Kiefer Sutherland, and Lost's Adewale Akinnuoye-Agbaje, which is a pretty strong collective argument for movies being better now than they were 40 years ago.) But once Vesuvius does erupt, an event that transpires a good 40 minutes before the film's end credits, hoo-doggie is Pompeii a load of guilty-pleasure fun. Roman arenas collapse, thousands are swallowed in smoke and ash, fireballs are hurled directly into your lap, and the giddy too-much-ness of it all - with star-crossed lovers Milo (Kit Harington) and Cassia (Emily Browning) desperately trying to escape their doomed city like Leo and Kate aboard their doomed luxury liner - makes Anderson's latest surprisingly tough to resist.
Early on, admittedly, I resisted this AD 79 adventure quite a bit, mostly because our hero's journey so reeked of cliché. Not only is poor Milo an orphan who, as a child, watched Sutherland's Emperor Corvus slaughter his mother directly in front of him, but 20 years later, adding insult to injury, he even has to watch this same sociopath threaten Milo's beloved Cassia with a promise of marriage. (For understandable reason, Milo is given few opportunities to smile in the film, but our vengeance-minded ass-kicker is probably still the life of any party, considering he carries a six-pack with him wherever he goes.) Adding to this the movie's kinetic but fundamentally meaningless battle scenes, the stale political intrigue, and the occasionally, hilariously anachronistic dialogue ("On your feet, scum!"), and for nearly an hour, Pompeii seemed on the verge of being a joke as dispiriting as Anderson's The Three Musketeers reboot, albeit one without the director's wife and frequent leading lady, Milla Jovovich, to snicker at.
Stick with it, though, because once Harington works himself into a full Russell-Crowe-in-the-ring lather, and those mountain grumbles grow really, really loud, the film turns into an absolute blast. Entrusted with stronger production design and visual effects than his offerings usually provide, Anderson makes Vesuvius' explosive outbreak both exciting as hell and legitimately terrifying; the slow collapse of Pompeii's amphitheater, and the city surrounding it, is harrowing in its detail, and the director paces the escalating destruction and narrow (and near-) escapes with sensational force and effectiveness. And the actors, despite barely dimensional roles, do their jobs just skillfully enough to make you think the fates of actual human beings are at stake. Harington and Browning, especially, lend the movie a romantic intensity and sincerity that, in the final scenes, catches you wholly off-guard, and even Sutherland - his oddly mush-mouthed cadences suggesting lines learned under the effects of Novocaine - peppers his generic heavy with hints of unusually cruel perversity. Even at its best, Pompeii is never less than silly. It's also, however, an unabashed good time - the sort of movie you have to recommend with a giggle, and maybe a quick reassurance that no, you haven't completely lost your senses.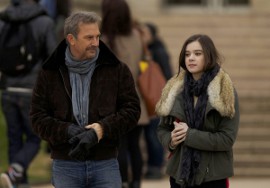 3 DAYS TO KILL
In the exceedingly dumb and tonally lunatic action-thriller 3 Days to Kill, Kevin Costner plays an expatriate CIA assassin whose shoot-outs with, and slow torture of, various Parisian arms dealers are routinely interrupted by calls from his teenage daughter, whose ringtone is the peppy Icona Pop song "I Love It" - the one with the oft-repeated chorus of "I don't care." Whenever I heard it here, it took all my will not to sing along, and not because of the tune's catchy hook. I suppose, in the end, director McG's latest is no worse than the similarly themed Liam Neeson vehicle Taken, that other Luc Besson-written and -produced movie about an American CIA operative and overprotective father forced to clean up urban France. But given five years of distance from that unpleasant smash hit, it certainly seems worse. An incoherent melange of pummeling PG-13 violence and painfully unfunny verbal and visual slapstick - and one boasting a Costner performance that you could call "phoned in" if the actor didn't appear too lazily unmotivated to even look for the phone - 3 Days to Kill is a wretched chore to sit through. And it's especially awful whenever the storyline is sacrificed for yet another endless montage of Costner taking screen daughter Hailee Stienfeld to an amusement park or teaching her how to ride a bike or slow dance on his feet; throughout the film, Costner's character keeps forgetting about his plans with the girl, and also appears to have forgotten that she's not six. Rabid fans of the Takens may well love it. But considering Liam Neeson's new action thriller Non-Stop opens in less than a week, I'd suggest they save their euros for that option, and choose not to reward this particular morceau de merde.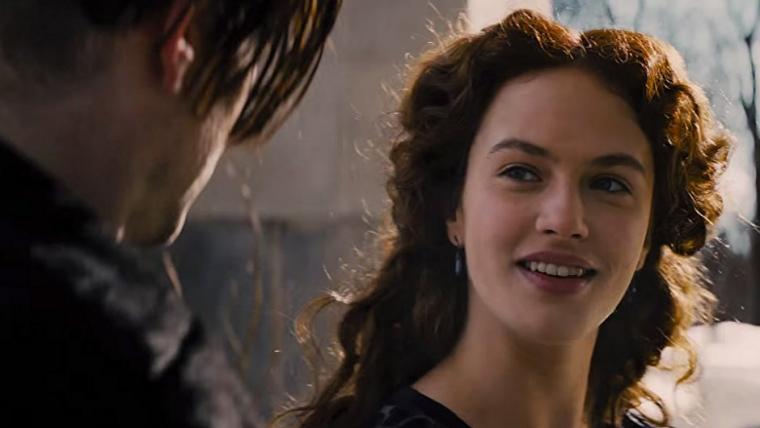 WINTER'S TALE
There are a bunch of lovely images in writer/director Akiva Goldsman's fantasy romance Winter's Tale: Russell Crowe's jet-black horse slowly backing Colin Farrell's white horse down a 1915 cobblestone street; Farrell, now in 2014, making a chalk drawing of an ethereal redhead and a faraway light; the sight of a half-dozen cars, and their nefarious drivers, falling through a thawing river of ice. (The film's cinematographer is the great Caleb Deschanel, father of actresses Zooey and Emily.) But when, at one point early on, Farrell listened to Crowe deliver a threatening monologue in a thick Irish brogue and replied, "Some of us have no idea what you're talking about," I had to admit that I didn't, either. Frankly, I had no idea what anyone was talking about. Based on Mark Helprin's acclaimed 1983 bestseller, and not on Shakespeare's "exit, pursued by a bear" classic, Goldsman's outing is a precious, goopy tale of love-through-the-ages whimsy and supernatural ridiculousness. It's also one that presents, in all seriousness, complementary narratives involving a dying consumptive (Downton Abbey's Lady Sybil, Jessica Brown Findlay) and a cancer-stricken little girl (Ripley Sobo) alongside scenes involving a flying steed, a vengeful demon, and Will Smith - goateed and as pompous as he was in After Earth - as a Lucifer with CGI fangs. It's all a mess, and given how dully self-satisfied and humorless the results are, one not even enlivened by the considerable presences of Jennifer Connelly, William Hurt, Matt Bomer, Kevin Corrigan, and Eva Marie Saint, the latter still blessedly sane and spectacularly radiant at age 89. When I saw the film last week, Winter's Tale just kept going and going, and growing steadily less engaging, until I finally made my exit, preceded by a bore.