As I only predicted 15 out of 24 categories correctly for the previous Academy Awards, obviously I have some making up to do for my prognostic abilities to again be taken seriously.
Of all freakin' times to attempt a comeback ... !
Seriously, this is one of those wacky, anomalous years in which nearly anything could happen at the annual Oscar ceremony. (This year's is scheduled to air locally on ABC's WQAD-TV affiliate on Sunday, February 24, beginning at 7 p.m.). Argo could win the big prize despite its lack of a Best Director nod, or it could be shut out entirely. (I'm guessing the former.) Lincoln could sweep, or it could be relegated to one lone win from 12 nominations. (Sadly, I'm guessing the latter.) Silver Linings Playbook could score in numerous categories because - like 2011's The Artist and 2010's The King's Speech - it has producer and legendary Oscar hunter Harvey Weinstein on its side, or it ... .
Hmm. Maybe I should've given the Weinstein thing more consideration before making these predictions.
Alas, the predictions have been made, and in boldface no less, so I guess there's no turning back now. I urge you to employ caution if you're planning to use them for your office's annual Oscar pool. And you may as well flip a coin on Best Supporting Actor. Preferably a five-sided coin.
BEST PICTURE
Amour
Argo
Beasts of the Southern Wild
Django Unchained
Les Misérables
Life of Pi
Lincoln
Silver Linings Playbook
Zero Dark Thirty
At present, Ben Affleck is so beloved in the industry that he probably could've directed that tacky, sci-fi script-within-the-script version of Argo and it still would've won Best Picture.
BEST DIRECTOR
Michael Haneke, Amour
Ang Lee, Life of Pi
David O. Russell, Silver Linings Playbook
Steven Spielberg, Lincoln
Benh Zeitlin, Beasts of the Southern Wild
Though if, through some miracle, this award's presenter exclaims, "And the Oscar goes to ... Ben Affleck!", I won't be the least bit surprised.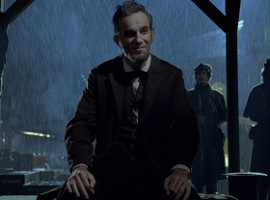 BEST ACTOR
Bradley Cooper, Silver Linings Playbook
Daniel Day-Lewis, Lincoln
Hugh Jackman, Les Misérables
Joaquin Phoenix, The Master
Denzel Washington, Flight
Hail to the chief.
BEST ACTRESS
Jessica Chastain, Zero Dark Thirty
Jennifer Lawrence, Silver Linings Playbook
Emmanuelle Riva, Amour
Quvenzhané Wallis, Beasts of the Southern Wild
Naomi Watts, The Impossible
"Gee ... Emmanuelle turns 86 on February 24 ... . We really should get her something nice this year ... ."
BEST SUPPORTING ACTOR
Alan Arkin, Argo
Robert De Niro, Silver Linings Playbook
Philip Seymour Hoffman, The Master
Tommy Lee Jones, Lincoln
Christoph Waltz, Django Unchained
And if this happens, De Niro will have beaten Day-Lewis to a third Oscar by at least an hour. Take that, Brits! USA! USA!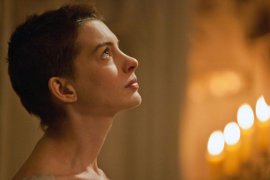 BEST SUPPORTING ACTRESS
Amy Adams, The Master
Sally Field, Lincoln
Anne Hathaway, Les Misérables
Helen Hunt, The Sessions
Jacki Weaver, Silver Linings Playbook
One song plus one unbroken take equals one Oscar.
BEST ORIGINAL SCREENPLAY
Amour, Michael Haneke
Django Unchained, Quentin Tarantino
Flight, John Gatins
Moonrise Kingdom, Wes Anderson, Roman Coppola
Zero Dark Thirty, Mark Boal
After big wins from Critics Choice Award (CCA), Golden Globe, and British Academy of Film & Television Arts (BAFTA) voters, Tarantino should be the no-contest choice here. But Amour's unexpectedly powerful showing in numerous Oscar categories makes me think otherwise. Take that, Americans! Aus-tri-a! Aus-tri-a!
BEST ADAPTED SCREENPLAY
Argo, Chris Terrio
Beasts of the Southern Wild, Lucy Alibar, Benh Zeitlin
Life of Pi, David Magee
Lincoln, Tony Kushner
Silver Linings Playbook, David O. Russell
Kushner's script, I'm convinced, is a thing of genius, and Russell, despite heavy competition, recently won the BAFTA prize in this category. But Argo is about hostages who are rescued, in part, by a screenplay titled Argo. Academy voters should just give Terrio's script the Oscar and miniature tights and a cape.
BEST ANIMATED FEATURE
Brave
Frankenweenie
ParaNorman
The Pirates! Band of Misfits
Wreck-It Ralph
Frankenweenie would be welcome, long-delayed acknowledgment of Tim Burton, and Wreck-It Ralph would be a relatively hip option for a generally unhip Academy. ParaNorman, meanwhile, would just be my choice, so obviously that's not gonna happen. (Nor will The Pirates!) Let's go with the Golden Globe and BAFTA winner in this category - maybe not a brave prediction, but a Brave prediction nonetheless.
BEST ORIGINAL SONG
"Before My Time," Chasing Ice
"Everybody Needs a Best Friend," Ted
"Pi's Lullaby," Life of Pi
"Skyfall," Skyfall
"Suddenly," Les Misérables
I wonder if Adele's new Grammy is looking for a dance partner ... ?
BEST FOREIGN-LANGUAGE FILM
Amour, Austria
Kon-Tiki, Norway
No, Chile
A Royal Affair, Denmark
War Witch, Canada
"Amour" is French for "love." What's French for "such a done deal that there's no point discussing it"?
BEST DOCUMENTARY FEATURE
5 Broken Cameras
The Gatekeepers
How to Survive a Plague
The Invisible War
Searching for Sugar Man
For the first time ever, I've seen all five nominees in this category prior to the ceremony, and am thinking my favorite will actually be the Academy's favorite, too. Wow. Maybe that does happen on occasion.
BEST ORIGINAL SCORE
Anna Karenina
Argo
Life of Pi
Lincoln
Skyfall
Anna Karenina's Dario Marianelli previously won for 2007's Atonement. Lincoln's John Williams has won, like, a million of these things. Argo's Alexandre Desplat and Skyfall's Thomas Newman are overdue for Oscar recognition. (The latter ridiculously so.) But thanks in large part to composer Mychael Danna, Life of Pi sounds as good as it looks, and it looks amazing.
BEST CINEMATOGRAPHY
Anna Karenina
Django Unchained
Life of Pi
Lincoln
Skyfall
Have I mentioned that Life of Pi looks amazing?
BEST FILM EDITING
Argo
Life of Pi
Lincoln
Silver Linings Playbook
Zero Dark Thirty
Generally speaking, the Best Picture winner also wins Best Film Editing. It just didn't last year ... or the year before that ... . Damn that boldface!
BEST PRODUCTION DESIGN
Anna Karenina
The Hobbit: An Unexpected Journey
Les Misérables
Life of Pi
Lincoln
I should probably be going with Les Mis or Life of Pi on this - or, quite frankly, The Hobbit or Lincoln - but that theatre set that magically transformed into an entire bloody Tolstoy novel is just too jaw-dropping not to predict.
BEST COSTUME DESIGN
Anna Karenina
Les Misérables
Lincoln
Mirror Mirror
Snow White & the Huntsman
Fun as it is to imagine a battle royale between dueling Snow Whites, I'm pretty certain another fictional lady has this one in the bag.
BEST SOUND EDITING
Argo
Django Unchained
Life of Pi
Skyfall
Zero Dark Thirty
A hunch based solely on the presumption that three Oscars for Argo won't be deemed enough.
BEST SOUND MIXING
Argo
Les Misérables
Life of Pi
Lincoln
Skyfall
Nominated musicals almost always win this category, and will likely continue to even though I know the Les Mis songs by heart and still couldn't comprehend all the lyrics to that opening number.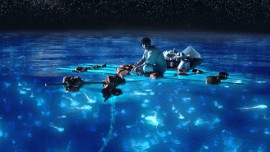 BEST VISUAL EFFECTS
The Hobbit: An Unexpected Journey
Life of Pi
Marvel's The Avengers
Prometheus
Snow White & the Huntsman
Tony the tiger. I mean, Oscar the tiger.
BEST MAKEUP & HAIRSTYLING
The Hobbit: An Unexpected Journey
Hitchcock
Les Misérables
The Hobbit feels too "been there, awarded that." Anthony Hopkins looked less like Hitch than like a marshmallow with eyes. Les Mis it is, then.
BEST DOCUMENTARY SHORT
Inocente
Kings Point
Mondays at Racine
Open Heart
Redemption
Missing teens, dying seniors, cancer patients, surgery in Rwanda, America's economic crisis ... welcome to the Acadamy Awards' annual happy-fun-time category! What say we go with missing teens this year?
BEST LIVE-ACTION SHORT
Asad
Buzkashi Boys
Curfew
Death of a Shadow (Dood van een Schaduw)
Henry
A hunch based solely on Curfew being the category's one English-language nominee. Hey, if I can be lazy, Oscar voters can, too!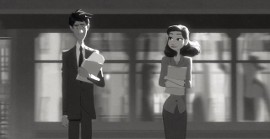 BEST ANIMATED SHORT
Adam & Dog
Fresh Guacamole
Head Over Heels
Maggie Simpson in "The Longest Daycare"
Paperman
Disney's charming black-and-white entry will likely take it, and Adam & Dog totally deserves it. But if, through some miracle, this award's presenter exclaims, "And the Oscar goes to ... Ben Affleck!", I won't be the least bit surprised.
For an analysis of the tricky Best Picture, Director, Actress, and Supporting Actor races, visit "Oscar-a-a-aziness."