Jeez, you take one week off from regular movie reviewing and you fall so behind ... .
TRANSAMERICA
In last week's article on the Academy Awards race, I spent the better part of two paragraphs raving about Felicity Huffman's marvelous, richly textured performance in writer-director Duncan Tucker's Transamerica, wherein she plays a pre-operative transsexual named Bree - born Stanley - who finds herself traveling cross-country with the teenage son (Kevin Zegers) she didn't know she had. And I see no reason to belabor the point this week - let it just be said that Huffman is absolutely superb.
The movie, however, isn't. Ignoring the film's dubious, schematic set-up - Bree's psychiatrist (Elizabeth Pena) won't give the final okay for her surgery until Bree takes the trek with her child, which is just the first of many such plot contrivances - Transamerica feels aimless and meandering, and its stabs at humor - particularly when Bree makes a surprise visit to her estranged parents (Burt Young and a cartoonish Fionnula Flanagan) - are as broad as Huffman's portrayal is subtle; the movie is simultaneously more and less inconsequential than it needs to be.
Zegers, too, is problematic. He can't seem to flesh out Tucker's thin conception of the wayward street hustler, Toby, who comes across as little more than a pouty pubescent bad-ass; the actor seems honest in his efforts, but Toby seems more pin-up than character. Consequently, Zegers and Huffman never form a believable rapport. They don't even form a believable lack of rapport. In the end, Tucker's movie is worth seeing for the miracles that Felicity Huffman performs with a sketchy role, but beyond her contributions, Transamerica feels like a meandering road trip with no final destination.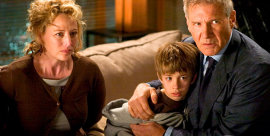 FIREWALL
Was the script for Firewall found buried in a Hollywood time capsule from the mid-'80s? And if it was, was Harrison Ford found buried with it? Richard Loncraine's dour, depressingly formulaic action-thriller involving a bank heist, a kidnapped family, and Ford barking such literary gems as "Change of plans, asshole!" doesn't just feel like a relic from two decades ago; with its head-scratching plot holes and lapses in logic, and saddled with another Euro-trash bad guy (Paul Bettany) who shakes under the weight of our hero's scowl, Firewall is practically a parody of one of those relics. And through it all is a sturdy, achingly dull Harrison Ford, looking as if he'd rather be anywhere else. Some in the press, commenting on the stuntwork the film's star continues to participate in, have expressed concern for Ford's health. But having chosen Firewall, out of all possible options, as his return to the screen following a three-year absence, I find myself more concerned about Ford's sanity.
FREEDOMLAND
I'm not sure I know what Freedomland is, and I'm not sure Freedomland does, either. Julianne Moore plays a distraught former drug addict whose young son, she tells police, was the victim of a carjacking by an unidentifiable black man; Samuel L. Jackson is the New Jersey detective who doubts her story, and tries to uncover the truth. The tumult of their dealings is played against the explosiveness of the media circus that the alleged kidnapping detonates, resulting in a film awash in grief and anger.
Too bad it doesn't work. As a "fiery" exploration of race relations, à la Crash, Freedomland feels slight; through the machinations of Richard Price's script, based on his novel, the African-American community here is gradually turned into a generic, simmering-to-a-boil mob. As a mystery-thriller, the film is logy and repetitive, mired in sadness yet lacking the complexity of character and situation that would make that sadness riveting. And while Samuel L. Jackson gives one of his rare restrained performances, he winds up being acted off the map by Julianne Moore ... and that is not a blight on Jackson. Moore plays this-close-to-a-breakdown better than probably any actress out there, and under Joe Roth's direction, that's the problem. We're so conscious of the ravaged hyper-tension of her performance - so aware of the acting feat - that her anguished portrayal actually grows a little exhausting, just like far too much of Freedomland itself.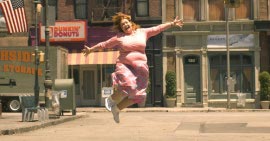 DATE MOVIE
As someone who, once upon a time, actually loved spoofy slapsticks such as Airplane! and The Naked Gun, I don't enter something like Date Movie expecting much; really, throw me a few funny gags, a little invention, and I'm happy. (This genre hasn't exactly been rife with winners over the last decade-plus.) After Date Movie, I wasn't happy. Beyond its basic amateurishness, the movie's main flaw is that no good jokes result from its set-ups; the set-ups are the jokes. Here, when you see Alyson Hannigan or Adam Campbell beginning a routine from When Harry Met Sally ... or Say Anything ... or Kill Bill (yeah, I don't get its inclusion here, either), you perk up, hoping Date Movie will goose the familiar scene with some satiric spin. But it never does; it just replays the scene, albeit with a fresh coat of Gross. The film is rhythmless and stretches its unfunny gags well past the breaking point, but at least the leads display some comic eccentricity. I'm not sure I'll be able to make it through the inevitable Date Movie 2, but if Hannigan and Campbell want to act opposite each other in something else, I'm completely on board.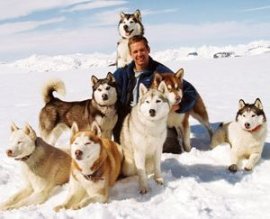 EIGHT BELOW and CURIOUS GEORGE
The Antarctic adventure Eight Below is a passable enough. It's simplistic and predictably Disney-fied, yes, but Frank Marshall directs with conviction, a few sequences - one of which involves a particularly ferocious sea lion - are legitimately thrilling, and Paul Walker and Jason Biggs may have finally found the right outlet (that being Disney) for their bland sincerity. Eight Below isn't bad at all. But at the packed Saturday-afternoon screening I attended, the kids in the audience seemed to love it. Their happy banter about the rescue dogs - all of whom they knew by name - would often give way to a hushed silence, and they laughed at the well-executed cornball jokes; I liked the movie fine, but I loved listening to it work for its intended audience. After that sea-lion scene, a child behind me - who couldn't have been a day over seven - excitedly whispered, "That scared the daylights out of me!" For the record, kid: Me, too.
The auditorium wasn't nearly as crowded at the screening of Curious George I attended, but I didn't care - I had a fine time anyway. This cartoon adaptation of the beloved children's-book series is a spirited, surprisingly funny entertainment; it captures the books' impish simplicity, yet is far wittier than you'd expect. Will Ferrell, David Cross, and Dick Van Dyke deliver assured vocal yuks, and as for the cooing, ever-smiling Curious George himself ... let's just say I was embarrassed at how adorable I found him. (He's like an animated version of a Raising Arizona quintuplet.) For a work geared to a very young demographic, Curious George is pretty terrific; child chaperones recommended, but - amazingly - not required.