Last night, at the tail end of her opening monologue, Academy Awards emcee Ellen DeGeneres took a moment to acknowledge the year's tight race for Best Picture, and stated that "anything can happen" regarding the evening's biggest prize. "Possibility number one: 12 Years a Slave wins Best Picture," she said. "Possibility number two: You're all racists."
Which, it turned out, was a possibility voters were not willing to face.
I guess the writing should've been on the wall the moment we realized that Sidney Poitier - a passionate and vocal 12 Years supporter - was seated front-row center, the legendary actor/activist's stern countenance suggesting the exhausted chaperone at a post-prom mixer. (Whenever the camera landed on or passed Poitier during the ceremony, even during its most agreeable moments of levity, you could read his expression as "I will have none of this foolishness.") The more jaded among us may even have wondered whether the decision to have Best Picture revealed by Will Smith wasn't entirely about the man's box-office power or previous Oscar recognition. (DeGeneres, again nimbly addressing longtime complaints about the Academy's lack of inclusiveness, kicked off the trophy-giving by introducing Anne Hathaway with "And now, please welcome our first white presenter ... .") But when Smith opened the envelope, it was official: Despite Gravity leading into the announcement with seven wins to a mere two for director Steve McQueen's film - and with only two other top-prize nominees netting any wins at all - 12 Years a Slave was named 2014's Best Picture.
Personally speaking, I'm delighted about this. 12 Years was my favorite, if not my prediction, among the options, and judging by the win's rather ecstatic reception in the Hollywood & Highland Center auditorium, it was also the favorite among a great many voters. Yet I can't help feeling, just a smidge, that a Best Picture win might have been the worst possible outcome for McQueen's slavery drama, at least for a few years, and especially for a significant percentage of Gravity devotees. "Oh, come on!" you can hear the pissed-off masses cry with Will Arnett-style pique. "Alfonso Cuarón gets Best Director and the movie gets six other Oscars and it somehow loses Best Picture?! They just voted out of guilt!"
Maybe; 12 Years' studio, Fox Searchlight, mounted an aggressive - and, according to some, blatantly manipulative - campaign strategy in the final weeks of voting, employing the slogan "It's time" as a not-so-subtle reminder of the Academy's sorry track record with movies that even remotely broach the subject of race relations in America. (The two most recent winners that did - 2005's Crash and 1989's Driving Miss Daisy - are also two of Oscar history's more derided victors. Ironically enough, they're also two of the relative few Best Pictures not to also score wins for their directors.) Maybe, like myself, voters en masse just liked 12 Years better than the eight other nominees, and considered Gravity more of a technical astonishment than the year's finest overall achievement. But good luck convincing the haters of that; for them, McQueen's movie won, and Gravity ultimately got screwed, out of collective liberal guilt. And for this demographic, I fear, 12 Years' Best Picture triumph will quite possibly be the reason many avoid seeing it in the future - anti-12 Years partisans won't give it the satisfaction of viewership. (I have friends who refuse to ever watch Dances with Wolves because it won Best Picture over Scorsese's GoodFellas, when they should instead be refusing to watch Costner's Western for other reasons entirely.)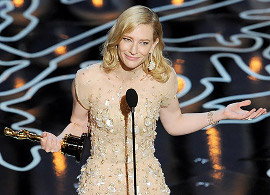 The anguished, however, should take heart, not merely because of the seven Oscars Gravity did receive, but because a tech-category-and-Director-sweeping film losing Best Picture to a rival with fewer total wins is hardly unprecedented in the annals of Academy history. Hell, it happened just last year, when Ang Lee and his Life of Pi team earned five awards to Best Picture winner Argo's three, and there were two ceremonies in the '70s that even more closely mirrored what transpired last night. The 1977 race found Star Wars nabbing seven technical Oscars (although not Best Director) while Best Picture and three additional trophies went to Annie Hall. And at the end of the 1972 contest, Cabaret boasted eight Oscars total, including Best Director for Bob Fosse, while another movie - just like 12 Years a Slave - wound up solely with Best Picture, Best Adapted Screenplay, and an acting award. Its title? The Godfather.
Hopefully, then, there's still a chance for 12 Years a Slave to be seen for what it is: one of the finest films in an almost universally-agreed-upon outstanding film year, and the title that was just lucky enough to be in Will Smith's envelope over intensely tough competition, and in no way an F-you to Cuarón's clearly highly-regarded option. For the moment, unfortunately (and without having yet dived into any online, op-ed sniping), I think 12 Years' Best Picture victory - or rather, Gravity's Best Picture loss - is going to burn all the wrong people for all the wrong reasons. Those of us who've followed the race over the past several weeks know how uncomfortable, if not downright ugly, things were getting in the seemingly endless 12 Years-versus-Gravity debate. Even with 2014's Oscar race now behind us, and for the foreseeable future, it's not likely to get any prettier.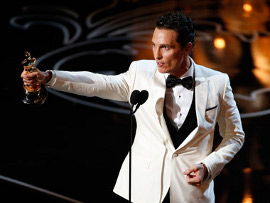 So what else happened last night? Well, as mentioned, Ellen DeGeneres hosted, and was .... okay, I thought. Her opening monologue was actually pretty killer. With no movie-montage or song-and-dance to start the evening, the genial and seemingly relaxed DeGeneres - who previously played Oscar-night ringleader in 2007 - strode on-stage and was obviously the immediate beneficiary of much goodwill in the wake of last year's wildly divisive emcee Seth MacFarlane. (Noting that the 2007 nominees included Cate Blanchett, Meryl Streep, Leonardo DiCaprio, and Martin Scorsese, DeGeneres assumed a perfect deadpan and labeled this year "so different.") Her early jokes, though, made it clear that she wasn't going to be the completely nicey-nice alternative to MacFarlane; following a salty jab at June Squibb ("I'm telling everyone you were wonderful in Nebraska!" she mock-yelled at the 84-year-old), DeGeneres also got in solid shots at Jennifer Lawrence, for her tendency to fall down in public, and Liza Minnelli, for looking just like Liza Minnelli. ("Good job, sir.")
But while she managed to salvage portions of her later shtick through sheer amiability - plus the ne plus ultra in Hollywood-elite selfies - the host's evening-long, wandering-through-the-aisles routine too often fell flat, with the ordering-in-for-pizza running gag only yielding very occasional pleasures. (The sight of Brad Pitt passing out paper plates was one of them.) And aside from an intentionally tardy entrance as Glinda the Good Witch, which happened in conjunction with the show's time-wasting tribute to The Wizard of Oz (albeit one highlighted by Pink's fine, if vocally-unsupported-at-times, take on "Over the Rainbow"), there really wasn't much else to DeGeneres' hosting last night. Many of her on-screen moments took place with DeGeneres deliberately losing herself in the crowd, and that's how her hosting, in general, came off; I tended to lose track of her even when she was directly in front of me.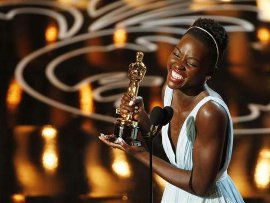 And, sadly, beyond the early appearance of Jim Carrey, DeGeneres was pretty much alone in delivering laughs last night - at least intentional laughs, and at least laughs provided courtesy of the presenters, whose uncharacteristically dry, this-is-serious-stuff banter might also have portended the eventual 12 Years victory. (Jamie Foxx was stuck with a Chariots of Fire bit more than three decades past its prime, and even Bill Murray wasn't allowed to be funny - although he did, after announcing the nominees for Best Cinematography, deliver some heartfelt recognition to longtime friend and collaborator Harold Ramis, who passed away on February 24.) For unintentional laughs, at least we had Charlize Theron's charming confusion over the teleprompter and the fun in hearing Naomi Watts' accent add some class to the Makeup & Hairstyling nomination for Jackass Presents Bad Grandpa. (Or, to hear Watts say it, "Jock-oss Presents ... .") Oh, yeah, and there was Kim Novak. Moving right along ... .
The film montages, all of which addressed the ceremony's previously announced "A Salute to Heroes" theme, were as ridiculous, and ridiculously vague, as the theme itself. There were montages for animated heroes, and comic-book and super heroes, and bucking-the-system heroes, and finally one that positioned Roy Scheider in Jaws next to Jimmy Stewart in It's a Wonderful Life next to Sigourney Weaver in Aliens next to Kevin Bacon in Footloose ... . Did the show's writers somehow forget that "hero" and "protagonist" aren't the same thing? The montages quickly emerged as less a collective "Salute to Heroes" than a "Salute to Movies You've Actually Seen."
At least the show's musical numbers were more bearable. (The Hollywood & Highland Center crowd sure thought so, as they stood up at the conclusion of every number performed except for Best Original Song's low-key Her nominee "The Moon Song," performed by Karen O.) Pharrell Williams offered a kicky - and nicely abbreviated - take on his "Happy" number complete with a pair of dancing tykes who were clearly having the times of their lives; U2's "Ordinary Love" rendition was as exciting as the number itself is dull. And Bette Midler sure started well on her post-"In Memoriam" delivery of "Wind Beneath My Wings" ... until, that is, the song obviously became less a hymn to the deceased than an awkward, and awkwardly self-serving, reminder of her own vocal prowess. (The less said about Darlene Love's unexpected, badly amplified wailing in the wake of 20 Feet from Stardom's Best Documentary win, the better.)
Hmmm ... what else ... ? With Best Supporting Actor the first category announced, victor Jared Leto got many misty-eyed awfully early by opening with sweet acknowledgment of his mom. Best Actress winner Cate Blanchett, in a classic speech, began with appropriate but potentially alienating recognition of Woody Allen (whose name received a smattering of applause) and continued with a fervent request for more movies for and about women - movies that, as Blanchett reminded everyone, aren't mere niche releases and "in fact, they earn money." (A personal gripe: How, after her Best Supporting Actress clip, did the camera somehow not manage to find Blue Jasmine co-star Sally Hawkins? She may not be immediately recognizable by name or face, but for Pete's sake, she was sitting right next to Blanchett!) Popular victories were enjoyed by Cuarón (twice, as he also co-edited Gravity), and 12 Years' poised and lovely Lupita Nyong'o, and an obviously touched and surprised Spike Jonze, who beat out American Hustle front-runners David O. Russell and Eric Warren Singer. (Impressively for me, I correctly predicted the winners in 18 out of 24 categories, and also foresaw, unfortunately, American Hustle's complete and unfair 0-for-10 shutout.) Best Actor champ Matthew McConaughey was ... McConaughey ... meaning the women at my Oscar party swooned over his typically loopy and grandiose speech and we men just rolled our eyes. As one of 12 Years a Slave's producers, Brad Pitt can finally, finally, call himself an Oscar winner.
Oh, and how about that Adela Dazeem singing Frozen's "Let It Go"?! What a powerhouse! And to think, before last night, I'd never even heard of her!
2014 Academy Award winners:
Best Picture: 12 Years a Slave
Best Director: Alfonso Cuarón, Gravity
Best Actress: Cate Blanchett, Blue Jasmine
Best Actor: Matthew McConaughey, Dallas Buyers Club
Best Supporting Actress: Lupita Nyong'o, 12 Years a Slave
Best Supporting Actor: Jared Leto, Dallas Buyers Club
Best Original Screenplay: Her, Spike Jonze
Best Adapted Screenplay: 12 Years a Slave, John Ridley
Best Animated Feature: Frozen
Best Original Song: "Let It Go," Frozen
Best Foreign-Language Film: The Great Beauty
Best Documentary Feature: 20 Feet from Stardom
Best Original Score: Gravity
Best Cinematography: Gravity
Best Film Editing: Gravity
Best Production Design: The Great Gatsby
Best Costume Design: The Great Gatsby
Best Sound Editing: Gravity
Best Sound Mixing: Gravity
Best Visual Effects: Gravity
Best Makeup & Hairstyling: Dallas Buyers Club
Best Documentary Short: The Lady in Number 6: Music Saved My Life
Best Live-Action Short: Helium
Best Animated Short: Mr. Hublot