Before commencing with the annual fawning, I thought I'd begin by exercising one of my God-given rights as a reviewer: the right to bitch about the sorry state of movies. I think it's supposed to go something like this:
Boy, are the movies in a sorry state!
During what felt like every weekend in 2010, we were subjected to some example of bloated Hollywood overkill designed to appeal to the absolute lowest common denominator, be it a boring video-game "adaptation" such as Prince of Persia: The Sands of Time, or a lazy, cynical "reboot" such as Robin Hood, or a predictable, juvenile "entertainment" such as Grown Ups.
We were inundated with disappointing star vehicles, such as The Tourist, in which even the stars didn't appear to be having fun. We were expected to take kids to slapdash kiddie fodder, such as Tooth Fairy, and ignore the fact that the filmmakers were treating us all like four-year-olds. We were sequel-ed and remake-ed to death, and for the second summer in a row, a long-dead TV series was resuscitated on the big screen ... and no one cared. (Winner of the 2010 Land of the Lost Award: The A-Team.)
And don't even get me started on the 3D craze, which found movies that would've been crummy under any circumstances - Pirahna 3D, Saw 3D, Step Up 3D ... - somehow even crummier with $3.50 less in your wallet.
But while all those grievances are definitely justified, I still find it incredibly difficult to moan about the past year in movies; all things considered, 2010's output was actually pretty great.
True, Hollywood foisted a lot of garbage on us, but there were also plenty of star-laden, big-budget offerings that did deliver the goods, including Inception, The Next Three Days, The Other Guys, Salt, and Unstoppable. Sure, there was dopiness galore, but also a surprisingly hearty dose of smarts, on display in Easy A, Fair Game, Megamind, Scott Pilgrim Vs. the World, and The Town. Plus, all throughout the year, odd, quirky little gems came along to renew your faith in movies, at least for a while: The Ghost Writer, and It's Kind of a Funny Story, and Cyrus, and Hot Tub Time Machine, and Despicable Me, and ... .
So yeah, not a bad year at all. And when presented with a roster of titles such as the ones I've noted below, you could even argue that 2010 was one of the strongest we've encountered over the past 10 years. For my money, the first entry on the list, all by itself, marks this past movie year as one for the ages, at least if my four viewings of the film (so far) are to be trusted ... .
1) The Social Network. Just how united are reviewers in their adoration for director David Fincher's and screenwriter Aaron's Sorkin's origins-of-Facebook saga? To date, the film has won Best Picture citations from 20 separate critics' groups nationwide, while Black Swan, The King's Speech, 127 Hours, and Winter's Bone are tied for the second-most wins ... with one apiece. (And 127 Hours received its recognition in a tie with Social Network.) Yet while such unilateral praise might be vexing to some - it certainly must be to potential competitors for the Best Picture Oscar - I don't think it's unjustified: of the 150 titles I've seen, Fincher's and Sorkin's achievement is indeed the boldest, brashest, and no-contest-best movie of 2010. I could go on and on about the film's performers, with Jesse Eisenberg's powerful and subtly nuanced Mark Zuckerberg the most staggering creation in a work boasting beautifully detailed character turns by Andrew Garfield, Justin Timberlake, Max Minghella, Rooney Mara, Douglas Urbanski, and a pair of Armie Hammers. (With recognition to Josh Pence for providing the frame on which Hammer's face was oftentimes superimposed.) I could compose a lengthy treatise on the electrifying intelligence of Fincher's fast-paced, insightful direction, and the ease with which so many outstanding collaborators - cinematographer Jeff Cronenweth, editors Kirk Baxter and Angus Wall, composers Trent Reznor and Atticus Ross - make sizable, and recognizable, impacts without overwhelming the movie's whole. I could wax eloquent, or at least try to, on the blistering perfection of Sorkin's gleefully acidic dialogue, and the story construction that blends past and present with supreme clarity and wicked cleverness. But really, what's the point? The movie's available on DVD and Blu-Ray on January 11. See it for yourselves. And then, like many of us, expect to want to watch it again and again and again.
2) Black Swan. Lurid and melodramatic and violent and trashy ... and about as great a time as you could hope to have at the cineplex. With director Darren Aronofsky's bird-like camera swooping around, beside, and behind her, Natalie Portman's ballet dancer slowly loses her mind for her art, and what results is an invigorating and ravishing dance-world thriller that feels like what you'd get if Roman Polanski decided to remake The Red Shoes. There are only a handful of "light" moments in the film, but I'm not sure I ever stopped grinning at Aronofsky's bravely outré staging and his sublimely creepy doubling effects; despite occasional evidence to the contrary, two Portmans - especially when the performer is as feverishly excellent as she is here - prove to be much, much better than one. Scene for scene, Portman is expertly matched by Vincent Cassel, Barbara Hershey, and the malevolently delectable Mila Kunis, and the film's hallucinogenic Swan Lake climax is perhaps even more enjoyably mind-blowing than anything in Inception; at the screening I attended, the crowd's gasps followed their breathless giggles until, fittingly, you weren't sure which were which. For all of its wild excesses, Black Swan is an absolutely guiltless guilty pleasure, one that makes you say, "Did I just see what I think I saw?", and then makes you immediately plan your next visit with a dozen friends in tow.
3) The Kids Are All Right. Even after my first viewing of this lesbian-partners-meet-their-sperm-donor dramatic comedy, it was clear that co-writer/director Lisa Cholodenko had an agenda: to make marriage look like the most wondrous, arduous, hilarious, wearying, unpredictable, and ultimately satisfying work in the world. Mission totally accomplished, Ms. Cholodenko. In a film culture in which we can find ourselves irrationally happy with Date Night just for giving us spouses who actually seem to like each other, Annette Bening's and Julianne Moore's tackling of the dizzying complexities of modern marriage felt downright revelatory, and not because their characters were gay. Graced with a first-rate script and spellbindingly honest performances, The Kids Are All Right captures the trickiness of family dynamics better than any movie has in years, and is filled with more perfectly realized moments, maybe, than any other 2010 feature. A couple more exposures to the film have sharpened my recall, but I can instantly picture Mark Ruffalo's giggly shock after his kitchen kiss with Moore, and the involuntary trembling of Mia Wasikowska's lip as her parents drive away from her college, and Josh Hutcherson's faraway happiness in the climactic shot ... and if there's a better piece of screen acting this year than Bening's dawning recognition of a recent betrayal, I couldn't imagine what it would be.
4) Winter's Bone. A movie that I can't, for the life of me, get out of my head. Like a double-sized Sopranos episode set in the backwoods of the Ozarks, director Debra Granik's rural thriller is a vibrant and fascinating exploration of hierarchical power structures, yet the experience is so atmospheric and lived-in and uniquely frightening that it's also unlike anything you've ever seen before. As the teenager forced to locate her missing, meth-cooking father, dead or alive, Jennifer Lawrence - a name you'll be hearing a lot on awards shows over the next few months - gives a fiercely determined, effortlessly empathetic performance; John Hawkes is marvelously threatening, and surprisingly tender, as her grizzled uncle; the pitch-perfect supporting ensemble featuring Dale Dickey, Garrett Dillahunt, Kevin Breznahan, and Sheryl Lee doesn't ring even one false note. (Granik elicits such truthful work from Winter's Bone's performers that it's all but impossible to tell the professional actors from the amateurs.) After catching up with more than a dozen 2010 movie titles on DVD or through Netflix's streaming service, this is the only one that I regretted not seeing on the big screen; the film's scope may appear small, but this brilliantly written work sneaks up on you with overwhelming force. I've seen the movie three times now and don't feel like I'm nearly done with it.
5) 127 Hours. Even though it hasn't yet opened locally, I'm presuming you know what director Danny Boyle's latest is about: that guy who got trapped under a boulder while rock-climbing, and survived by cutting off his arm with a dull knife. So would you believe me if I spent my wordage here explaining just how much freaking fun this movie is? Without ever once mocking author/adventurer Aron Ralston's horrific ordeal, Boyle and co-screenwriter Simon Beaufoy deliver a true-life survival tale that's aurally and (against considerable odds) visually breathtaking, emotionally exhilarating, and oftentimes laugh-out-loud funny; for me, no other 90 minutes at the cineplex this year zipped by quite so quickly. To be sure, The Scene is a tough one to watch, and it's understandable that potential queasiness would keep many audiences away. (Boyle's film isn't exactly setting the box office on fire.) But if you miss 127 Hours, you'll miss out on a profoundly moving, wildly entertaining testament to individual perseverance - with beyond-charismatic star James Franco, in a devastatingly smart performance, steadfastly refusing to call attention to his greatness - and on further proof that Boyle, bless him, can find ways to make even the most stagnant compositions burst with life. Bonus points for the year's best punchline ("Oops.") in a film you could barely imagine having any.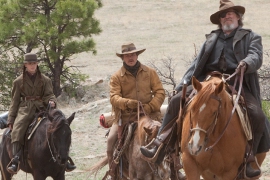 6) True Grit. At some point, I suppose it's possible that Joel and Ethan Coen will tire of making masterpieces. Does it seem to anyone else, though, that after a quarter-century-plus of filmmaking, the writers/directors/pseudonymous editors just keep getting better and better? Their latest canonical endeavor, a remake of the 1969 John Wayne Western that won the Duke his Best Actor Oscar, isn't Coen-y in the way we've come to expect; if there's such a thing as the siblings going traditional, this straightforward narrative about a girl seeking retribution for her father's death would fit the bill. Yet in the glorious floridness of the language, the evocative beauty of Roger Deakins' photography, and the hair-breadth timing of the conversations and shoot-outs, True Grit is clearly a Coen-brothers offering through and through, a genre experiment simultaneously ironic and reverent. You can now add Matt Damon and Barry Pepper to the ever-growing list of actors you want to appear in the auteurs' movies with McDormand- or Buscemi-like frequency, and Jeff Bridges' spectacularly sloshed Rooster Cogburn - a caricature with soul - could sit comfortably beside Jeff Lebowski among the performer's finest creations. Meanwhile, Hailee Steinfeld not only earns her laughs in this remarkably confident, naturalistic film debut, but elicits honest tears. In a Coen-brothers movie, that's not just unprecedented; that's miraculous.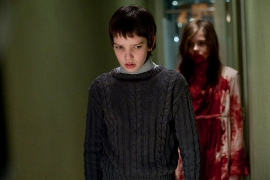 7) Let Me in. I caught this in a double-feature with The Social Network. Best Friday afternoon ever. Purists can argue that this remake of 2008's Swedish-language Let the Right One in is inferior to its predecessor, and I'm not going to fight them; director Tomas Alfredson's vampire saga is a terrifically haunting and elegant horror outing. (And yes, the original's deservedly legendary swimming-pool scene is the far superior one.) Yet on almost every level, I actually preferred director Matt Reeves' Americanized take on the material, which comes through with a number of astonishing set pieces all its own - the unbroken take of Richard Jenkins' car tumbling into a ditch is a harrowing, unexpected shocker - and which replaces Alfredson's icy classicism with full-throttle emotional investment. As the pre-teen girl who admits to being 12 for a ve-e-ery long time, Chloë Grace Moretz displays a gravitas that actors three times her age would envy, and Kodi Smit-McPhee is both heartbreaking and somewhat terrifying as the youth whose loneliness and constant schoolyard victimization are slowly, and perhaps inevitably, leading to sociopathic tendencies. Considering how achingly sad the film is, its box-office belly flop wasn't at all surprising, but it was unfortunate; those who skipped it skipped out on one of the most thoughtful, resonant, and thrillingly unsettling scare flicks of the millennium.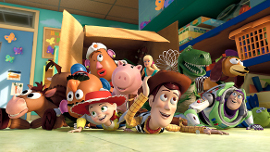 8) Toy Story 3. I truly don't know what kids think of this second sequel to Pixar's cinema-altering playground; with a domestic gross of $414 million, I'm guessing more than a few liked it. But I do know that more than a few adults, in discussing the movie with me, have gotten misty-eyed just talking about the climactic sequence with the incinerator and that hateful bear that smells of strawberries and that magical, I-can't-believe-I-didn't-see-that-coming appearance of "the cla-a-a-aw," and ... . And again I'm getting misty-eyed. Its manic, punchline-heavy previews had me fearing the worst, yet Pixar wound up delivering the best animated feature of the year, an exciting, cleverly plotted, unfailingly poignant work of artistry that, like its predecessors, combines slapstick and sentiment in ways that perhaps only Chaplin did quite as effectively. Of course, the animation in director Lee Unkrich's trilogy-ender is stunning, and the vocal contributions of Tom Hanks, Tim Allen, Joan Cusack, and the rest - including welcome newcomers Michael Keaton and Ned Beatty - lend spectacular interior life to its stars of (CGI) plastic and felt. But you still might not be prepared for how deeply emotional this family entertainment gets, especially when, in the closing reels, Andy heads off to college, and stops at a neighbor's house with the box, and ... . Aw, man, it's happening again. Damn you, Pixar!
9) Joan Rivers: A Piece of Work. Can we talk? I saw a number of outstanding documentaries in 2010 - Babies, Exit Through the Gift Shop, Restrepo, Waiting for "Superman" - and in a huge surprise, this one was my favorite. I say "surprise" because after years of irritating red-carpet banter, home-shopping shilling, and Trump Tower escapades, I had nearly given up hope on being entertained by the famed comedienne, in any format, ever again. But in following Rivers through her 75th year, directors Ricki Stern and Anne Sundberg have crafted a biographically rich, frequently hysterical, and incredibly touching look at an iconic workhorse adamantly refusing to be put to pasture. With raunchy good humor and frequently biting candor, Rivers delves into everything here: her face-lifts; her blacklisting from NBC; husband Edgar's suicide; even the horror of Joan and daughter Melissa playing themselves in that misbegotten TV movie about Edgar's suicide. Yet for all of its inside-baseball juiciness, Joan Rivers: A Piece of Work proves essential for its portrait of how a still-vibrant senior manages, against all odds, to both survive and thrive in a business that no longer has much use for her. After seeing the movie, you may not like Rivers more than you did previously, but it's a lock that you'll respect her more.
10) Shutter Island. On my first encounter with Martin Scorsese's trippy psychological thriller, I thought it was an entertaining movie with a rather deadening midsection; I was taken by the film's look and grandly operatic horror-flick touches, but was kind of aching for it to be shorter - like, a half-hour shorter. What a difference subsequent encounters have made, because I now see just how precisely, and insidiously, Scorsese and screenwriter Laeta Kalogridis (adapting Dennis Lehane's novel) plant clues regarding Leonardo DiCaprio's gradually deteriorating mental state, and conversations that previously seemed like filler - especially those with Ted Levine's warden and Jackie Earle Haley's incarcerated loon - prove to be hypnotically telling. With masterly control, Scorsese delivers a dazzling, what's-real-and-what's-not mind-bender that's like watching a slow-motion nervous breakdown, and DiCaprio's usually vexing habit of commenting on his characters while playing them actually serves him incredibly well here - it may be his best performance since What's Eating Gilbert Grape? Yet amongst a ridiculously fine cast that includes Ben Kingsley, Michelle Williams, Max von Sydow, Emily Mortimer, and Patricia Clarkson, it's currently Mark Ruffalo who's giving my favorite portrayal on repeat viewings; his performance initially seems like the rare bad one from Ruffalo, until you discover that what he's really doing is playing a non-actor trying, awfully hard, to give a good performance. Now that's acting.
For Mike's brief takes on 140 additional 2010 releases, see "The Other Guys."