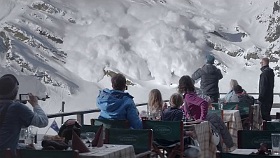 FORCE MAJEURE and GOODBYE TO LANGUAGE 3D
On Friday, I caught a foreign-language double-feature at Iowa City's FilmScene venue, and was happy to do it. In retrospect, I might've been even happier had I only stuck around for half of it.
Filmed in Swedish, English, French, and maybe a couple of other languages heard as background chatter, writer/director Ruben Östland's Force Majeure is a marvelous comedy of discomfort, and one of the more trenchant explorations of marriage I've seen in years. It's set at a bustling ski resort in the French Alps, and concerns a five-day vacation for what is seemingly the ideal family: a handsome, successful dad; a lovely, loving mom; and a pair of cute-as-a-button kids. Viewing an early shot of the foursome snuggled in bed, warm and contented in their matching pajamas, you might find your baser instincts bubbling to the surface, hoping that these smug signifiers of moneyed perfection would fall victim to an avalanche or something. And guess what! That's just what happens!
It's actually a controlled avalanche - one detonated near the resort for, I'm presuming, ecological purposes. But as it rushes toward the family while they're enjoying an outdoor lunch, looking far more dangerous that it ever is, Dad grabs his iPhone and hightails it out of there, leaving Mom and the kids to fend for themselves. Within seconds, the "danger" passes. After half a minute, Dad sheepishly returns to the table. And for the next 90 minutes of Östland's penetrating and bitterly funny endeavor - Sweden's official submission for this year's Best Foreign-Language Film Oscar - everything goes to hell. Mom loathes and fears Dad for his abandonment, Dad offers breezy explanations for their "difference in opinion" regarding his actions, the kids turn sullen and hostile, visiting friends and new acquaintances get drawn into the quagmire, a creepy custodian looks on with blasé contempt ... . I had a ball at this thing.
Like a Michael Haneke in a less punishing mood, Östland examines Force Majeure's marital fallout with surgical precision, determinedly pulling at the threads of individual weakness - complacency, cowardice, guilt - to question how well, exactly, we ever know the most important people in our lives. Miraculously, though, he's also able to make his thematic deconstruction hugely entertaining; there are surprising laughs and scenes of almost unbearable excitement (Östland saves one of his finest for a climactic bus ride down the Alps), and there's even a tinge of horror, as the film's suggestive hotel interiors and tracking shots and white-on-black title cards reading "Day One," "Day Two," et cetera bring The Shining to mind on a regular basis. With Lisa Loven Kongsli and Johannes Kuhnke utterly spellbinding as the warring marrieds, particularly in Östland's scenes of comedic suffering (and Kuhnke's big one is hysterical in all senses of the word), it's truly a Force to be reckoned with.
After that terrific entertainment and a 25-minute break, I stuck around FilmScene for Goodbye to Language 3D, the latest cinematic experiment by France's 84-year-old living legend Jean-Luc Godard, a Jury Prize-winning event at this year's Cannes Film Festival, and a movie that a number of esteemed critics whom I greatly admire have already named one of their absolute favorites of the year. I will add that my embarrassing unfamiliarity with most of Monsieur Godard's oeuvre (I've seen Breathless, of course, and Weekend, and ... um ... his 1987 King Lear with Woody Allen in it ... ) makes me stunningly ill-equipped to offer a deeply considered, or in any way reliable, opinion on the auteur's latest. And the screening certainly started on a delightful note, with a FilmScene employee taking a cell-phone snapshot of our excited crowd wearing our 3D glasses because "We gotta get a picture of the sold-out Godard movie."
Having said all that: I hated the film. It felt like 70 minutes of nearly nonstop cinematic torture. Boats sailed. Flowers grew. Dogs barked. (A lot of dogs, or maybe just one shown from a zillion angles.) Characters kept making morose statements such as "I can know what someone else thinks but not what I think" and "You all disgust me with your happiness" before lighting cigarettes in the rain. The sound frequently and intentionally cut out mid-sentence or mid-musical-refrain, like Alfonso Cuarón's Y tu mamá también conceit repeated ad infinitum. On two occasions, Godard superimposed his images so that you were watching one film in your left eye and another film in your right. (An incredibly cool trick.) A beautiful naked woman held a bowl of fruit. An ugly naked man loudly defecated - several times. Black-and-white Hollywood movies played in the backgrounds of shots, and always seemed like more fun that what was in the foreground. It all looks great. It all left me stymied. I have no more words for Goodbye to Language 3D. Which, in the end, may be its point.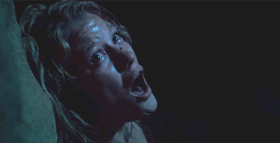 THE PYRAMID
Every year, without fail, the weekend following Thanksgiving weekend finds Hollywood tossing out a sacrificial lamb - one eminently forgettable throwaway destined to be gobbled up by the continued box office of Turkey Day holdovers. (Past "beneficiaries" of this annual release strategy include Gerard Butler's rom-com Playing for Keeps, Jonah Hill's slapstick The Sitter, and Robert De Niro's dramedy Everybody's Fine, all of which are no doubt languishing nowhere near your Netflix queue.) This year's is 20th Century Fox's The Pyramid, director Grégory Levasseur's horror trifle about a father-daughter team of archaeologists and - surprise! - a documentary crew who become trapped in an Egyptian tomb, and wind up facing lethal snares, hairless and hungry cats, and what looks like a two-legged main course from a hog roast. As the movie might easily have left the area by the time you've finished reading this, let's cut to the chase. The setup is a joke, the scares are nonexistent, the effects are sub-basement, the actors - even the usually reliable Denis O'Hare - are terrible, the lighting (if you can call The Pyramid's resolute dimness "lighting") is atrocious, and the howler dialogue routinely had me and the half-dozen other suckers at my screening snickering. In short? It sphinx.