As one calendar year ends and another begins, it feels like a good time to give thanks. And amidst the lame romantic comedies and thrill-less thrillers and unending stream of remakes, sequels, and - in the case of Rob Zombie's Halloween II - even the remake of a sequel, there was actually quite a lot that I was thankful for in the movie year of 2009.
I was thankful for the cleverness and intelligence found in a bunch of big hits that surely didn't need to be that clever or intelligent. (Particular bravos to District 9, He's Just Not That Into You, Paranormal Activity, Star Trek, and Zombieland.)
I was thankful that the year's animated releases, overall, were so exceptional that a first-rate offering by Pixar (Up) was actually my fifth-favorite animated movie of the year. (Ahead of it were 9, The Princess & the Frog, Cloudy with a Chance of Meatballs, and number two on the Top 10 list.)
I was thankful for James Cameron's Avatar, not because I really care about it one way or another, but because it's on track to be 2009's highest-grossing film, which is currently the apocalyptically wretched Transformers: Revenge of the Fallen. (See my online listing of the worst movies of 2009. Actually, just see my online mention of the worst movie of 2009.)
And I was deeply thankful for what I consider the 10 most enjoyable movies of 2009. Some I've only seen once (so far); some I've already viewed to the point of fetishism (cough cough ... Anvil! ... cough cough). But all of them are titles that I'm psyched to return to over and over again through the years, and to routinely introduce others to.
With that, I present the inevitable Top 10 list, and one final thank-you - to my mom, who watched my number-one favorite with my brother and me on Christmas Eve, and who told me that she not only loved it, but even wants to watch it again. The apple doesn't fall far from the tree, does it?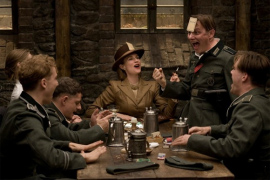 1) Inglourious Basterds. "You know something, Utivich," says Brad Pitt to B.J. Novak, and to us, "I think this just might be my masterpiece." As it directly precedes the title card "written and directed by Quentin Tarantino," that line is obviously more than a bit self-referential, and could be seen as unbearably smug if it wasn't true. Tarantino has delivered a ridiculous amount of cinematic thrills since 1992's Reservoir Dogs, but this brutal, and brutally funny, World War II revenge fantasy is, I think, his most thrilling work yet, a staggeringly enthralling piece of revisionist history that boasts over a half-dozen sequences that could easily qualify as the year's finest. After the stunning suspense of the film's opening set piece - involving a terrified farmer, a large glass of milk, an oversize pipe, and a thunderously good Christoph Waltz - you'd think Inglourious Basterds would have nowhere to go but down. Yet miraculously, one scene after another manages to match it, and Tarantino provides no end of unforgettable moments: Mélanie Laurent's stricken horror when confronted with her family's assassin; a basement-tavern shootout only slightly less terrifying than its dazzlingly protracted lead-up; Pitt's Lieutenant Aldo Raine attempting, hilariously, an Italian accent ("Bone-jore-no!"); the cackling revenge of the giant face. All told, it's just about the Tarantino-iest movie you could ever hope for, which means it's just about perfect.
2) Fantastic Mr. Fox. Just as Inglourious Basterds is the ne plus ultra of Tarantino, this unfailingly hysterical, unexpectedly poignant comedy is like the best of its director, Wes Anderson, rolled up into one delightful, stop-motion-animated package. The deliberately quaint visuals were a welcome respite for those of us feeling all but maxed out on CGI wonders, but who would've thought that a movie featuring talking foxes, badgers, rats, and other critters would also emerge as 2009's most humane entertainment? Voiced by such talents as George Clooney, Meryl Streep, Jason Schwartzman, and Bill Murray, Anderson's animals are as winningly, recognizably eccentric as anyone in Rushmore or The Royal Tenenbaums, and the auteur's script (co-written with Noah Baumbach) addresses themes of family, middle-aged discontentment, and mortality with exhilarating lightness and wit. Bonus points are earned for the movie year's most joyous finale, scored to the Bobby Fuller's Four's "Let Her Dance," which left me all but dancing out of the auditorium; from the soundtrack filled with classic Burl Ives tunes to the mind-boggling complexities of the onscreen game Whackbat, Fantastic Mr. Fox is cussing awesome.
3) The Hurt Locker. Director Kathryn Bigelow's spectacularly intense, rightfully acclaimed Iraq-war thriller gets released on DVD and Blu-ray on January 12. If it weren't so damned cold, I'd consider pitching a tent outside Best Buy right now and waiting it out. Seriously, there's no 2009 release that I've been looking forward to revisiting with greater fervor, if only to see if its many, many extraordinary action scenes and haunting reveals of character are actually as strong as they are in my memory: the lightning-quick dispatching of Guy Pearce's detonation expert - in the film's first five minutes; Sergeant William James (a revelatory Jeremy Renner) dismantling a car bomb with feverish, sweaty concentration; James' aghast shock at another explosive's hideous, human hiding place. With more than a dozen critics' prizes already under her belt, Bigelow is nearly guaranteed to become the first woman to win an Academy Award for Best Director, but her historic victory in March will have almost nothing to do with sentiment; modern filmmaking rarely gets more electrifying, more intelligent, and, regardless of The Hurt Locker's subject matter, more enjoyable.
4) A Serious Man. Joel and Ethan Coen's modern - well, late-1960s - take on the Biblical book of Job never made it to our area; I wound up catching it in Iowa City, on a freezing late-autumn evening, on the day that my car's power steering went kaput. It was totally worth it. You can officially add another instant classic to the Coens' ever-expanding list of them with this searching, deeply personal inquisition into the nature of God, the universe, and our place in the world. Perhaps needless to say, it's all really funny, as well as being thoughtful and probing, and amongst a tremendous cast of mostly unfamiliar performers, the brilliant Michael Stuhlbarg plays his hapless everyman with gradually apoplectic relish. A word of warning, though: If you disliked the quick blackout at the end of No County for Old Men, you're going to positively detest the Coens' A Serious Man climax. ("Oh, come on!" groaned the angry patron sitting two rows behind me.) Yet for my money, the final shot is sublime - disturbing and shocking and weird, and something to mull over, and giggle at, weeks after seeing it. Just like the movie itself.
5) (500) Days of Summer. Truth be told, I was expecting director Marc Webb's anti-romance to place higher on this list, but a couple of its shortcomings - the somewhat cartoonish opening reel, the twee use of a pre-teen girl as the voice of seasoned experience - grew more pronounced on repeat DVD viewings. Yet so did everything I initially loved about the movie ... which accounts for about 90 percent of this original, rhapsodic, and surprisingly profound meditation on the ungraspable nature of love. 2009 seemed to bring with it one god-awful romantic comedy after another, but with its brilliantly fractured narrative and deep emotionalism, (500) Days of Summer almost single-handedly revived the genre, offering a dream couple in Joseph Gordon-Levitt and Zooey Deschanel, and a host of encounters as tenderly painful as they were amusing. (The superbly edited "expectations versus reality" sequence is like the best Woody Allen scene Allen never filmed.) And amidst so much keenly observed, pitch-perfect melancholy, the movie even finds room for the hands-down-giddiest two minutes of the year, with Gordon-Levitt leading a blissful post-coital dance to Hall & Oates' "You Make My Dreams." This movie made mine, too.
6) Adventureland. Part of my adoration for this summer-of-'87 coming-of-age tale is no doubt generational, as I would've been just a year or two younger than writer/director Greg Mottola's leading characters; his nostalgic comedy, set in a failing amusement park, is the first movie I've seen to definitively capture the way that, in memory, that summer looked, sounded, and felt. (Cue "Rock me Amadeus." Ad nauseam.) But Mottola's film is so keenly perceptive about youthful idleness and longing that visitors from Mars would likely sense the truth behind its observational wit, with Jesse Eisenberg and Kristen Stewart offering deeply felt performances that are both acutely specific and thrillingly universal. And have I mentioned how freaking funny it is? Martin Starr delivers his finest deadpan readings since the actor's Freaks & Geeks heyday, and Bill Hader and Kristen Wiig score huge laughs with their every combined appearance; I've seen the movie three or four times since its DVD release, and always cackle when Wiig reveals her inventive solution to the eyeless-banana problem. If you can't fathom what that could refer to, you're advised to catch Adventureland immediately. The rest of you might be chuckling just remembering the bit.
7) Anvil! The Story of Anvil. Another one that I presumed would make a stronger showing in my Top 10, considering that after watching this riotous, heartbreaking entertainment a first time on DVD, I watched it again immediately afterward ... and again the following day. But a fourth viewing left me wishing that this documentary salute to '80s-hair-metal icons - a real-life, honest-to-God This Is Spinal Tap - was somewhat less like Spinal Tap; you can feel director Sacha Gervasi reaching a bit too obviously for reactions à la: "Hey ... Nigel Tufnel did that exact same thing!" This doesn't, however, alter my feeling that the bakstage truths here are as hysterical as Spinal Tap's fiction, and that while Christopher Guest and Michael McKean played brotherly affection/aggravation spectacularly, they've got nothing on the hilarious, poignant camaraderie between Anvil bandmates, and lifelong best pals, Steve "Lips" Kudlow and Robb Reiner. Their impassioned arguments and undying mutual support (both of which result in tears shed by Kudlow and the movie's viewers) help forge the platonic love story of the year in the best documentary I saw all year, an honest and inspiring saga about growing old and following your dreams even past the point of propriety.
8) Where the Wild Things Are. Great books that you read as a child - and great books that were read to you - can linger in your memory for decades. Certainly, many of us can still vividly recall words and images from Maurice Sendak's Where the Wild Things Are, and for me, the wonder of this beautifully realized film version was that I left it thinking director Spike Jonze's interpretation might also stick in my head forever. Wholly capturing the experience of pre-teen excitement, sadness, silliness, loneliness, and joy with straightforward, graceful brushstrokes, Jonze and co-screenwriter Dave Eggers allow Sendak's slender (339-word) storybook to explode with interior life. And while the outsize monster costumes are sensational - as are the expressive, wild-thing vocals of James Gandolfini, Catherine O'Hara, Lauren Ambrose, and others - it's the haunting gravity of young Max Records that's impossible to forget, whether the kid is idly pulling at his mother's stocking, or weeping at the casual cruelty of his sister's friends, or tucked safely inside a snow fort (or a monster pal's stomach). The movie is great fun, yet you might find its emotional pull almost overwhelming; it's perhaps the best kids' movie ever made expressly for grown-ups.
9) Sugar. A biased inclusion because my friend Barb Engstrom has a speaking role and my friend Liz J. Millea sings the national anthem and the Reader building appears in the background of several shots? Nope. Anna Boden's and Ryan Fleck's inspirational yet inspiringly clear-eyed baseball-drama/immigration saga - filmed partly in the Quad Cities in the summer of 2007 - gets the mention for its low-key emotional power, and its honest, trenchant look at minor-league turmoils and triumphs, and how casually the movie upends several decades' worth of sports-flick clichés. (None of the threatened subplots, from the arrival of a potential romantic interest to our hero's flirtation with drug use, leads in the directions you expect, and the film's third-act narrative twist is a true jaw-dropper.) As the Dominican Republic athlete who finds his American dream coming true, only to realize how elusive - and eventually unsatisfying - that dream actually was, newcomer Algenis Pérez Soto is effortlessly charismatic, yet Boden and Fleck never turn him into a mere symbol; Sugar makes sweeping statements about the American experience without even a hint of grandstanding. The achievement is, however, most certainly grand.
10) Up in the Air. Beyond my loving these movies, the only common theme I could find among my 2009 favorites was that they're all a little messy: madly, wonderfully overstuffed (selections one and four), or stylistically, deliberately unconventional (two and eight), or low-budget-indie scruffy (three, five, six, seven, and nine). And then number 10 comes along and totally trashes that theme. Director Jason Reitman's clever, biting tragicomedy is nothing if not sleek and polished, which is exactly what some viewers hate about it. But from minute one, I lapped up the elegance and bone-dry wit with which Reitman presents his tale of a corporate downsizer who discovers, too late, that he's downsized his soul, and reveled in the deeply assured and nuanced performances of George Clooney, Anna Kendrick, and a never-better Vera Farmiga. Those who consider Up in the Air too blithe might be missing its point - that the movie is about the perils of blitheness - and the talking-heads montages of actual, recently unemployed professionals routinely deliver a painful, and necessary, kick to the gut. It's the year's happiest sad movie. And vice versa.
For quick takes on 151 other 2009 releases, see "From the Next-Best to the Worst."
For two takes on the decade' in movies, see "100 Favorite Movies, 2000 - 2009: Mike Schulz" and "100 Favorite Movies, 2000 - 2009: Jeff Ignatius."