WAR HORSE
A grandly scaled adventure about a boy who gets a horse, then loses the horse, then joins the British infantry to find the horse, War Horse is the sort of triumphant, lump-in-the-throat epic that director Steven Spielberg should be able to pull off in his sleep. Consequently, the highest compliment I can pay the movie is that its helmer, at all times, appears to be fully awake here. There's palpable filmmaking energy in nearly every shot, and several passages in this World War I family drama are so thrilling and painful and spectacularly well-choreographed that they rank among the finest in Spielberg's career.
The problem is that a wholly alert Spielberg is also a Spielberg who refuses to rest until he's strong-armed you into total submission; when the man is working at full throttle, there isn't a sentimental exchange or narrative turn that the director won't augment with an onslaught of aiming-for-iconic images and alternately maudlin and overbearing John Williams music cues. To be fair, Spielberg's frequently relentless button-pushing is exactly what many people love about his films, and judging by the sniffling and nose-blowing routinely heard at my War Horse screening, the movie is exactly the satisfying equine tearjerker its audience wants it to be. For my part, however, I was just happy that I managed to avoid rolling my eyes at the indulgences of Spielberg and screenwriters Lee Hall and Richard Curtis for nearly two hours of the film's length ... which would've been awesome news if the film didn't run almost two-and-a-half hours.
Based on an acclaimed children's fiction by Michael Morpurgo, War Horse follows its titular protagonist, Joey, from his happy life alongside devoted owner Albert (Jeremy Irvine) to numerous WWI battlefields, with a brief respite in the care of an elderly jam maker (Niels Arestrup) and his granddaughter (Celine Buckens). And along the way, Spielberg delivers scenes of mesmerizing showmanship: the British cavalry's attack on a German campsite, which ends in unexpected horror; the execution of a pair of German-army deserters, witnessed through the slowly turning blades of a windmill; Joey's anguished escape attempt not over, but through, a series of barbed-wire fences. (This last, brilliantly edited sequence is so brutal that you can't fathom how the movie will get away with its inevitable "No animals were harmed during the making of this movie" citation.)
Given Spielberg's signature finesse, especially during the combat scenes, and Janusz Kaminski's glorious cinematography, War Horse is constantly watchable, and boasts a number of remarkably well-trained animals and mostly well-trained humans. (Among the two-legged cast members, Tom Hiddleston, as a kindly British army captain, earns best-in-show honors, wrapping up a film year that also found the actor wonderful as Thor's Loki and Midnight in Paris' F. Scott Fitzgerald.) It even remains watchable during its director's more obvious and pandering flourishes, such as the greedy machinations of David Thewlis' moustache-twirling landlord, or the comic high jinks involving a goose so overtly wacky that it may as well be animated and voiced by Nathan Lane.
Yet your litmus test for the movie's overall effectiveness - the scene, I'd suggest, in which you'll either give in to War Horse completely or immediately turn against it - comes at roughly the two-hour mark, when a downed Joey is discovered ensnared in No Man's Land, and his fate becomes dependent on a hesitant partnership between British and German camps. Suffice it to say that while I was fine with the magnificent steed inspiring intense affection among nearly everyone who crosses his path, I was not fine with the fraudulent, rigged, overly jokey armistice of the No Man's Land detour ... or with the numerous, shamelessly manipulative reunions and contrived narrative conceits that followed it. By War Horse's finale, with characters basking in the amber hues of a perfect sunset, the snifflers in the auditorium appeared to be having a ball. Yet if you remain dry-eyed, know that you've at least got company; after so much engaging, effective build-up, I was bummed to see the film, in its climactic scenes, end not with an emotional bang, but with a whinny.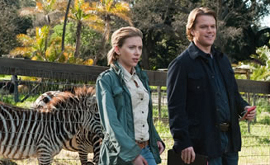 WE BOUGHT A ZOO
There is absolutely no pleasure to be had in documenting, or even discussing, Cameron Crowe's fall from cinematic grace, and even basic common sense, in the years since 2000's Almost Famous. So as far as his huggy, weepy, sappy family trifle We Bought a Zoo is concerned - with its nauseatingly cutesy characters and aggressively formulaic sitcom situations and embarrassingly naked attempts at pop-culture immortality ("Why not?" is this film's weak answer to "You had me at hello") - let's take a half-full approach. Matt Damon delivers a confident, relaxed leading-man turn. Scarlett Johansson and Thomas Haden Church offer some occasional diversion. The soundtrack is, of course, tops. And God knows the movie is more bearable than Crowe's Vanilla Sky from 2001 and Elizabethtown from 2005. If this trend continues, I'm thinking that We Need a Zoo's writer/director should be back to peak performance in, say, 30 or 40 years. So things are looking up, I guess.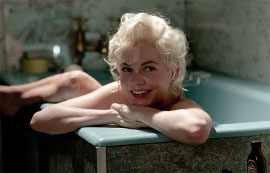 MY WEEK WITH MARILYN
Michelle Williams is so startlingly fine as My Week with Marilyn's Marilyn Monroe - so charming and delicate and sad - that it barely matters that director Simon Curtis' movie doesn't come close to matching her. Set during the filming of the star's The Prince & the Showgirl opposite Laurence Olivier (played by a miscast but satisfactory Kenneth Branagh), this lightly melancholic drama is smartly edited and impressively designed but also, in truth, blander than bland, offering precious little insight into Monroe's character, and an utterly forgettable Eddie Redmayne as the wide-eyed gofer who becomes the leading lady's confidante. Yet what's the point in bitching when Williams - whose physicality doesn't match Monroe's but whose readings and spirit feel exactly right - is as exceptional as she is here? It doesn't take more than a couple of scenes for all of your memories of the real Marilyn to vanish, at least for the 100 minutes of Curtis' movie; with her exquisite wiggly walk, divinely breathy cadences, and subtle, haunting hints of the desperation and anguish that lie beneath Monroe's radiant veneer, Williams delivers a transcendent portrayal in a film that desperately requires one. (Although Judi Dench does appear in a brief, salty turn as an Dame Sybil Thorndike, and Zoë Wanamaker is enjoyably curt as acting coach Paula Strasberg.) You could, and probably should, ask for a better movie from My Week with Marilyn, but no one could conceivably ask for a better Marilyn.
THE DARKEST HOUR
An alien-invasion thriller for audiences who found 2010's Skyline a bit too level-headed, coherent, and witty, director Chris Gorak's The Darkest Hour would be unendurable if it wasn't so unintentionally hilarious. In a nutshell, the movie finds space invaders vaporizing the citizenry in Moscow, and a team of hottie whippersnappers - led by Emile Hirsch - our planet's only hope for survival. Pity the planet. Between the hysterically stoic dialogue, the lame-brained plotting, the wall-to-wall-atrocious acting (even by the usually trustworthy likes of Olivia Thirlby and Max Minghella), and the derivative effects that might have seemed cool(-ish) if we hadn't already seen Spielberg's War of the Worlds and the latest Transformers, this end-of-times cheapie is laughably, almost staggeringly inept. Yet if you absolutely must endure the film, I recommend going the route I did, as my brother and I had a terrific time entertaining ourselves with snarky comments and ideas for the eventual Darkest Hour drinking game. Good luck getting him to see it again, though.