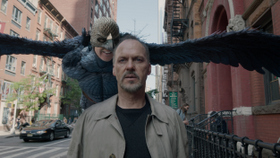 A big Birdman night but nothing for Michael Keaton? A not-bad Boyhood night but nothing for Richard Linklater? A year in which every single Best Picture nominee will go home with at least one lovely, gold-plated parting gift? Yes, yes, and yes - so long as those "yes"es have asterisks behind them signifying "maybe."
For all of you fellow Oscar-pool-ers out there, it's my unfortunate duty to admit that after forecasting 18 out of 24 categories correctly in last year's Academy Awards race, and a personal-best 19 the year before that, I'm really not expecting a similar tally when this year's victors are announced on February 22. (The Sunday-night telecast, with host Neil Patrick Harris, is scheduled to air on ABC beginning at 7 p.m. Central.) But you can at least take my predictions for Best Actress, Supporting Actress, Supporting Actor, Cinematography, and Documentary Feature to the bank. And no matter what wins on Hollywood's big night - with The Grand Budapest Hotel, I'm guessing, taking home the most statuettes of all - a lot of cinematic justice is sure to be served ... not that I'll care once I'm pounding wine and shouting "I knew I should've picked that!" and throwing things at the TV ... .
Best Picture
American Sniper
Birdman
Boyhood
The Grand Budapest Hotel
The Imitation Game
Selma
The Theory of Everything
Whiplash
Had you asked me when the nominations were first announced, I would've said that Boyhood was the likeliest winner, followed by, in order of probability, The Imitation Game, Selma, and The Grand Budapest Hotel. (I'm so glad no one asked me, because otherwise I'd be looking pretty stupid now.) Yet just a few weeks later, Birdman - a technically masterful, refreshingly weird perils-of-show-biz tale I presumed was too inside-baseball even for the navel-gazing Academy - is the recipient of this year's Producers Guild of America Award, Directors Guild of America (DGA) Award, and Screen Actors Guild (SAG) Award for Best Ensemble. The only film to win all three and not land Best Picture? Apollo 13. The ones that got all three and did land Best Picture? American Beauty, Chicago, The Lord of the Rings: The Return of the King, No Country for Old Men, Slumdog Millionaire, The King's Speech, and Argo. So I'm making the odds-on bet here. But given Boyhood's Golden Globe and British Academy of Film & Television Arts (BATFA) victories for Picture and Director, I'm putting exactly zero dollars on it.
Best Director
Wes Anderson, The Grand Budapest Hotel
Alejandro González Iñárritu, Birdman
Richard Linklater, Boyhood
Bennett Miller, Foxcatcher
Morten Tyldum, The Imitation Game
Birdman's front-runner status and Iñárritu's DGA win make this a pretty secure bet. But as marvelous as the helmer's work is, I'd be thrilled (and not hugely surprised) to be wrong - just so long as Tyldum isn't the one I'm wrong about.
Best Actress
Marion Cotillard, Two Days, One Night
Felicity Jones, The Theory of Everything
Julianne Moore, Still Alice
Rosamund Pike, Gone Girl
Reese Witherspoon, Wild
Cotillard's performance is my hands-down favorite among the four contenders I've seen. This may be the first time I've been 100-percent confident about predicting one I haven't seen.
Best Actor
Steve Carell, Foxcatcher
Bradley Cooper, American Sniper
Benedict Cumberbatch, The Imitation Game
Michael Keaton, Birdman
Eddie Redmayne, The Theory of Everything
Here's an astonishing factoid: If Keaton wins, he'll be the second-oldest actor ever to prevail in this category, right behind On Golden Pond's Henry Fonda. (So how old are you feeling now?) But if Keaton couldn't score a victory from his SAG peers - at least half of whom he must've worked with at some point - what chance does the man have here? I'm opting for SAG, Globe, and BAFTA champ Redmayne, who checks the historical-figure-triumphing-over-adversity-and-physical-handicaps box nicely, and who has to be thanking his lucky stars that no one's bothering to see Jupiter Ascending.
Best Supporting Actress
Patricia Arquette, Boyhood
Laura Dern, Wild
Keira Knightley, The Imitation Game
Emma Stone, Birdman
Meryl Streep, Into the Woods
No commentary necessary. Except, perhaps, "Whoo-hoo!"
Best Supporting Actor
Robert Duvall, The Judge
Ethan Hawke, Boyhood
Edward Norton, Birdman
Mark Ruffalo, Foxcatcher
J.K. Simmons, Whiplash
See my lack of commentary above.
Best Original Screenplay
Birdman, Alejandro González Iñárritu, Nicolás Giacobone, Alexander Dinelaris, Armando Bo
Boyhood, Richard Linklater
Foxcatcher, E. Max Frye, Dan Futterman
The Grand Budapest Hotel, Wes Anderson, Hugo Guinness
Nightcrawler, Dan Gilroy
It's been 55 years since four or more writers won Oscars for collaborating on a single screenplay. With Birdman already likely to receive Best Picture without a Film Editing nod, which hasn't happened for 34 years, just how many streaks does this movie need to break?! Considering Birdman's script won the Golden Globe, a triumph here could certainly happen. But this is also an excellent chance to reward one of two longtime indie stalwarts, and Anderson's (and Guinness') florid recitations may just eke out a victory over Linklater's astute naturalism. Film fans, though, win regardless.
Best Adapted Screenplay
American Sniper, Jason Hall
The Imitation Game, Graham Moore
Inherent Vice, Paul Thomas Anderson
The Theory of Everything, Anthony McCarten
Whiplash, Damien Chazelle
Even though Chazelle's nomination is arguably in the wrong category - his film having been "adapted" from a 17-minute Whiplash short designed to help finance the longer version - his movie would be a great, jazzy alternative to the largely interchangeable British bio-pics. But promoter Harvey Weinstein's über-aggressive, nakedly pleading Imitation Game campaign has to yield some result, right?
Best Animated Feature
Big Hero 6
The Boxtrolls
How to Train Your Dragon 2
Song of the Sea
The Tale of Princess Kaguya
Oscar-Night Fantasy 1: "And the Oscar goes to ... write-in nominee The Lego Movie!!!"
Best Foreign-Language Film
Ida, Poland
Leviathan, Russia
Tangerines, Estonia
Timbuktu, Mauritania
Wild Tales, Argentina
BAFTA winner Ida is the only one I've seen, and it feels a bit stark and remote (and, at 82 minutes, short) for the Academy. Instead, I'm going with Leviathan, which, like last year's victor The Great Beauty, also received the Golden Globe in this category. Hey, I've made guesses based on way less.
Best Documentary Feature
Citizenfour
Finding Vivian Maier
Last Days in Vietnam
The Salt of the Earth
Virunga
Oscar-Night Fantasy 2: Edward Snowden comes out of hiding to accept the award, but not wanting to alert the government of his return, does so in disguise as Sacheen Littlefeather.
Best Original Song
"Everything Is Awesome," The Lego Movie
"Glory," Selma
"Grateful," Beyond the Lights
"I'm Not Gonna Miss You," Glen Campbell: I'll Be Me
"Lost Stars," Begin Again
It's a battle between Grammy winners, and not to be overly PC or grossly insensitive, but the battle probably boils down to whether voters feel worse about the paucity of nominees of color this year or about Glen Campbell having Alzheimer's. (Suggested alternative? "Everything Is Awesome," please!) Campbell's song just netted the artist another Grammy. But I'm thinking John Legend and Common get the Oscar.
Best Original Score
The Grand Budapest Hotel, Alexandre Desplat
The Imitation Game, Alexandre Desplat
Interstellar, Hans Zimmer
Mr. Turner, Gary Yershon
The Theory of Everything, Jóhann Jóhannson
Prior to this year, Desplat was a six-time bridesmaid in this category. Here's hoping he finally catches the bouquet - for either movie, really, but preferably for Grand Budapest, whose CD I currently have playing in my car.
Best Cinematography
Birdman, Emmanuel Lubezki
The Grand Budapest Hotel, Robert Yeoman
Ida, Lukasz Zal, Ryszard Lenczewski
Mr. Turner, Dick Pope
Unbroken, Roger Deakins
Terrific as it would be for 12-time nominee Deakins to finally win one of these things, dammit, Lubezki's done deal will mark two Oscars in a row for the Gravity cinematographer. And to think just two years ago, we were bitching about how under-appreciated the guy was.
Best Film Editing
American Sniper
Boyhood
The Grand Budapest Hotel
The Imitation Game
Whiplash
Whiplash is an awfully viable candidate here - as are, quite frankly, any of these competitors. But editor Sandra Adair's ability to make a seamless whole from 12 years of footage is a feat nearly equal to Linklater's.
Best Production Design
The Grand Budapest Hotel
The Imitation Game
Interstellar
Into the Woods
Mr. Turner
I'm lobbying for this win.
Best Costume Design
The Grand Budapest Hotel
Inherent Vice
Into the Woods
Maleficent
Mr. Turner
A near toss-up, as this is the best chance that Mr. Turner's 19th Century mise en scène has for acknowledgment. But when in absolute doubt, absolutely go with a category's lone Best Picture nominee.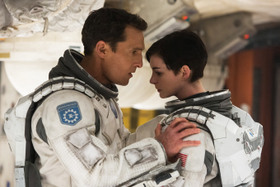 Best Sound Editing
American Sniper
Birdman
The Hobbit: The Battle of the Five Armies
Interstellar
Unbroken
Voters generally like it loud in the Sound categories. Interstellar is the loudest. But ...
Best Sound Mixing
American Sniper
Birdman
Interstellar
Unbroken
Whiplash
... its mixing was widely criticized by reviewers and patrons who couldn't make out numerous patches of dialogue through the din of the score. I can imagine Whiplash triumphing here instead. I can also imagine the Academy not wanting to face the online ruckus if American Sniper goes home empty-handed.
Best Visual Effects
Captain America: The Winter Soldier
Dawn of the Planet of the Apes
Guardians of the Galaxy
Interstellar
X-Men: Days of Future Past
Oscar-Night Fantasy 3: Matthew McConaughey rushes the stage to give one of his interminably self-regarding speeches but gets sucked into a wormhole, not to reappear on Earth for another 100 years.
Best Makeup & Hairstyling
Foxcatcher
The Grand Budapest Hotel
Guardians of the Galaxy
It's tempting to predict "Foxcatcher ... by a nose." But I'm going to stick with the when-in-doubt rationale I used for Costume Design, and instead predict "Grand Budapest ... by a turkey neck." (That Tilda Swinton reference only works if you've seen the movie. If you haven't yet, get crackin' - it's probably gonna win a bunch of these things.)
Best Documentary Short
Crisis Hotline: Veterans Press 1
Joanna
Our Curse
The Reaper (La Parka)
White Earth
Best Live-Action Short
Aya
Boogaloo & Graham
Butter Lamp (La Lampe Au Beurre De Yak)
Parveneh
The Phone Call
Best Animated Short
The Bigger Picture
The Dam Keeper
Feast
Me & My Moulton
A Single Life
Maddeningly, other commitments are keeping me from catching any of the 15 nominated shorts prior to this article's publication, despite all of them enjoying a two-week-plus run at Iowa City's FilmScene. (They'll also be available for online rental and purchase beginning February 17.) So aside from watching the trailers and reading some reviews, I'm flying blind here. Let's go with HBO's Crisis Hotline because its subject (potentially suicidal U.S. military veterans) is intensely timely and heartbreaking, the somewhat similarly themed Phone Call because it stars Oscar nominee Sally Hawkins and Oscar winner Jim Broadbent, and Feast because it's the most widely seen, as the adorable-pup-through-the-years tale preceded Disney's Big Hero 6. It's Boyhood for people who don't like Boyhood!