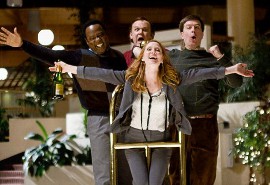 CEDAR RAPIDS
Prior my Saturday screening of Cedar Rapids, I'd seen 18 2011 releases, and my favorite of the mostly-slash-wildly underwhelming bunch - by a considerable margin - was Justin Bieber: Never Say Never. It's tempting, then, to want to overpraise director Miguel Arteta's raunchy yet genial comedy simply for being, you know, good.
The thing is, though, I don't think Cedar Rapids is good so much as great, a wonderfully wise, hilarious, biting piece of work that keeps you in a state of near-constant happiness. It has its flaws, to be sure, including some clunky exposition and an overly contrived wrap-up that feels like the result of an impending contractual deadline. But until the final reel, I don't think I ever stopped smiling at this tale of an unsophisticated insurance agent (played by Ed Helms) who makes his first, fearful trek to the big city of the title, and my grins were only interrupted by my laughter. In many ways, it's an amazing little movie - frequently coarse, yes, but so temperamentally sweet, and boasting such generosity of spirit, that it leaves you feeling completely refreshed and satisfied ... and kind of yearning for a sequel.
Cedar Rapids is all the more impressive when you consider just how crummy it might've been. Its setup, after all, is pure high-concept formula - and for certain Midwestern audiences, potentially offensive formula - as Helms' sheltered, childlike Wisconsinite Tim Lippe gets swept up in a whirlwind of liquor, drugs, adulterous sex, and unethical business practices during an insurance-convention weekend in metropolitan Iowa. Yet unlike, say, the city of Tucson in Hamlet 2, Cedar Rapids itself isn't used as a mean-spirited punchline; we're not asked to chortle at a rube's discomfort amidst slightly more worldly rubes. Instead, Tim views the Iowa burg with respect and even a bit of wonder - there's a marvelous scene in which he acknowledges the insurance agents who worked tirelessly for victims of the 2008 flooding - and the filmmakers follow suit. For Arteta and debuting screenwriter Phil Johnston (debuting terrifically, I might add), Cedar Rapids isn't the city where Tim gets corrupted, but where he finally grows up. There's a kindness to the comedy here that feels utterly genuine, and seems to stem organically from Ed Helms' beautifully guileless, awed expressions and deadpan charm; Arteta and Johnston clearly, truly like Tim Lippe, and so all of his minor triumphs and major setbacks, riotous through many of them are, also exude a somewhat startling gravitas.
With the exception of Kurtwood Smith, playing an unctuous, untrustworthy convention host - and with Smith in the role, who'd want the character any other way? - Arteta's and Johnston's fondness and empathy extend to all of Cedar Rapids' actors. And good God, what actors. As Tim's hotel suitemates, Isiah Whitlock Jr. is a low-key hoot as a serious-minded, acronym-spouting agent with a passion for "the HBO program The Wire" (a nice in-joke, as Whitlock was a Wire cast member), and John C. Reilly is brutally, even shockingly hysterical as a vulgar blowhard (one whom Tim's Wisconsin boss, played by the peerless Stephen Root, advised him to avoid, for understandable reason). Anne Heche is fabulously funny and poignant as a married agent with a what-happens-in-Cedar-Rapids-stays-in-Cedar-Rapids attitude, and Arrested Development's Alia Shawkat adds tartness and warmth as a teen prostitute.
Plus, we get Sigourney Weaver, with her tender, crinkly smile, as Tim's hometown lover (and former middle-school teacher); Thomas Lennon as a hotshot agent with hidden sexual proclivities; Helms' fellow Daily Show alum Rob Corddry as a tattooed ruffian; Mike O'Malley offering a divinely inept soft-shoe number ... . I wanted to hug this stellar ensemble, and I wanted to hug Cedar Rapids for emerging as such splendidly witty and friendly entertainment. You really ought to give Cedar Rapids a try.
HALL PASS
The latest comedy by Peter and Bobby Farrelly is Hall Pass - in which Owen Wilson and Jason Sudeikis are granted a one-week reprieve from their characters' marital vows - and I'm happy to report that it's nowhere near as god-awful as the Farrelly brothers' last film, 2007's remake of The Heartbreak Kid. The man-child leads are pleasant enough, the wives played by Jenna Fischer and the ever-welcome Christina Applegate are even better, and there are a few randomly clever gags. (I even laughed out loud once, when Wilson bought three shots of tequila at an upscale nightclub, and the tab was fifty-seven dollars.) "Gag," though, is really the film's operative word, and for every borderline-amusing bit, there are three others that are simply foul in that uninspired, "boundary-pushing" way that stopped being either enjoyable or all that unexpected pretty much around the time of There's Something About Mary. (Beware, especially, the bar pickup with the literally explosive sneeze.) And believe it or not, the gross jokes still aren't as offensive as the Farrellys' continuing disinterest in staging, pacing, lighting, and mixing sentiment with sleaze in ways that don't make you want to hide your face in embarrassment. While enduring a tacky open-house party early in Hall Pass, Applegate turns to Fischer and mutters, "This is why the terrorists hate us." Nah. If she were referring to the filmmakers' technique, though, she might've been closer to the mark.
DRIVE ANGRY
In the most lurid and outlandish scene in the staggeringly lurid and outlandish Drive Angry, Nicolas Cage, as a vengeful and literal grandfather from Hell, mows down nearly a dozen assailants with a shotgun. In slow-motion. While occasionally downing slugs of whiskey. While having sex the whole time. You might not think it possible that any action-thriller featuring such a scene (in 3D!) could actually be boring, but director Patrick Lussier has damn near pulled off the impossible with Drive Angry, a ceaselessly unpleasant, depressingly uninspired exploitation-flick homage whose only apparent function is to leave you with greater appreciation for Grindhouse. Yet amidst the ugliness and repetition and continued evidence that Cage should really consider early retirement, William Fichtner, at least, is absolutely first-rate, portraying Lucifer's "accountant" as a deliciously suave charmer whose every eccentric, unpredictable line reading is a nutball classic. Drive Angry is in no way worth seeing - not that, with a $5-million opening weekend, many of you bothered to see it - but Fichtner's quite outstanding in it; he's basically giving the sort of decadently lunatic performance that Nic Cage used to give back when he was still giving performances.