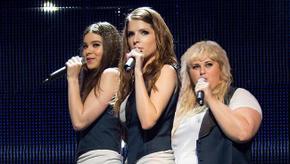 PITCH PERFECT 2
Pitch Perfect 2 opens strongly, with the peerlessly funny Elizabeth Banks (who also directed the film) and John Michael Higgins performing an a cappella rendition of the Universal Pictures theme song and launching into the hilariously bitchy byplay that made their vocal-contest judges among Pitch Perfect's many highlights. And while it's true that this musical-comedy follow-up, like director Jason Moore's 2012 predecessor, is set in the world of collegiate a cappella groups - and specifically the world of Anna Kendrick's fledgling mash-up artist Beca - it's more accurately set atop a steep precipice. Because although it starts promisingly, as the saying goes, it's all downhill from there.
I suppose Banks and screenwriter Kay Cannon (who also wrote the first Pitch Perfect, along with a bunch of 30 Rock's best episodes) can be forgiven for hewing so closely to formula, especially considering how out-of-left-field the original's success was. After earning a solid, unspectacular $65-million domestic, Moore's film went on to become a massive home-video smash and something of a cultural touchstone - so much of one that when I first saw the preview for Pitch Perfect 2 this past winter, all it took, in the trailer's first seconds, was the opening refrain of Anna Kendrick's breakout hit "Cups" for a large segment of the audience to gasp and giggle. (A teen sitting near me even shouted, "Yes!") With its unanticipated popularity netting The Little A Cappella Comedy That Could a sequel, why should Banks and Cannon have messed with what so clearly worked the first time around?
Well, Pitch Perfect 2 kind of shows why. Spiky and charming and winning though Pitch Perfect was, it's not as though its "Will our gals win the national championship?" narrative was anything to write home about. (To be fair, the movie was adapted from Mickey Rapkin's nonfiction book - a book, it should be noted, that does not have a sequel.) So it seems almost willfully lazy for this new film to be built around the question of "Will our gals win the world championship?", particularly when the idea of their doing so is laughed at - for a full 30 seconds - by Banks' and Higgins' characters, whose comical dunderheads can't possibly be proven right. Predictability isn't necessarily a detriment, and can even be a happy perk, in movies of this type. But the cinematic pleasures of the expected are far less pleasurable when absolutely everything about a movie is expected, and with its sequel following the Pitch Perfect recipe to the specific ingredient, there's nothing here, aside from two well-timed bits of bear-trap slapstick, to elicit even a ripple of surprise. (The closest thing to a shock in Pitch Perfect 2 is how infrequently and badly used Skylar Astin is as Beca's beau Jesse, considering that this madly talented, sweetly unthreatening heartthrob all but stole the first film away from Kendrick, Banks/Higgins, and Rebel Wilson's Fat Amy.)
Basically, this follow-up just takes the original and rejiggers its elements ever so slightly. Instead of the Treblemakers serving as the Barden Bellas' adversaries, it's the German vocal group Das Sound Machine, with the withering sarcasm of its leaders (Birgitte Hjort Sørensen and Flula Borg) good for some chuckles. Instead of a collegiate bash, it's a private party hosted by a pajamas-clad eccentric (a mildly amusing David Cross) at which rival ensembles compete in a riff-off contest. Instead of Beca and Jesse, it's new sorority sister Emily (Hailee Steinfeld) and lovable loser Benji (Ben Platt) who get the "Aw-w-w-w!" romance ... with Fat Amy and Bumper (Adam DeVine) getting one that's a little more "Ew-w-w-w!" Anna Camp's Aubrey, despite having graduated, is still barking orders. The Bellas of color (Ester Dean, Chrissie Fit, and Hana Mae Lee) are still treated, principally by the script, as one-note jokes. Fat Amy is still Fat Amy, if a little more so - and sadly, more screen time for the ever-wonderful Wilson doesn't necessarily lead to more hilarity, even if she is granted one memorable bit aboard a canoe.
With the exception of the subplot that finds Beca's boss played by that reliable scene-swiper Keegan-Michael Key - who comes closer than anyone here to resembling an actual human - there's just too little that's new under this particular sun. It's an easy film to sit through but nearly impossible to care about, and I would've traded the whole Pitch Perfect 2 experience for even one musical segment as fresh and fizzy as the original's audition montage set to Kelly Clarkson's "Since U Been Gone," or the mash-up featuring the Bellas' joyful take on "No Diggity," or even Kendrick's half-minute of "Cups." As previously indicated, that song does make its return in the sequel. But instead of merely Kendrick, it's Kendrick and 10 of her friends who perform it, and while their harmonies are lovely, the rendition too-obviously mirrors the movie itself - the same ol' thing, just a little louder, a little busier, and a lot less satisfying.
WHERE HOPE GROWS
In Chris Dowling's pro-faith drama Where Hope Grows, the alcoholism of former (and fictional) Detroit Tiger Calvin Campbell (Kristoffer Polaha) leads to crises in his employment opportunities and his single-fatherhood to 17-year-old daughter Katie (McKaley Miller). Luckily, though, Calvin's fortunes begin to take a turn for the better when his initial wariness leads to a very real friendship with his local grocery store's produce worker, a friendly young man with Down Syndrome (David DeSanctis) named Produce. I wish I could tell you that "Produce" was just a nickname, but I'm not entirely sure that it is.
His store nametag reads "Produce," which I guess is understandable, if a bit odd. But his boss calls him Produce. The kindly lady (Brooke Burns) Calvin falls for calls him Produce. When his name is eventually engraved on a plaque, it reads "Produce." And even when matters here are at their most dire - and this being a pro-faith drama, they frequently are - nominally sane and PC characters find themselves asking, "But what's going to happen to Produce?!?" If Produce is indeed this character's birth name, and we're given no hint that it's not, I sincerely apologize ... even if it's the height of irony that this young man would wind up working in a store's produce section. If it isn't, doesn't the evidently well-meaning writer/director Dowling realize that refusing to give his film's chief co-star an actual name - like, y'know, everyone else in the movie - is about as condescending and offensive a gesture as could conceivably be made? Dowling spends inordinate time reminding us that people with special needs such as Down Syndrome are "just like the rest of us." But apparently they're not, because "the rest of us" would definitely bristle if our best friends in the world didn't bother to ask us our actual names.
Having said that, I didn't altogether hate Where Hope Grows (although I do hate that sickly title). Granted, there are bizarre gaps in character motivation and narrative, and the role of Katie's boyfriend (Michael Grant), who keeps popping up like a bad penny, is bogus beyond belief: a modern-day Eddie Haskell who's awarded an employee-of-the-month citation - at Produce's store! - and attempts to rape Katie during laser tag. (And you thought I was exaggerating about the dire matters.) But for its genre, and more often than not, Dowling's film is refreshingly naturalistic and not pushy about its themes, and among its universally competent cast - with first-time actor DeSanctis endearing and thoughtful in his purely schematic role - Polaha is very, very good. A longtime journeyman actor with numerous TV credits (including four episodes of Mad Men), the handsome, effortlessly believable Polaha suggests that he knows exactly how rare and special leading roles in film are for performers like himself who aren't stars, and truly makes the most of his opportunity here; it's a beautiful piece of work, and more nuanced and touching than his character likely is on paper. Infuriating though the movie oftentimes is, Where Hope Grows does boast more than a few moments of actual screen magic, and that's not even considering the '80s-thrill casting of Calvin's married friends Susan and Milton Malcolm. Then again, that particular casting might be less magical than supernatural, given that Susan is played by the eternally luminous Danica McKellar from The Wonder Years, and Milton is played by William Zabka, the blond douchebag who fiendishly swept Ralph Macchio's leg in The Karate Kid. Winnie Cooper, no-o-o-o-o!!!