All right, kids, we're on a roll. Two years ago, I correctly predicted 16 out of 24 winners at the annual Oscars ceremony. Last year, I scored 18 right. So this year, let's go out on a limb and suggest that I'm gonna guess accurately in ... I dunno ... 11, 12 categories ... ?
Don't take this as an admission of impending defeat so much as acknowledgment that I can't fathom what's gonna happen during this year's presentation of the Academy Awards. A big win for The King's Speech seems likely, but just how big will the win be? Are we talking a The Lord of the Rings: The Return of the King-style sweep here? (They do share a common royal title, after all.) Do voters admire, but secretly dislike, The Social Network as much as many Oscar bloggers would have us believe? Will personal behavior weigh in against Christian Bale's and Melissa Leo's chances? Will sentiment and she's-overdue factors derail Black Swan's one serious chance for a trophy? (Not that the recipient, in that case, would be undeserving.) Will the man who's arguably the world's finest cinematographer finally be able to preface his name with "Oscar winner"? Will Dogtooth be the most polarizing movie to ever receive the Best Foreign-Language Film prize? Will The Wolfman be the recipient of more Academy Awards than 127 Hours and Winter's Bone combined?
Dunno. Let's find out on February 27, shall we? In the meantime, my stabs at this annual cinematic crapshoot are in boldface ... .
BEST PICTURE
Black Swan
The Fighter
Inception
The Kids Are All Right
The King's Speech
127 Hours
The Social Network
Toy Story 3
True Grit
Winter's Bone
For many months, this was The Social Network's to lose. And after King's Speech victories at the Producers Guild Awards, Directors Guild (DGA) Awards, Screen Actors Guild (SAG) Awards, and British Academy of Film & Television Arts (BAFTA) Awards, lose it it shall.
BEST DIRECTOR
Darren Aronofsky, Black Swan
Joel Coen & Ethan Coen, True Grit
David Fincher, The Social Network
Tom Hooper, The King's Speech
David O. Russell, The Fighter
It is a terrible, terrible idea to bet against Tom Hooper, because only seven times in the DGA's 62-year history has the winner of that group's top prize not gone on to win the Academy Award. But since when have I shied away from terrible, terrible ideas? (Fincher also winning the BAFTA trophy - despite seven citations for The King's Speech and Hooper being a born and bred Brit - alleviates my misgivings a little. A little.)
BEST ACTOR
Javier Bardem, Biutiful
Jeff Bridges, True Grit
Jesse Eisenberg, The Social Network
Colin Firth, The King's Speech
James Franco, 127 Hours
Firth's competitors have long since throne in the towel.
BEST ACTRESS
Annette Bening, The Kids Are All Right
Nicole Kidman, Rabbit Hole
Jennifer Lawrence, Winter's Bone
Natalie Portman, Black Swan
Michelle Williams, Blue Valentine
My gut is telling me Bening will pull off a surprise victory. But I went with my gut on Melissa Leo for Frozen River two years ago, and where the hell did that get me?
BEST SUPPORTING ACTRESS
Amy Adams, The Fighter
Helena Bonham Carter, The King's Speech
Melissa Leo, The Fighter
Hailee Steinfeld, True Grit
Jacki Weaver, Animal Kingdom
Meanwhile, I should be going with presumed front-runner Leo here, but the actress' recent, independently-financed "Consider ... " ads have been both beyond pushy and beyond tacky. Carter won at BAFTA, and neither her nor Adams' victory would shock me, but a major True Grit award seems both merited and wanted. Besides, it's been 17 years since Anna Paquin won for The Piano - isn't it time for another oh-my-God-how-cute Oscar recipient? Not counting March of the Penguins, of course.
BEST SUPPORTING ACTOR
Christian Bale, The Fighter
John Hawkes, Winter's Bone
Jeremy Renner, The Town
Mark Ruffalo, The Kids Are All Right
Geoffrey Rush, The King's Speech
The Fighter kind of has to win something, and while Rush's victory at BAFTA has shaken my confidence, I don't see how the Academy can ignore Bale's vocal and physical transformation into Dicky Eklund. That standing ovation at the SAG awards has to count for something ... um, right ... ?
BEST ORIGINAL SCREENPLAY
Lisa Cholodenko, Stuart Blumberg, The Kids Are All Right
Mike Leigh, Another Year
Christopher Nolan, Inception
David Seidler, The King's Speech
Scott Silver, Paul Tamasy, Eric Johnson, Keith Dorrington, The Fighter
Seidler suffered from a stammer himself. Had to wait 28 years, until the Queen Mum died, for his script to be produced. Just give him the Oscar now.
BEST SCREENPLAY ADAPTATION
Michael Arndt, John Lasseter, Andrew Stanton, Lee Unkrich, Toy Story 3
Danny Boyle, Simon Beaufoy, 127 Hours
Joel Coen, Ethan Coen, True Grit
Debra Granik, Anne Rosellini, Winter's Bone
Aaron Sorkin, The Social Network 
Will I be upset with Academy members if Sorkin doesn't win this? No. I'll hire the Sopranos to beat the shit out of them with a hammer.
BEST ANIMATED FEATURE
How to Train Your Dragon
The Illusionist
Toy Story 3 
It'll have a friend in lots and lots of people.
BEST ORIGINAL SONG
"Coming Home," Country Strong
"I See the Light," Tangled
"If I Rise," 127 Hours
"We Belong Together," Toy Story 3
A last-minute switch from my planned Toy Story 3 prediction, as a way of acknowledging perhaps the single most beautiful scene in an animated movie last year. Still kinda hoping for an "If I Rise" upset, though ... .
BEST FOREIGN-LANGUAGE FILM
Biutiful, Mexico
Dogtooth, Greece
In a Better World, Denmark
Incendies, Canada
Outside the Law, Algeria
Always, always, always go with InContention.com's Kris Tapley in this category, who correctly predicted the widely-unpredicted El Secreto del Sus Ojos last year, and Departures the year before that. He's going with In a Better World, I'm going with In a Better World.
BEST DOCUMENTARY FEATURE
Exit Through the Gift Shop
Gasland
Inside Job
Restrepo
Waste Land
I know the winners in this category are supposed to display more "gravitas" than Exit Through the Gift Shop's insider look at the bohemian art scene. But seriously: Isn't everyone just dying to see who might show up to accept Banksy's prize?
BEST ORIGINAL SCORE
How to Train Your Dragon
Inception
The King's Speech
127 Hours
The Social Network
Truth be told, I really don't remember this film's score. But I do remember the scores that the thus-far-Oscar-less Alexandre Desplat composed for The Queen, Fantastic Mr. Fox, and the latest Harry Potter, so I'm totally on-board with this win.
BEST CINEMATOGRAPHY
Black Swan
Inception
The King's Speech
The Social Network
True Grit 
Will I be upset with Academy members if eternal Oscar bridesmaid Roger Deakins, on his ninth attempt at this prize, gets shafted? No. I'll hire the Sopranos to ... . Wait. Wrong movie. Right sentiment, though.
BEST FILM EDITING
Black Swan
The Fighter
The King's Speech
127 Hours
The Social Network 
Yeah, I'm predicting that the film will win Best Director, Best Screenplay Adaptation, and Best Film Editing, and will still lose Best Picture. Just like when Traffic won all these (and Best Supporting Actor) and lost out to Gladiator. Hey, I don't make the rules.
BEST COSTUME DESIGN
Alice in Wonderland
I Am Love
The King's Speech
The Tempest
True Grit
An early victory here for The King's Speech would definitely indicate a major sweep. But after four years of winning royals with Marie Antoinette, Elizabeth: The Golden Age, The Duchess, and The Young Victoria, didn't the Queen Mum's frocks, in comparison, seem a little ... bleh? But look at that! There's actually another queen played by Helena Bonham Carter that the Academy can honor! The streak continues!
BEST ART DIRECTION
Alice in Wonderland
Harry Potter & the Deathly Hallows: Part I
Inception
The King's Speech
True Grit
I think, though, we can all agree that it would be kind of embarrassing if Alice in Wonderland was actually rewarded twice ... .
BEST SOUND EDITING
Inception
Toy Story 3
Tron Legacy
True Grit
Unstoppable
BEST SOUND MIXING
Inception
The King's Speech
Salt
The Social Network
True Grit
BEST VISUAL EFFECTS
Alice in Wonderland
Harry Potter & the Deathly Hallows: Part I
Hereafter
Inception
Iron Man 2
No embarrassment here, though. Hell, let's let Inception win three times!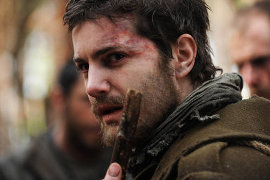 BEST MAKEUP
Barney's Version
The Way Back
The Wolfman
The Wolfman would certainly win for most obvious makeup. But since the category's creation in 1982, voters have steadfastly avoided giving the statuette to a generally decreed awful movie, and The Wolfman is little if not generally-decreed-awful. Let's go with The Way Back, then, if for no other reason than to add another Oscar-winning film to Peter Weir's résumé, and increase the chances that the man will receive his way-long-overdue Best Director acknowledgment soon.
BEST DOCUMENTARY SHORT
Killing in the Name
Poster Girl
Strangers No More
Sun Come Up
The Warriors of Qiugang
The story of a twentysomething Iraq War veteran suffering from Post-Traumatic Stress Disorder, who finds a measure of solace by turning her experience into art. I swear, I got teary-eyed just reading the film's synopsis.
BEST LIVE-ACTION SHORT
The Confession
The Crush
God of Love
Na Wewe
Wish 143
As usual, I've been criminally negligent about catching the nominees in this category. But the aforementioned Oscar guru Tapley is behind this choice, as is the New York Times' A.O. Scott, who calls Na Wewe "the best of the [nominated] five, by far." The voice of anyone who, in his review of The Simpsons Movie, said he'd watch the film "20 or 30 more times" is a voice I trust implicitly.
BEST ANIMATED SHORT
Day & Night
The Gruffalo
Let's Pollute
The Lost Thing
Madagascar, carnet de voyage (Madagascar, A Journey Diary) 
Hey, Dreamworks' Madagascar movies ain't never gonna win no Oscars, so ... .
For a closeup at moments of greatness in this year's Best Picture category, visit "Oscar Snapshots: Unforgettable Moments Among the 2011 Best Picture Contenders."