WIN WIN
When I say that writer/director Tom McCarthy's Win Win could easily serve as the inspiration for a long-running TV series, I don't mean it in any way insultingly, partly because our current small-screen options are, in general, vastly superior to our big-screen ones. Mostly, though, it's because this serious-minded comedy is so teeming with nuanced, empathetic characters and complicated yet wholly plausible situations and circumstances that you want to luxuriate in Win Win's universe for far longer than the movie's too-brief 100 minutes - like, for an hour a week over several seasons.
As with McCarthy's previous directorial outings (2003's The Station Agent and 2008's The Visitor), his latest explores, in joyously relatable fashion, how a series of minor setbacks and triumphs can wind up having major cumulative impact. Paul Giamatti stars as New Jersey lawyer and wrestling coach Mike Flaherty, saddled with a limping storefront practice and a team of seemingly hopeless high-schoolers. Desperate for the money, and unbeknownst to his wife (Amy Ryan), Mike - in a rare moment of ethical shadiness - convinces a judge to let him serve as guardian to his aged client Leo (Burt Young), cashing a monthly, $1,500 stipend check after relocating the man to a retirement home. Both Mike's good and bad fortunes, however, escalate with the unexpected appearance of Leo's 16-year-old grandson, Kyle (Alex Shaffer); this kid with the cucumber-cool demeanor and platinum-blond dye-job may be a bit too curious about why his estranged grandfather is no longer living at home, but damn, can that boy wrestle!
That Mike just happens to be a high-school wrestling coach who just happens to land upon a runaway wrestling prodigy is one of those only-in-the-movies contrivances that can easily break a film. And Win Win isn't without a few other, bothersome narrative failings, particularly those concerning Kyle's opportunistic, fresh-out-of-rehab mom (Melanie Lynskey), whose arrival seems a too-convenient means of upping the dramatic ante. Yet even the movie's more questionable elements are handled with supreme style by everyone involved; the easygoing freshness of the dialogue, superbly read throughout, more than makes up for the occasional staleness of the ideas. And McCarthy's work is filled with the sorts of tender throwaway touches that simultaneously ground a film in reality and make you smile in appreciation. When Mike makes an offhanded inquiry on the status of an elderly neighbor's foot, or tosses a newly bought pack of cigarettes in a dumpster after removing the lone cigarette he intends to smoke, you realize, with relief and pleasure, that you're in an instantly recognizable world that movies all too rarely invite us to view.
The direction here is skillfully unobtrusive, and again, McCarthy - a first-rate film actor himself - proves masterful at eliciting unfailingly honest yet enormously entertaining performances. (Those who haven't seen his other directorial efforts should do so post-haste; The Visitor's Oscar-nominated Richard Jenkins is utterly magnificent, as he usually is, and ensemble work doesn't get more confident or inspired than in the Station Agent assemblage of Peter Dinklage, Patricia Clarkson, and Bobby Cannavale.) Of course, it helps when performers are awarded roles of such unanticipated variety and richness as the ones that Giamatti, Ryan, and the debuting Shaffer have here, and all three provide exemplary portrayals: Giamatti, allowing occasional bursts of hope to shade Mike's frustration and self-loathing; Ryan, suggesting a straight-shooter who's not quite the tough cookie she wants to be; Shaffer, hinting at a lifetime of uncertainty and disappointment beneath his inscrutable deadpan.
Yet even Young and Lynskey, who have Win Win's most underwritten characters, attack their roles with lovely humanity and understanding, while a number of secondary figures - Nina Arianda's office assistant, David W. Thompson's dweebish wrestling wannabe, Margo Martindale's level-headed attorney - are sketched with delightfully unassuming brio. And in the high-comic partnership between Giamatti, Jeffrey Tambor, and The Station Agent's Cannavale (the latter two playing Mike's assistant coaches), the movie is the beneficiary of a ceaselessly hysterical trio whose constant, prickly needling and one-upmanship provide no end of amusement. (Cannavale, as a well-meaning doofus, is especially fine whenever uttering one of his character's unfathomable conversational nuggets, à la his appraisal of Mike's coaching prowess: "You opened your kimono and made them eat the train.") Effortlessly engaging, lightly moving, and oftentimes wickedly funny, McCarthy's third cinematic success in a row delivers all the low-key pleasure of a topnotch indie film combined with the grand enjoyment of a sterling Hollywood offering. Win-win, indeed.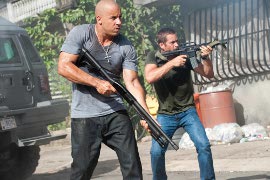 FAST FIVE
As roughly a half-dozen friends have already sent me the link, and several others have brought it up in conversation, I'm presuming that a bunch of you have seen the Onion's satiric interview with the five-year-old "screenwriter" of Fast Five, who excitedly plugs this fourth sequel ("I want the cars to drive fast, and then some of them explode!") before curling up on his chair for a nap. Would it surprise any of you to learn that this two-and-a-half-minute Web parody is more fun than Fast Five itself? Yes, the cars in director Justin Lin's latest franchise-extender drive fast, and some of them explode. But unfortunately, they do so in between too many glum and dramatically inert (and, given the two-hour-plus running length, torturously protracted) sequences that reveal that Vin Diesel, Paul Walker, and Jordanna Brewster have learned precious little about acting, or even active screen presence, in the 10 years since The Fast & the Furious premiered; when not racing at top speeds, this trio of lovingly photographed ciphers routinely kills the film's momentum, and even its basic rooting interest. (You could describe these three as the movie's "human element" if they were at all convincing as humans.)
Still, with Fast Five unofficially kicking off Summer Blockbuster season, let's be grateful for its small pleasures, shall we? Tyrese Gibson and Chris "Ludacris" Bridges provide welcome levity, and Dwayne Johnson is almost comically well-cast as the hulking bad-ass on our antiheroes' tails. (At one point, after he and Diesel crash through a window, dude continues to pummel the guy after spitting out a mouthful of glass.) Lin stages the movie's more high-octane set pieces, especially the climactic chase with Diesel's and Walker's cars dragging a locked - and really destructive - bank vault through city streets, with happily ridiculous relish. And all throughout the film, there are spectacularly vibrant and even awe-inspiring vistas of Rio de Janeiro, including one swirling helicopter shot that mirrors, to an uncanny degree, a similar one in the current animated smash Rio. Maybe, for the inevitable follow-up to this outing, that five-year-old kid can get cracking on some kind of mash-up between the two. Is anyone else now jonesing to hear Vin Diesel's basso profundo against Jesse Eisenberg's neurotic squawk?
HOODWINKED TOO! HOOD VS. EVIL
For whatever else it does in its 80-ish minutes, Hoodwinked Too! Hood Vs. Evil - an animated sequel that nobody could have been asking for - has to set a land-speed record for pop-culture references. There are visual allusions to Psycho and The Silence of the Lambs, and verbal allusions to Die Hard, GoodFellas, 48 Hrs., and other works that young children should not yet be watching. Cheech & Chong make mention of their Up in Smoke days, and Patrick Warburton's every sentence sounds like Puddy doing a halfhearted John Wayne impersonation. Facebook and Twitter and the Food Network are duly name-checked, and one figure giddily announces, "It's Hammer time!" (In 2011? Really?) Yet there's nothing particularly enjoyable or interesting about this relentless riffing, and the same could be said for most of the movie, a drearily animated and exceptionally irritating action comedy that finds Little Red, the Big Bad Wolf, and other storybook characters battling a wicked witch and (more than) Three Little Pigs against amazingly underwhelming 3D backgrounds. Meanwhile, amidst one of the most eclectic vocal casts ever assembled for celluloid - one that includes Hayden Panettiere, Glenn Close, David Ogden Stiers, Bill Hader, Amy Poehler, Andy Dick, Martin Short, David Alan Grier, Brad Garrett, Heidi Klum, and Wayne Newton (!) - only Joan Cusack's fantastically loopy line readings manage to add some spark to the proceedings. Cusack also did what she could in the recent Mars Needs Moms, and to my recollection, provided that animated opus' one and only laugh. With Hoodwinked Too!, she delivers four or five, which has to be considered progress. Depressing-as-hell progress, but progress nonetheless.