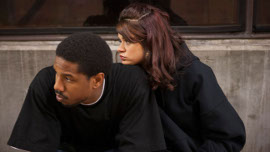 FRUITVALE STATION
Marvel Studios' recent spate of superhero movies has trained us - or tried to train us, at any rate - to stick around for at least the first few minutes of the end credits, offering the promise of a bonus scene designed to build excitement for comic-book adventures yet to come. (Not to give the details away, but Marvel's new The Wolverine features a happy doozy of one promoting 2014's X-Men: Days of Future Past.) Yet while they couldn't possibly have been expecting this same sort of credit cookie at the independent drama Fruitvale Station, the audience members with whom I saw the film stayed similarly glued to their seats, almost as though none of them was quite ready for the experience to be over. Given how haunting and emotionally overpowering writer/director Ryan Coogler's debut feature is, it would be impossible to blame them.
And by "them," I mean "us," because I, too, was pretty much knocked sideways by Fruitvale Station, an earnest, upsetting, yet remarkably clear-eyed imagining of the 24-ish hours leading to a senseless, horrific crime. Inspired by the 2009 death of Bay Area resident Oscar Grant III - a 22-year-old African American who, early on New Year's Day, was shot in the back by a white police officer on an Oakland, California, subway platform - Coogler's movie doesn't attempt to fully examine the tragedy, and only offers a cursory explanation how a routine train-car scuffle led to Grant's killing. (The officer responsible, who claimed that he was reaching for his Taser when he accidentally pulled out his gun, was eventually convicted of involuntary manslaughter and served 11 months.) Instead, what Coogler does, in a simple yet rather ingenious act of narrative construction, is employ the records of Grant's cell-phone activity on December 31, 2008, for a partially fictional re-creation of the day's events based on his calls and texts. It's a strategy that could easily have fallen flat, especially considering how seemingly banal Grant's day appeared to be: picking up his daughter at day care, buying seafood for his mother's birthday party, planning an evening trek to San Francisco. Yet without turning Grant (played here by the phenomenal Michael B. Jordan) into any kind of saint, or even a run-of-the-mill Joe besieged by fatally bad luck, Coogler makes the wrenching tale of Fruitvale Station as universal as it is intensely specific. He allows us to feel the full measure of what was lost with Grant's death, and subtly reminds us that losses of this kind continue, and have continued, far longer than many of us care to admit.
Every once in a while, you feel the film pushing its points with too heavy a hand, and indulging in conceits that feel too much like conceits; Grant's run-in with a dying dog, its blood staining the young man's white T-shirt, feels too obviously symbolic, and the initial power of the train-car finale is somewhat muffled by the surprise re-appearances of two figures from Grant's past. (Movie nerds such as myself may also briefly bristle when a flashback scene set in 2007 references Pixar's WALL·E, which was released in the summer of 2008.) In terms of character, however, Fruitvale Station doesn't strike a single false note. While Grant is shown to be a devoted son and a dutiful father to his young daughter Tatiana (the splendidly unforced Ariana Neal) and shares a playfully affectionate relationship with his girlfriend Sophina (the dynamic, fiercely empathetic Melonie Diaz), this charming, friendly presence is also a mass of contradictions. An admitted, if repentant, adulterer and weed smoker-slash-occasional-seller, he casually lies about his drinking history and recent firing, and violently grabs the arm of the store manager who he hopes, in vain, will re-hire him. (Grant served two stints in prison, and it's suggested that one of those sentences was lessened when the man ratted out a fellow inmate.) He is, in short, exceptionally human, and the film's tragedy stems from the anguish in watching a flawed man attempt to better himself when those attempts are inevitably going to be cut short; every step forward for Grant is tinged with the heartbreak of unfulfilled promise.
Yet Fruitvale Station, for all of the tears you eventually shed during it (and Octavia Spencer's deeply felt performance as Grant's loving, no-nonsense mother ensures that you'll shed a lot of them), isn't a punishing experience. There's exhilarating filmmaking savvy on display throughout, with Coogler delivering a particularly stunning image of Grant's fateful subway train entering a tunnel, its keening whistle piercing the air as the cars slowly vanish from view. And beginning, but in no way ending, with Jordan's beautifully textured portrayal, the movie is frequently suffused with joy, much of it courtesy of Grant's random encounters with Bay Area citizens who are as alert to spontaneity and surprise as he is. Near the film's end, at the stroke of midnight, Grant's train car erupts into an impromptu New Year's celebration, with strangers, black and white alike, dancing and kissing and passing drinks and smokes between them, and for a brief moment, everything in the world feels right. That feeling doesn't last, of course, but at its best, Fruitvale Station suggests both the dazzling complexity and wondrous unpredictability of life, and the unspeakable emptiness felt when an individual life reaches a grossly untimely end.
THE WAY WAY BACK
Written and directed by Nat Faxon and Jim Rash, The Way Way Back is a low-key indie comedy about a 14-year-old named Duncan (Liam James) who comes of age during a summer spent in a sleepy New England beach town, and it's a very gentle movie. How gentle? The film's hateful bully - the closest that Faxon's and Rash's offering gets to an actual villain - is played by Steve Carell. He's the teasing, mean-spirited new boyfriend to Duncan's single mom (Toni Collette), but don't think that Carell is attempting any kind of radical, character-actor makeover with his involvement here; he's basically just Michael Scott without the abject cluelessness and big heart, and the whole movie feels just as instantly recognizable. From the cartoonishly drawn supporting figures to the convenient appearance of a first-crush neighbor (AnnaSophia Robb) to Duncan landing a job at a tacky, aquatically themed amusement park, nearly every element here feels culled from other offerings of its sort; it's what you'd get if The Perks of Being a Wallflower and Adventureland had a child, and that child was babysat by Little Miss Sunshine. (It's slightly disconcerting seeing Carell and Collette play lovers after playing siblings in 2006's Oscar-winning hit.)
But while The Way Way Back, with its sitcom-cute contrivances and life lessons landing right on cue, isn't a very good movie, it's breezy and funny enough, and I can easily imagine wanting to revisit it more frequently than numerous other, better movies. The ever-miraculous Allison Janney, gobbling up the film within her first minutes on-screen, is a blowzy hoot as one of Duncan's neighbors, a cocktail-swilling good-time girl who makes inappropriately lewd comments and teases her young son for his lazy eye. (The expert River Alexander, with his forceful comic timing, ensures that you never feel badly for this kid, who can clearly dish it out as well as he can take it.) Robb is a serene, lovely presence, with similarly engaging turns offered by the likes of Maya Rudolph, Rob Corddry, Amanda Peet, and the writers/directors themselves. And best of all, Sam Rockwell shows up as the sarcastic, loquacious, sweet-tempered Mr. Miyagi to James' figurative Karate Kid, and is so hilarious and offhandedly touching that he practically makes the film must-see viewing. At one point, his water-park manager admits that "things got kind of after-school-special-y," and that can certainly be said of The Way Way Back itself. But if all after-school specials boasted characters as richly drawn and riotous as Rockwell's is here, I wouldn't have missed a single one of them.